"Molas come from the kalu Tuipis.
It was a dangerous place
where skilled scissor-users lived…
They were very beautiful women . . . "
—"Black Vulture" recounted by E.G. from Mulatupu
"Picture yourself in a boat on a river
With tangerine trees and marmalade skies
Somebody calls you, you answer quite slowly
A girl with kaleidoscope eyes

Cellophane flowers of yellow and green
Towering over your head
Look for the girl with the sun in her eyes
And she's gone"
—Paul McCartney; John Lennon
Either of these quotes above could be invoked to describe the mola textiles in LACMA's Stitching Worlds: Mola Art of the Kuna on view in the Art of the Americas building through the fall. With kaleidoscopic designs and layers of psychedelic colors carefully cut out and stitched together by craftswomen, molas are intriguing modern textiles. The term mola—the Kuna word for "cloth"—refers to brightly colored, intricately patterned textiles produced by the women of the coral archipelago of the San Blas Islands (aka the Kuna Yala) off the Atlantic coast of Panama. The Kuna population inhabits 60 of the 330 off-shore islands as well as the mainland of Panama and the Atrato River Valley of Colombia.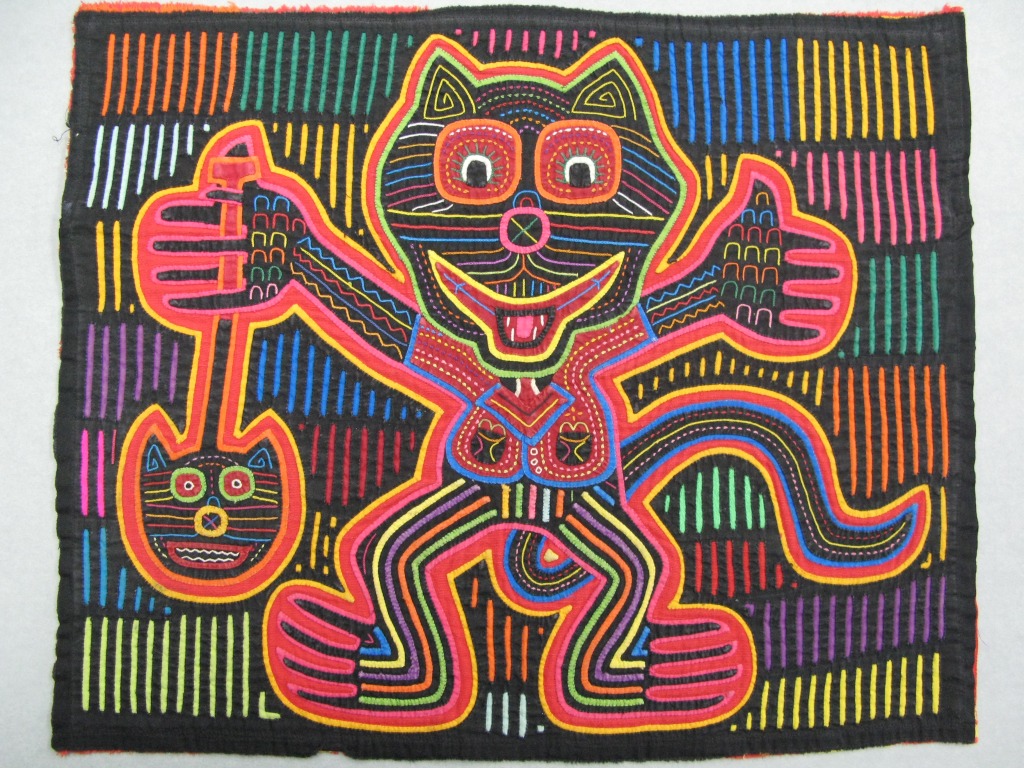 Felix the Cat, Panama, San Blas, Kuna People, last quarter of 20th century, Los Angeles County Museum of Art, Gift of Lindy and Ellen Narver in memory of Grace Narver
Technique
Although contemporary themes have entered the craftswoman's repertoire (such as Batman, Felix the Cat, names of sports teams, and contemporary logos), the method of creating the mola and its general appearance have remained the same for over a century.
Typically called appliqué, the complex method for creating a mola requires a great deal of skill and practice to achieve favorable results. To make a mola, a woman first stitches together layers of cloth, then cuts out patterns in the top and middle layers to reveal the underlayers of colored cloth.  She then folds over and stitches the edges of the cut patterns, often with brightly colored thread, which adds to the design. Sometimes small pieces of colored cloth are inserted between layers to add even more color to the garment.  Designs include stylized figures, animals and plants as well as pop-culture references, mythical imagery, ceremonial scenes or abstract geometric designs.
Molas were created in pairs for the front and back panels of a blouse. Craftswomen attach a yoke and arms to the panels to create a complete shirt. The mola panels with their almost mirror-image designs may have cultural significance: the idea of duality is pervasive in Kuna thought.  According to Kuna belief all beings—animate and inanimate—have an invisible double, or purba; likewise, ritual songs or chants are often recited in pairs, and lyrics are sometimes repeated two times in succession.
History
These garments have a long history with the Kuna people of Panama and Colombia. According to Kuna legend, molas were created at the beginning of time by the ancient ancestors, and were hidden away in a kalu—or underworld fortress—called Tuipis, the origin place of all things related to women: "No man could enter this kalu, not even a shaman, a nele.  If a man approached it, a woman came out.  She seduced him, made him her husband, then sent him away before he had entered."[1]  However, despite their mythical origins, the materials to make molas—cloth, thread, scissors and needles—were only brought to the region by European missionaries and/or traders beginning in the eighteenth century.
The organic designs in mola textiles may derive from the Kuna tradition of body painting and tattooing. Traditionally, Kuna women wore only skirts, and adorned their upper bodies with painted geometric or organic designs. When the Christian missionaries arrived to the region in the sixteenth century, they required women to wear blouses; the mola patterns may have been an adaptation of traditional body painting to colonial circumstances.
The making of molas is an exclusively female task, and it is a tradition that is passed on through the family and by generation. Women begin to learn to make molas when they are just girls, and continue to produce them throughout their lives.  or the most part, each woman makes her own mola, and though she may be eager to see what a friend or neighbor is making, she will keep and wear her own garments. Specific molas may be worn for housework, as nightgowns, for going out in public, or for particular celebrations; while other designs are reserved for special occasions. Old molas are sometimes recycled as rags, or when they are very worn out, molas might be sold.  Molas made for the tourist industry (very popular souvenirs from Panama and Colombia!) are a different quality, although the level of skill to make a tourist's mola is still quite high. Remarkably, the market sale of molas now rivals that of coconuts and crayfish, the two primary exports of the region.
Laura Leaper, Research Assistant, Latin American Art
Bibliography:
Crouch, Edith.  The mola: traditional Kuna textile art. Atglen: Schiffer Publishing, 2011.
Kapp, Capt. Kit S.. Mola Art from the San Blas Islands. Cincinnati: Earl D. Arnold Printing Company, 1972.
Parker, Ann and Avon Neal.  Molas: folk art of the Cuna Indians. New York: Clarkson N. Potter, Inc., 1977.
Perrin, Michael. Magnificent Molas: the art of the Kuna Indians. Trans. Deke Dusinberre.  Paris: Flammarion, 1999.
Puls, Herta.  Textiles of the Kuna Indians of Panama.  Bucks: Shire Publications, Ltd., 1988.
---
[1] E.G. from Mulatupu Island, 1994.  As recounted by Michel Perrin in Magnificient Molas: the art of the Kuna Indians (Paris: Flammarion, 1999), 19.