If you are looking for a way to beat the heat this weekend (temperatures are forecasted to be in the high 80s around LACMA and into the high 90s in the Valley), come to our cool, air-conditioned galleries for relief.
Opening tomorrow are two new installations from our South and Southeast Asian Art department. Alia Syed: Eating Grass features work by experimental filmmaker Alia Syed that explores issues of identity, representation, and intercultural communication through narratives taking place in Karachi, Lahore, and London.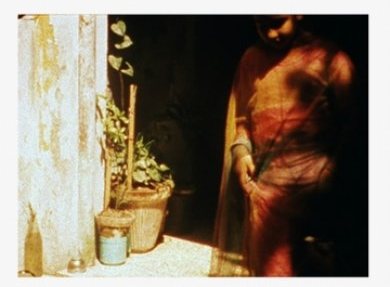 Alia Syed, still from Eating Grass, 2003, photo courtesy of the artist and Talwar Gallery, New York/New Delhi, © Alia Syed
Also opening is Unveiling Femininity in Indian Painting and Photography, an installation that looks at the depiction of women in Indian court painting and photographs from the seventeenth to nineteenth centuries. Because male artists weren't allowed to enter women's private quarters, portraits of female nobility from this time are rare. Paintings and photographic portraits in the installation offer a peek into the private and alluring world of women in this time period.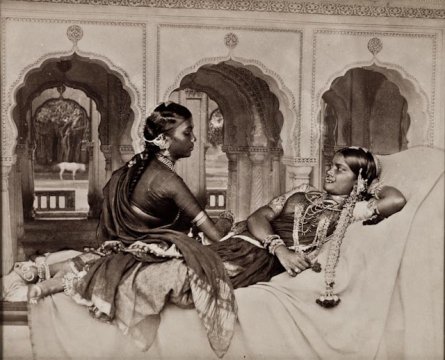 William Willoughby Hooper, Two Nautch Girls on a Bed, c. 1870, collection of Gloria Katz and Willard Huyck
This weekend is the last chance to see the perceptual photographic play in The Continuity of Robert Cumming. In this installation, Cumming explores the spectacle of 1970s Hollywood in humble and playful photographs.
Robert Cumming, Quick Shift of the Head Leaves Glowing Stool Afterimage Posited on the Pedestal, 1978, gift of Sue and Albert Dorskind, © Robert Cumming
In addition to those exhibitions, there is plenty more to see around campus. In BCAM you'll find Figure and Form in Contemporary Photography, The Sun and Other Stars: Katy Grannan and Charlie White, Sharon Lockhart | Noa Eshkol, Michael Heizer: Actual Size (also on view in the Resnick Pavilion), and Metropolis II. Recently opened in the Pavilion for Japanese Art is fascinating exhibition Ohie Toshio and the Perfection of the Japanese Book.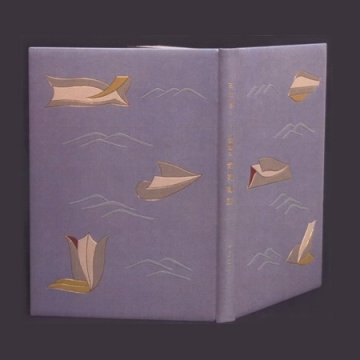 Ohie Toshio; O Jun, Asters, 2005, novel by Ishikawa Jun (Japan, 1899–1987), published by Shigetsusha, collection of Ohie Toshio, © Ohie Toshio
At sundown tonight, our Animation August outdoor film series continues with the animated hit Puss in Boots. This adult-and-kid-friendly comedy follows the events leading up to the sword fighting cat's meeting with Shrek and his friends. Bring blankets, a picnic, and even your dog for a fun outdoor evening.
Families are also invited to come to our free Andell Family Sundays. The theme for August is Dragon Days.  Explore depictions of dragons in our collection (like those in our Chinese or Korean galleries), then make your own dragon art during family art-making activities.
As always, the weekend will be filled with live music. Tonight, catch the Dale Fielder Quartet at Jazz at LACMA. Tomorrow, Latin Sounds will get you dancing with the Latin-jazz ensemble Mongorama. On Sunday, get out of the heat and into the Bing Theater for a classical music performance by Los Angeles Electric 8 with special guest LA Trombone Collective.
Alex Capriotti