Unframed's Stephanie Sykes sat down with C + M's pastry chef, Josh Graves, to talk about his inspiration, passion for pop tarts, and C + M's seasonal appeal.
You've worked in a number of food establishments across the city: Boule, Mani's, Mercantile, just to name a few.  What is it like to work in a museum setting?
I do love working in this artistic environment. Coming in in the morning and being surrounded by all the different architecture makes it such an inspiring place for me. I feel like everyone who works here is so creative. I love it.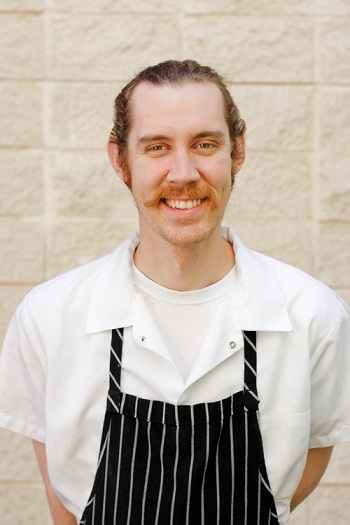 Josh Graves
How was the experience of building a pastry menu from scratch?
Patina approached me about opening a café at LACMA and wanted to see what I could come up with in terms of tarts, cookies, and cakes.  They hadn't seen that side of me at Ray's yet. I drew from things I'd made before and some ideas I had, tweaked them, and here we are.  I really enjoy baking— it's so focused.  It's a lot of fun to take these ideas for flavors and manifest them into one final product: a cake or a pop tart.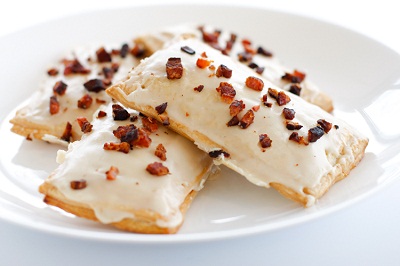 Bacon Date Pop Tart
Where do get your inspiration for both the pastries and their names?
I get ideas everywhere! Sometimes I'll see or try something and get inspired to make it my own way.  Take the Bacon Date Pop Tart, for example. I grew up eating Pop Tarts as a kid and loved them, and I've always wanted to make a gourmet version.
Or let's look at the Black Velvet Cake.  I don't like to use food coloring very often.  I don't think it's necessary. So, I used the same ingredients as a red velvet cake but kept its natural color. I liked the idea of calling it a Black Velvet cake because the term black velvet makes you think of both the song and the whiskey.  The taste and element of pop culture lend themselves to a nice sense of familiarity.
Another example is the Elvis Cake, inspired by the Elvis Sandwich made of peanut butter, banana, and bacon. It was his favorite sandwich—that's what he'd always ask for!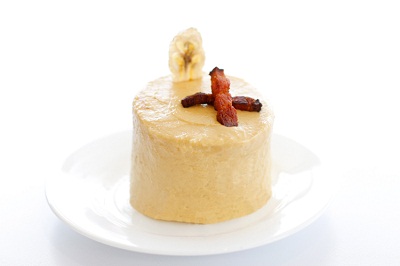 Elvis Cake
Ray's is staunch in their farm-to-table approach. Is the same true of C+M?
Yes, we use a lot of the same vendors, and we have a forager who constantly sources things from various farmers markets.
Our gardener plants a lot of herbs on-site at LACMA, which encourages us to try things. The lavender on the Lemon Lavender Pop Tart is taken from the garden behind Ray's.
Can you walk us through the transition of ingredients from summer to fall?
This is the best time of year for desserts because we have so many stone fruits and berries, two of my favorite things. Peaches are excellent right now, so it's a great moment for the peach pie. As we move into fall, you'll see strawberries fade out pretty soon and give way to something else. We'll also see more stone fruits in the fall.
Pastries at Coffee + Milk
What's the deal with the milk sorbet we've been hearing so much about?
We liked the oxymoron of a milk sorbet because sorbets are obviously not meant to have dairy in them. Like with all of our dairy products, we use only organic ingredients—Strauss organic milk, to be specific. The milk sorbet is lighter than ice cream and is perfect for our ice cream sandwiches and milkshakes.
Stephanie Sykes