As summer comes to a close, so do a few of LACMA's summer staples, including four exhibitions, our outdoor animated film series, and our free Latin Sounds concerts. We end the long Labor Day weekend on a high note, though, with free admission all day Monday thanks to Target.
Canadian jazz chanteuse Carol Welsman kicks off the long weekend with a free Jazz at LACMA concert, which starts at 6 pm. Next, shuffle the kiddies over to the park to catch the final film in our Animation August film series, Cloudy with a Chance of Meatballs.
Join us tomorrow afternoon at 5 pm for our last Latin Sounds concert of this season, featuring the inimitable BombaChante. Warning: Be prepared to dance and to have fun.
Also this weekend—don't miss four remarkable exhibitions that are in their final days here at LACMA—all come to a close on September 9.
Sharon Lockhart | Noa Eshkol pairs contemporary photographer and filmmaker Sharon Lockhart with Israeli textile artist and dance composer Noa Eshkol. Lockhart explores the dance notation system and wall carpets of the late Eshkol through photographs, archival materials, and a five-channel video installation featuring dancers performing Eshkol's original compositions.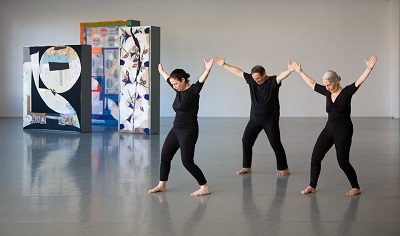 Sharon Lockhart, production still from Five Dances and Nine Wall Carpets by Noa Eshkol (detail), 2011, five-channel film installation (35mm film transferred to HD, sound), © Sharon Lockhart, 2012
Michael Heizer: Actual Size: Munich Rotary is one of two temporary Heizer exhibitions on view now. This one, in the Resnick Pavilion, uses six custom-built film projectors to exhibit spliced images of Heizer's 1969 negative space sculpture, Munich Depression. LACMA's exhibition is the first time that this work has been displayed in more than thirty years.
Installation view, Actual Size: Munich Rotary, Los Angeles County Museum of Art, July 17–September 9, 2012, Whitney Museum of American Art, New York, gift of Virginia Dwan 96.137, © Michael Heizer, photo © 2012 Museum Associates/LACMA
. . . Is James Bond shakes its last martini on September 9 as well (but stay tuned because Film Independent at LACMA continues to honor the fiftieth anniversary of the secret agent with screenings of classic 007 films throughout September).
Lastly, September 9 is also the last day to catch the incredible installation The German Woodcut: Renaissance and Expressionist Revival, which displays some fifty incredible German woodcuts, ranging in themes, style, and intended audience.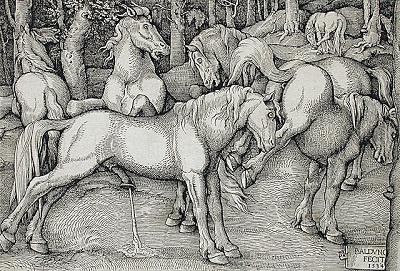 Hans Baldung Grien, Stallion and Kicking Mare with Wild Horses, 1534, Los Angeles County Fund
In September, Andell Family Sundays explores Tony Smith's monumental sculpture Smoke to celebrate the artist's birthday. Bring the family to the museum for free 3-D-art-making activities, starting at 12:30 pm. (Beat the heat and slip into BCAM to Chris Burden's Metropolis II while you're here.)
Stick around for our free Sundays Live concert featuring Endre Balogh, Dennis Karmazyn, and Bryan Pezzone.
Don't forget—Labor Day is a Free Target Holiday Monday, which means admission is free. Have a great long weekend, and we hope to see you here!
Jenny Miyasaki