Looking for a way to spend the unofficial last day of summer? Good news: LACMA is free all day today, thanks to Target. That means you can see great exhibitions like The Sun and Other Stars, Sharon Lockhart | Noa Eshkol, and more! Chris Burden's popular Metropolis II will be running today, and of course Michael Heizer's Levitated Mass is open to all as usual.
Panamanian guitarist Rogelio Mitchell will be performing live at 12:30 and 2:45. Make the connection to art by checking out the exhibition Stitching Worlds: Mola Art of the Kuna—textiles created by Kuna women, who live on the east coast of Panama.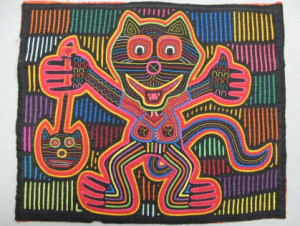 Felix the Cat, Panama, San Blas, Kuna People, last quarter of 20th century, gift of Lindy and Ellen Narver in memory of Grace Narver
Check out all the exhibitions and installations on view to plan your visit—and don't forget about the Boone Children's Gallery too. Happy Labor Day!
Scott Tennent