This year marks the fiftieth anniversary of the founding of the studio glass movement, and commemorations have taken place at museums throughout the country. To celebrate this milestone, LACMA has organized an installation of eleven examples of contemporary glass from our permanent collection, The Studio Glass Movement, 1962–2012.
The origin event of the movement is considered to be a series of workshops held at the Toledo Museum of Art in 1962 and led by glass artist Harvey Littleton. Until that time, glass was primarily considered a material for industrial uses, such as plate-glass windows, and for utilitarian drinking and serving vessels. Inspired by studio ceramists, who had expanded the scope of their work to include sculpture as well as useful objects, glassmakers no longer felt bound by functional imperatives and embraced the potential of glass for artistic expression. Thus began a fertile period of experimentation that continues today, in which glass artists have often worked on a massive scale and employed a variety of techniques to highlight the brilliance, transparency, and visceral power of glass.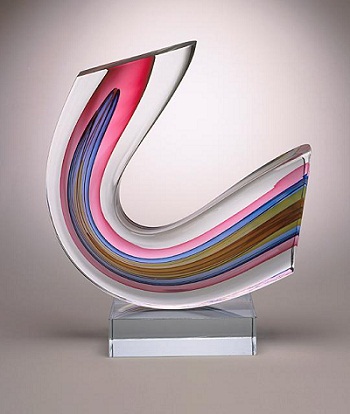 Harvey Littleton image: Harvey Littleton, Red/Blue Combination Arc, 1984, LACMA, gift of Daniel Greenberg and Susan Steinhauser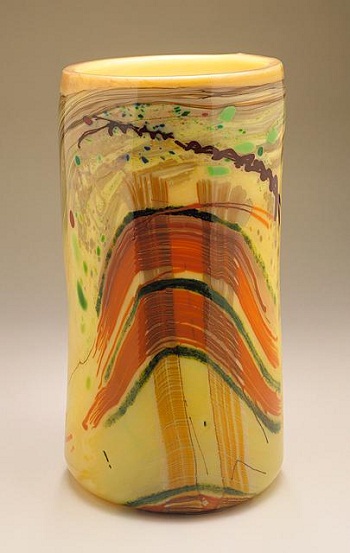 Chihuly image: Dale Chihuly, Basket cylinder, c. 1976, LACMA, gift of Daniel Greenberg and Susan Steinhauser
The Studio Glass Movement, 1962–2012 showcases the work of the movement's pioneers, as well as a younger generation of makers, including such artists as Dale Chihuly, Harvey Littleton, Stanislav Libensky and Jaroslava Brychtova, Richard Marquis, Mary Ann "Toots" Zynsky, and many more. We are particularly excited to permanently install some of our monumental pieces of contemporary glass for the first time. Owing to the constraints of our previous cases, which couldn't accommodate the weight or girth of these behemoths, we had not been able to show such massive and captivating pieces as Green Eye of the Pyramid and Music.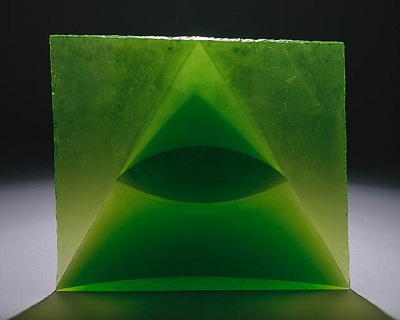 Stanislav Libensky and Jaroslava Brychtova, Green Eye of the Pyramid, 1993, gift of Daniel Greenberg and Susan Steinhauser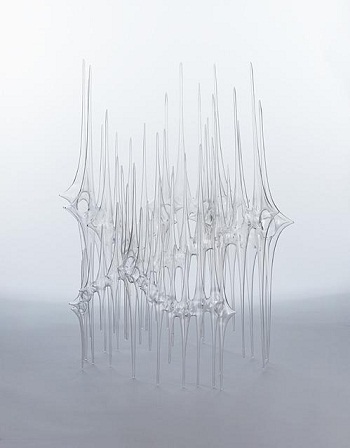 Vera Liskova, Music, 1980, gift of Werner Boeninger
LACMA is not the only Southern California institution celebrating the emergence of studio glass. The Craft and Folk Art Museum will open Balancing Act: The Glass Sculpture of Stephen Klein in late September and there will be an exhibition of work by the artist Alison Saar at Otis College of Art and Design that includes some of her glass pieces. There will also be displays at the Palm Springs Art Museum and the Fallbrook Art Center.
LACMA has organized programming for both children and adults in conjunction with the installation, including a series of glass-themed Andell Family Sundays in October. On Tuesday, October 30, the noted craft scholar Glenn Adamson will cast the history of glass in a new light when he speaks about The Attack of the Blob: Glass Art and the Will to Form.
This installation is on view in the American art galleries on the third floor of the Art of the Americas building. It is made possible by a generous gift from Daniel Greenberg and Susan Steinhauser.
Bobbye Tigerman, Associate Curator, Decorative Arts and Design