Mitch Glickman, Director of Music Programs, is the man behind Jazz at LACMA as well as the 4th annual L.A. Jazz Treasure Award, to be awarded to seminal musician Gerald Wilson this Friday.  Glickman tells Unframed's Stephanie Sykes why  Wilson is a deserving recipient of this year's prize and offers a glimpse into what the fall holds for LACMA's free jazz series.
Can you tell us about the history of the L.A. Jazz Treasure Award?
When I took over LACMA's music program in 2006, I refocused the jazz series to exclusively feature Los Angeles jazz musicians. We have the world's greatest pool of jazz artists and it was important to shine the light on them and their contributions. Part of my programming is to feature the legends as well as the next generation of jazz greats. Many of these legends are still with us, though not necessarily performing these days, and I wanted an outlet to celebrate their contributions to jazz. So in 2009, in partnership with the Los Angeles Jazz Society, we started the annual L.A. Jazz Treasure Award to those individuals have made an indelible contribution to jazz and have given back to the community. The first year features NEA Jazz Master and trumpeter Snooky Young, followed by keyboardist Les McCann, and then for the twentieth anniversary Jazz at LACMA we honored saxophonist Wayne Shorter.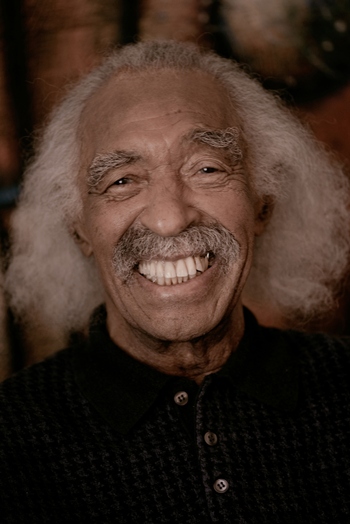 Gerald Wilson
How and why was Gerald Wilson selected as this year's recipient?
This year, Gerald Wilson turns 94. He is living jazz history. Starting with the Jimmie Lunceford big band in the late 1930s, Gerald has been an important ingredient is so many of the classic big bands throughout history--as a trumpet player, composer/arranger, and then as a leader of his own big band. He has written for the Duke Ellington band, Count Basie band, Ella Fitzgerald, Ray Charles, and Nancy Wilson. And he is still active, turning out great recordings.
[youtube=http://youtu.be/w9MjyTahmL4]
It's a lovely gesture that Gerald Wilson's son will perform, heading up the Anthony Wilson Nonet jazz ensemble. As the legacy of jazz passes through generations, how do you feel the genre evolves while staying true to its origins?
Ironically, "Legacy" is the name of one of his recent projects. His son and grandson are wonderful jazz musicians in their own right and the list of musicians that have been a member of his big band reads like a who's who of jazz greats--Teddy Edwards, Buddy Collette, Jack Nimitz, on down to some of the young lions of today including Kamasi Washington. Anthony Wilson has a "modern" big band--a streamlined, contemporary ensemble (nine members) that takes the great tradition of big band into a contemporary setting. So as the great tradition of jazz being passed down from one generation to the next continues, it is indeed in good hands, taking the sounds of the past into new settings for the present and future.
What additional highlights can we expect in the remaining Jazz at LACMA series this fall?
The Jazz at LACMA free concert series continues through Thanksgiving weekend and can also now be heard every Sunday night on KJazz 88.1 FM. The radio series features the concert along with an interview with the featured artist. Highlights coming up include jazz veteran Phil Ranelin and his Jazz Ensemble on October 5. The opening band for this concert is the winner of the Angel City Jazz Festival Young Musician Competition, highlighting Jazz at LACMA's focus on mixing the established with the emerging. Other highlights include vocalist Sara Gazarek October 26 and drummer Ralph Penland with his band on November 16.
A special jazz concert will be presented on Thursday, October 4. The free concert celebrates the late sculptor Ken Price, whose exhibition opens next week; Price grew up studying trumpet with Chet Baker. The October 4 concert features trumpter Brian Swartz and his Band saluting Chet Baker and pianist John Beasley (former Miles Davis band member) and his Quintet saluting the music of Miles Davis.