"Your face, my thane, is as a book where men may read strange matters"
—from Macbeth
The Sun and Other Stars: Katy Grannan and Charlie White provocatively sets us squarely in the great art arena of beauty, style, glamour, cultural norms, self-representation, and the great bugaboo: identity. In this vat of self-referential soup, art's proverbial task seems to be to keep the question of beauty constantly before us. What is it? Who has it? What does it truly look like? And the less visible queries are: Am I to be judged by it? Is this true?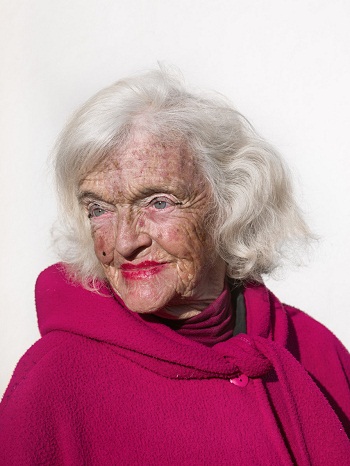 Katy Grannan, Anonymous, Los Angeles, 2009/printed 2011, © 2012 Katy Grannan, Fraenkel Gallery, San Francisco, and Salon 94, New York
In Katy Grannan's portraits, it is surely about glamour—that giant satellite that inspires ideas about beauty—but the condition itself could be a bridge too far. A person I much admired said that they—the portraits—were like documents, which on some level could hardly be denied. And a very fine artist himself, Abraham Agonafir, also a guard, found himself thinking of Norman Rockwell's art, and that this was a modern-day version of a type of American. My first thoughts were of Caravaggio's urchins and street people as models for Christ's disciples and Madonnas.  Also the indelible black-and-white portrait of the aged Leni Riefenstahl in the 2000 Vanity Fair by Helmut Newton came to mind, where the last vestiges of glamour were searched for in Riefenstahl's shiny compact.
But even with all that in mind, Grannan photographs splice the nature of the elusive quality—glamour playing on colors as a fashion magazine shoot with those movie-star-telling details, where tools of glamour address an idealized identity. Since the nature of photography is at least two degrees of voyeurism, I found that Grannan burnishes a different illusion, intentionally remaining indecisive, never quite losing that louche quality of gaming the viewer with a parodic fantasy.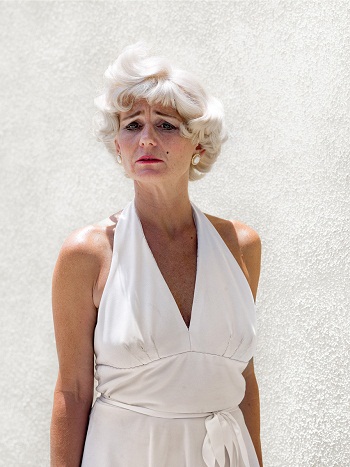 Katy Grannan, Anonymous, Los Angeles, 2008/printed 2009, © 2012 Katy Grannan, Fraenkel Gallery, San Francisco, and Salon 94, New York
And for all the apparent realism, it has this unshakable quality of a postmodern Dickensian fashion show where we slip helplessly from fascination with "by the grace of god go I," that haunting existential dread that lies in the hallucinatory whiteness glowing all around them. These somewhat romanticized images with their hard honesty and crisp exactness, define themselves not so much by their raw-boned body language, but rather by an imposing ego—character and neurosis melded into the architecture of worn faces, wiry bodies, expressive hair, and eyes that betray everything and nothing, a self-construct  whose presence bristles with stylish vanity and arrogance. The photographs ruthlessly portray the cult of the individual, the truly American dreamer's dream. Here the grand airs, in spite of the "anonymous" label, hint at decadence, a whiff of spent sexuality, and Eros's ghostly presence as in the thin palette of rouge lightly dappled on the small surfaces above the delicate creases of the faces.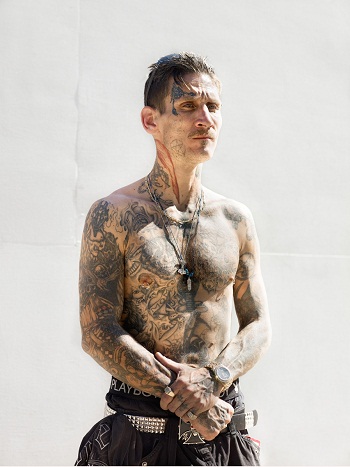 Katy Grannan, Anonymous, San Francisco, 2008/printed 2009, © 2012 Katy Grannan, Fraenkel Gallery, San Francisco, and Salon 94, New York
At another level of this gloriously magnetic array of photos, there's intimacy, in the most social-realist sense of the word.  Grannan's regal style assumes ironic majesty against something we thought we knew about her cast of characters. Possibly we have all felt similar. But I certainly have ignored them, brushed aside, pitied them and possibly been made curious by them. Identity is not without spillage and being far more mercurial a subject than its idea may suggest, I came to believe in Grannan's lens. The tattooed guy, the bunny man, and even the time-traveled faux Marilyn—video and all—plus many more, engendered a strong sense of pathos and a measure of one's own wariness. Katy Grannan's keen eye has retooled narcissism, refocused and repositioned it. It is no longer just for self-adoration, but for self-defense. And if there's an unvarnished truth, this is surely the varnished truth.
Hylan Booker