When I recently visited the exhibition Daily Pleasures, I was delighted to see a resonance between the French ceramics and several Chinese porcelains in LACMA's permanent collection. It is perhaps not a surprise that porcelain is sometimes informally referred to as "china" or "fine china," as it was from China that the technique of porcelain making was first introduced to Europe. Many of the exquisitely executed French ceramics included in the exhibition take inspiration from exported Chinese pieces in two aspects—technique and design.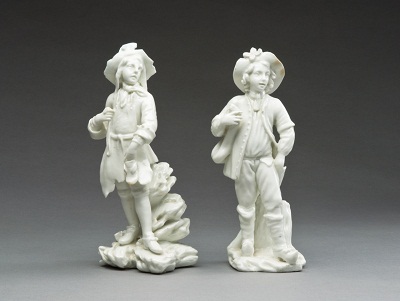 Pair of Turkish Figures, Mennecy, France, 1750-1777, gift of MaryLou and George Boone in honor of the museum's twenty-fifth anniversary, photo © 2012 Museum Associates/LACMA
Several figurative soft-paste ceramics have a monochromic white glaze, an imitation of a type of Chinese porcelain known in the West as blanc de chine ("white from china"). This type is called dehua in Chinese, named after the kiln sites in Fujian province in South China. Dehua ware is known for its pure and even white glaze, often with a warm ivory or milky tone. Most of ceramics production in China was devoted to vessels and utensils, but dehua ware is also praised by connoisseurs for sculptural, especially figurative, presentations. A small figure of the Buddhist deity Guanyin (Bodhisattva Avalokiteshvara) in LACMA's collection exemplifies the quality of dehua ware production, with its iridescent white glaze and silky smooth surface.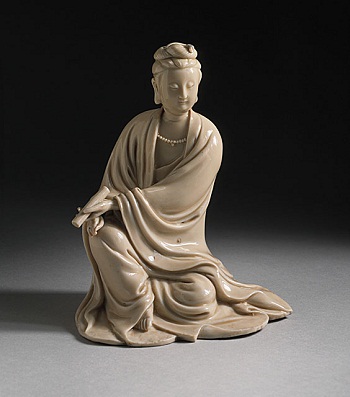 Avalokitésvara (Guanyin), the Bodhisattva of Mercy, China, Fujian Province, Dehua Countyearly Qing dynasty, about 1644-1700, sculpture, porcelain; Dehua ware,m olded and modeled porcelain with incised decoration and cream glaze, gift of Carl Holmes, photo © 2012 Museum Associates/LACMA
Guanyin is a deity of compassion in Buddhism, and this small sculpture idealizes her with a round face, almond-shaped eyes, and elongated ears. The French figures, in contrast, show a great degree of sensibility to realism, emphasizing an individual's hair and costume. Despite their differences in style, both Chinese and French examples show a pursuit of purity and perfection.
Blue-and-white porcelain (qinghua) first appeared in China during the Tang dynasty (618-907), but did not reach maturity until the Yuan dynasty (1271-1368) when cobalt, the mineral for firing the color blue, became widely available through trade with Iran. Blue-and-white porcelain, such as cups, plates, jars, and vases, were exported to Portugal and the Netherlands, and were often depicted as luxury goods in paintings. The Meisen factory in Germany first started to imitate Chinese blue-and-white ceramics, followed by French and English factories.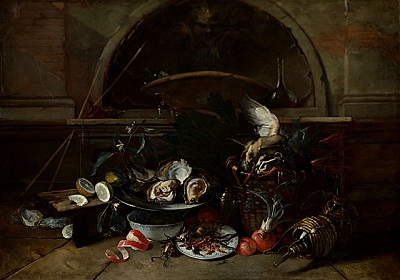 Nicola van Houbraken, Still Life with Bottles and Oysters, circa 1700, gift of Mr. David M. Koetser, photo © 2012 Museum Associates/LACMA
The center motif of a blue-and-white charger made in Nevers, France, shows a typical European outdoor scene, but its rim features Chinese-style birds, flowers, and foliage, comparable to a fourteenth-century Chinese plate at LACMA.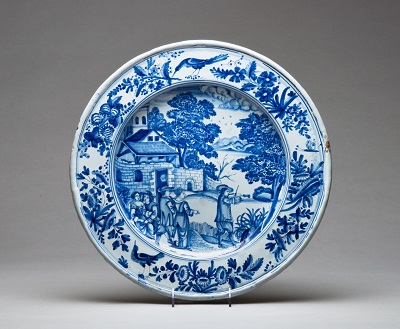 Charger, Nevers, France, c. 1660-1680, Earthenware with tin glaze and enamel (grand feau faïence), The MaryLou Boone Collection
At the center of the Chinese dish are "eight treasures" in highly stylized forms. Eight treasures—originally Buddhist ritual objects—often appear on utilitarian objects such as dishes, costumes, and furniture for decorative and auspicious meanings.
Foliated Platter (Pan) with the Eight Buddhist Symbols (Bajixiang), Flowers, and Waves, China, Jiangxi Province, Jingdezhen, late Yuan dynasty, circa 1340-1368, ceramic, porcelain, molded porcelain with blue painted decoration under clear glaze, gift of the Francis E. Fowler, Jr., Foundation and the Los Angeles County Fund, photo © 2012 Museum Associates/LACMA
There is no doubt the makers of a French banette in the exhibition had direct access to such examples from China, and adopted their colorful decorative motifs of bronze vessel, incense burner, scroll holder, book, and musical instrument into the tray's design.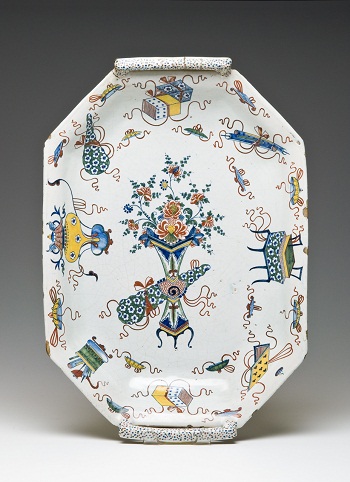 Tray with Handles (Banette), Rouen, France, mid-18th c., grand feau faïence, The Huntington Art Collections, gift of MaryLou Boone, photo © 2012 Susan Einstein
In comparison to the banette, decorations on some other dishes are more imaginary and fanciful, exemplifying the chinoiserie aesthetics that fascinated Europe since the seventeenth century. Figures are depicted as dressed in long and fanciful robes, sit in imagined oriental landscapes, and are involved with what were thought of as unique Chinese activities, such as fishing by a river stream, smoking opium, and contemplating in a garden. On a plate produced in Varages, France, a standing figure is playing with a bird, while his friend is holding what is possibly a musical instrument.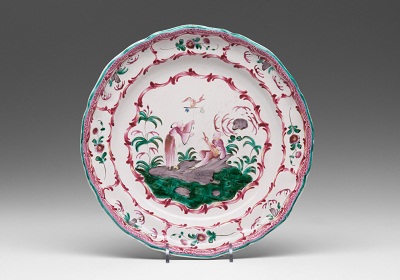 Plate, Varages, France, c. 1780, Earthenware with tin glaze and enamel (grand feau faïence), The MaryLou Boone Collection
Set in a landscape of fantastic rocks and exaggerated vegetation, the scene perhaps refers to gatherings of scholars in gardens, a popular motif in China, just as seen on a fourteenth-century red lacquer tray.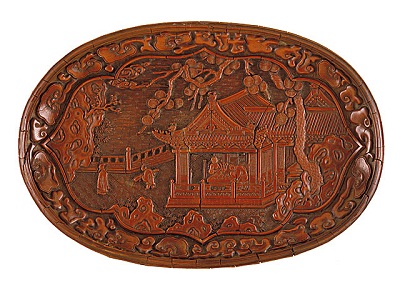 Oval Tray (Duoyuan Pan) with Pavilion on a Garden Terrace, China, Yuan dynasty, 1279-1368, lacquerware, carved red lacquer on wood, gift of Mr. and Mrs. John H. Nessley, photo © 2012 Museum Associates/LACMA
Imitation and fascination with China in the West continued well into the twentieth century, and is by no means limited to the production of ceramics and other daily objects. In L.A., one of the best examples is no doubt the whimsical Grauman's Chinese Theatre on Hollywood Boulevard.
Christina Yu Yu, Assistant Curator, Chinese and Korean Art