On this last day of 2012, we at Unframed look back on the year at LACMA as told through our blog posts. The past twelve months at LACMA were packed with exhibitions, artist talks, digital projects, traveling exhibitions, acquisitions, and, of course, Michael Heizer's Levitated Mass. Here, we'll walk you through some of our most popular and memorable posts of the year.
Unframed 2012 by the numbers:

Levitated Mass transport, © Michael Heizer, photo by Tom Vinetz
Exhibition and artwork installation posts are always a great way to peek behind the curtain of what we do at LACMA. Some of our favorites included the installation of Offering 7 from the Aztec's Templo Mayor, the changing of the tubing in Jesus Rafael Soto's Penetrabile, and the installation of the hundreds of objects in the Stanley Kubrick exhibition.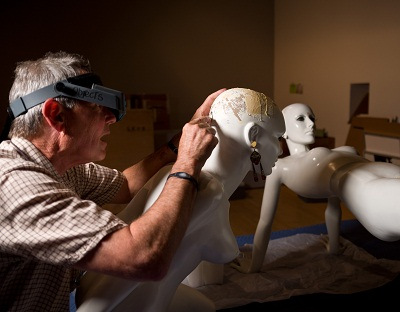 A member of the LACMA conservation team readies a mannequin for display. Reproduction Korova Milk Bar Mannequin, A Clockwork Orange, c. 2003, Replica: Cornelius Korff Breymann, Mutterschied, Wigs: Katy McClintock, Frankfurt am Main, Deutsches Filmmuseum, Frankfurt am Main, photo © 2012 Museum Associates/LACMA
Unexpected connections are a favorite theme on Unframed. Connections were made between Japanese Art and colonial Mexican painting, women surrealist and contemporary music, Robert Adams and Robert Irwin, Christian Marclay's The Clock and LACMA's collection, Ai Weiwei's Zodiac project and European decorative arts, Tim Burton and German expressionist cinema, craniums in the collection, Japanese photographer Daido Moriyama and midcentury California surf culture, and even verbs and art.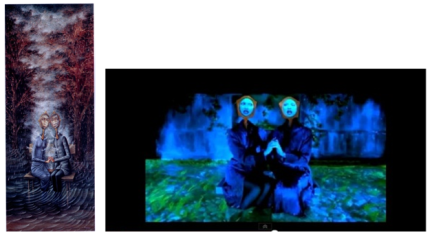 Remedios Varo, Los Amantes, 1963, unknown collection; Madonna, music video for "Bedtime Story" (1995) (still)
Other favorite exhibition-related posts include curatorial fellow Ryan Linkof's appearance in The Sun and Other Stars, curator Stephanie Barron's 34-year journey with Ken Price, curator Leslie Jones's breakdown of surrealist drawing techniques, curator Britt Salvesen's talk with Getty curator Paul Martineau about Robert Mapplethorpe, curator J. Patrice Marandel's exploration of the history of Caravaggio, gallery attendant Hylan Booker's look at In Wonderland's debunking of Freud's question of "What do women want?," and associate curator Rita Gonzalez's discussion of artist Terry O'Shea's 1970 artwork which he had thrown into the La Brea Tar Pits.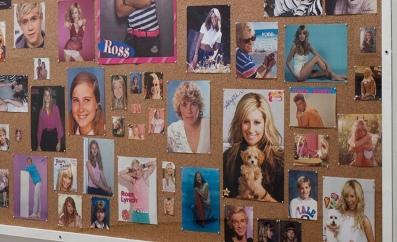 Installation view, The Sun and Other Stars: Katy Grannan and Charlie White, © Charlie White, photo © 2012 Museum Associates/LACMA. Ryan's photo is in the lower right corner.
Unframed featured numerous artist Q&A's, responses, and collaborative projects including Ellsworth Kelly on Ellsworth Kelly, Unframed's Scott Tennent's poetic conversation with artist Maria Nordman, LACMA high school intern's visit to Gronk's studio, Charlie White on the American teen image, Ohie Toshio's discussion of the heart of a book, Anthony Lepore and Susan Straight on Robert Adams, Yucef Merhi on Children of the Plumed Serpent, Trina Turk and California Design: 1930–1965, Joe Biel on The Sun and Other Stars, Sandow Birk on Caravaggio, and Fred Nilsen on Ken Price.
We also took to the blog to explore the lives of artists who passed this year—senior modern art curator Stephanie Barron explored the unparalleled career of Ken Price; Rita Gonzalez, associate curator of contemporary art, illuminated the lasting impact of Mike Kelley; and American art curatorial administrator Devi Noor's look back at the inquisitive and imaginative work of Dorothea Tanning.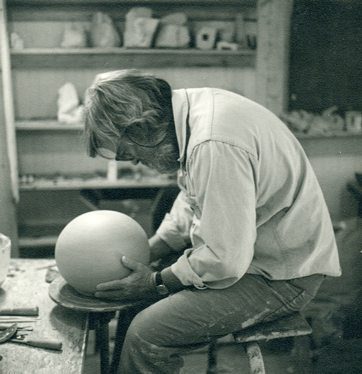 Ken Price beginning to sculpt a form for his project Happy's Curios, 1972-77, photograph by Sarah Spongberg, © Ken Price
Program and education highlights on the blog throughout the year included a Q&A with Bricia Lopez of Oaxacan restaurant Guelaguetza and curator Victoria Lyall about our mole and mezcal food tour, Elvis Mitchell on the perennial appeal of James Bond, the introduction of our first ever hip hop series Through the Mic, Bernardo Rondeau on the film series 2012: A Kubrick Odyssey, and a video of young artists exploring LACMA through a Summer Art Camp.
"I am an artist" video, LACMA Summer Art Camp:
Thanks for reading! Wishing everyone a safe and happy New Year!
Alex Capriotti