As the new year dawns, two great exhibitions come to a close: this weekend is your last chance to see Ken Price Sculpture: A Retrospective and Drawing Surrealism. The Ken Price show has been getting critical acclaim since opening back in September; most recently it was named one of the top exhibitions of the year by the L.A. Times and Modern Art Notes, and received a nice notice from the New Yorker, too. It will travel to the Nasher Sculpture Center in February, and to the Metropolitan Museum of Art this summer. Drawing Surrealism, which features works by Dalí, Breton, Magritte, Carrington, Ernst, and many more, will next travel to the Morgan Library in New York. Both shows close at LACMA on Sunday. (While you're here: Ed Ruscha: Standard is also in its final weeks; it closes January 21.)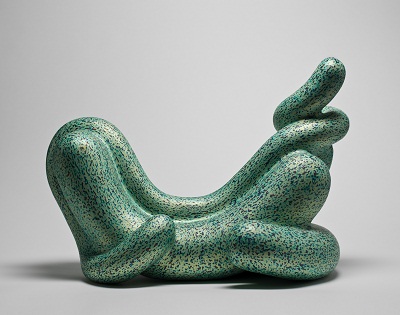 Ken Price, Zizi, 2011, purchased with funds provided by the Modern and Contemporary Art Acquisition Fund and gift of Matthew Marks, © 2012 Ken Price, photo © Fredrik Nilsen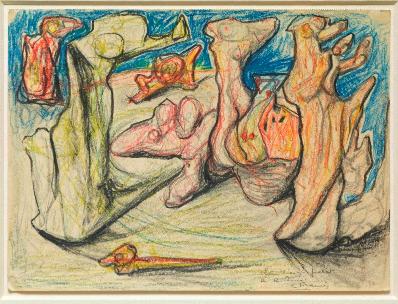 Esteban Francès, Untitled (Surreal Landscape), 1938, private collection, NY, © 2012 Esteban Francès Estate, photo © 2012 Museum Associates/LACMA by Michael Bodycomb
Bodies and Shadows: Caravaggio and His Legacy is also nearing the end of its run—February 10, to be exact. Reserve your tickets in advance for this popular exhibition (and considering becoming a member for two free tickets!) Set aside some extra time on Sunday afternoon for a free Caravaggio lecture by Italian scholar Roberto Lapucci, who will discuss the artist's working methods.
Caravaggio, Saint John the Baptist in the Wilderness, 1604-1605, The Nelson Atkins Museum of Art, Kansas City, William Rockhill Nelson Trust
Film fans: tonight Christopher Nolan will be at LACMA in person for a conversation and screening of his first film, Following. Note: the event is sold out but there will be a standby line. More info here. Tomorrow night head to the Bing for a screening of Roman Polanski's 1980 film Tess, an adaptation of Thomas Hardy's Tess of the d'Ubervilles starring Nastassja Kinski. The film was nominated for nine Oscars, including Best Picture, and won three.
Attention families! Our free Andell Family Sunday art-making activities have a new theme for the month of January, inspired by Daily Pleasures: French Ceramics from the MaryLou Boone Collection, on view in the European galleries. Check out the beautiful—and functional—objects on view in the exhibition, then make functional art with your kids!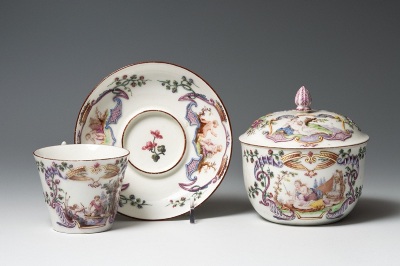 Cup and Saucer, and Sugar Box, c. 1746–1748, Vincennes Porcelain Manufactory, France, 1740–1756, soft-paste porcelain with glaze and enamel
Finally, the weekend closes out with a free Sundays Live concert by pianist Peter Wittenberg and violinist Wonny Bae. The duo will perform Bach/Mendelssohn's Chaconne and Schubert's Fantasy in C major.
Scott Tennent