Starting tomorrow night, LACMA will be screening films that show the lasting influence of Caravaggio's unique aesthetic and style. In conjunction with the exhibition Bodies and Shadows: Caravaggio and His Legacy, "Bodies, Shadows, and Stories: Cinema after Caravaggio" presents films by Pedro Costa, Pier Paolo Pasolini, Derek Jarman, and Martin Scorsese, whose 1988 film, The Last Temptation of Christ, will screen for free in LACMA's Bing Theater at 1 pm on Sunday.
Museum educator and art historian Mary Lenihan offers insight into the connection between the master painter and modern film:
Caravaggio lived four hundred years ago. What is his connection to today's film? What could he have to do with filmmaking?  And what about Scorsese's The Last Temptation of Christ in particular?
Here are the Oscar-winning director's own words about seeing Caravaggio's paintings for the first time, as told to scholar and Caravaggio biographer Andrew Graham-Dixon during a 2005 interview:
I was instantly taken by the power of the pictures, the power of the compositions, the action in the frames…there was no doubt that it could be taken into cinema because of the use of light and shadow, the chiaroscuro effect.  
[youtube=http://youtu.be/qJKxg4p-Alk]
As Graham-Dixon explains, Scorsese was introduced to Caravaggio's work by screenwriter Paul Schrader when the two men were working on Taxi Driver in the mid-1970s. (The Scorsese interview is quoted at length in Graham-Dixon's acclaimed biography, Caravaggio: A Life Sacred and Profane.)  Scorsese continues:
Initially I related to the paintings because of the moment that he chose to illuminate in the story . . . he was choosing a moment that was not the absolute moment of the beginning of the action, it's during the action, in a way.  You sort of come upon the scene midway and you're immersed in it. It was very different from the composition of the paintings that precede it, the Renaissance paintings. It was like modern staging in film. It was as if we had just come in the middle of scene and it was all happening. It was so powerful and direct.  It was startling, really, He would have been a great film-maker, there's no doubt about it. I thought, I can use this too. . . . 
That immediacy, the light-and-dark lighting (chiaroscuro), and the sense of drama that Scorsese recognized are exactly what helped make Caravaggio such a revolutionary painter. There are eight Caravaggio paintings in LACMA's exhibition, and looking at just two of them, we see what Scorsese means.
In Martha and Mary Magdalene, completed circa 1595–96, we see the sisters Martha and Mary deeply engaged in discussion. About what?  Martha, on the left, holds out her hands, with her right hand touching a finger on the left, as if to count or list something. Mary gazes back, holding a flower, with her hand propped on a mirror. Just what is going on here? Are they arguing? Is Martha trying to convince her sister of something?  Is she listing the reasons why Mary should take some course of action?
The identities of the two women would be familiar to most churchgoers of the seventeenth century. And the imagery Caravaggio includes a flower for purity and a mirror, a symbol of Prudence or the contemplative life, which both help to tell the story. But the artist puts us right in the middle of the scene, and makes us wonder: What are they thinking? The action here is not physical but instead psychological.  We are thrust into the middle, so we, the onlookers, stop and think, too.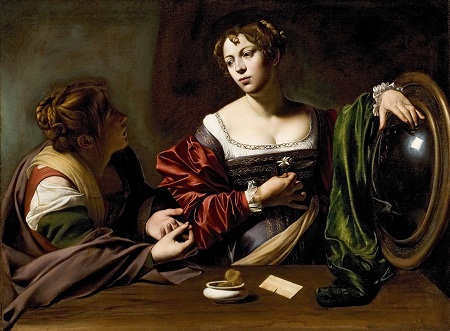 Michelangelo Merisi da Caravaggio, Martha and Mary Magdalene, c. 1598, Detroit Institute of Arts, gift of The Kresge Foundation and Mrs. Edsel B. Ford, photo © 2012 Detroit Institute of Arts, all rights reserved
In another Caravaggio painting, The Denial of Saint Peter (1610), which is among the last paintings the artist completed before his death, we are again smack in the middle of the action. The painting's title leaves no room for ambiguity: this is a scene from Christian scripture, the night of the Last Supper. Jesus is betrayed by one disciple and abandoned by the others, even Peter, one of his most trusted followers. Here again is a sense of immediacy—the dramatic light, the stop-motion of the moment, as Peter denies, for the third time, that he is a follower of Christ.
In this painting we see another of Caravaggio's revolutionary moves: he painted everyday people, people who looked like those common folks who might see his paintings. (Sometimes, Caravaggio even used prostitutes and other commoners as his models.) In this canvas, Peter has the large hands of a working man; his forehead is lined with age. Unlike Renaissance paintings, there are no idealized figures in Caravaggio's works. Those gazing at this painting might think, "That looks like my neighbor Giorgio, the stonemason from down the street," or even "that looks like me." Exactly. Caravaggio wanted viewers to feel as if they are part of the scene. And with that sense of immediacy, we can start to imagine the profound sense of shame or guilt that Peter feels (a tear has just formed in the corner of his right eye) as he denies his friend and mentor, a man he believes is the son of God.
Michelangelo Merisi da Caravaggio, Denial of Saint Peter, 1610, The Metropolitan Museum of Art, New York, gift of Herman and Lila Shickman, and Purchase, Lila Acheson Wallace Gift, 1997
And that brings us back to Martin Scorsese and this Sunday's film screening.  As the director commented further to Andrew Graham-Dixon:
Making films with street people was what it was really about, like he [Caravaggio] made paintings with them. They weren't like the usual models from the Renaissance. They were people who were really living life. . . . So in doing
The Last Temptation of Christ
the idea was going to be Jesus Christ on Eighth Avenue and 49th Street in New York. . . . This is where Jesus would go. He wouldn't be hanging out on Park Avenue in New York. He'd be in the street with the crack addicts and the prostitutes.The idea was to do Jesus like Caravaggio.
When Andrew Graham-Dixon presented his lecture on Caravaggio here at LACMA in November, we spoke at length about Caravaggio's dramatic, even filmic, sense. As Graham-Dixon says in his book, Caravaggio "may be considered as a pioneer of modern cinematography."  This weekend's films, and especially the Sunday screening of The Last Temptation of Christ, give us a chance to see for ourselves.
Mary Lenihan, Director of Adult Programs, Education Department
All Scorsese quotations are from Andrew Graham-Dixon, Caravaggio:  A Life Sacred and Profane, New York and London: W. W. Norton & Company, 2010, pages 441-442.  The footnote for the interview reads as follows (page 481, referencing to footnote 163):  Martin Scorsese's remarks have been directly transcribed from his conversations with the author in December 2005, which included an interview filmed for and subsequently transmitted by The Culture Show (BBC Television, directed by David Shulman).