Two weeks ago, we asked our social media followers to vote for their favorite Stanley Kubrick film to be shown in an encore screening in conjunction with LACMA's exhibition. With more than 200 responses, 2001: A Space Odyssey came out on top with 26.4% of the vote. The runner-up was A Clockwork Orange with 19.5% of the vote. The screenings of our two winners have been scheduled (February 2—A Clockwork Orange, March 1—2001: A Space Odyssey) and tickets are now available.
We also asked for brief responses on why a certain film was their favorite. Below are some of the highlights.
2001: A Space Odyssey
"It is timeless. It is yesterday's, today's, and tomorrow's . . . "
"No science fiction movie has said more about all life on earth and stayed as relevant to our understanding of humanity and its trajectory."
" . . . It says so much with so little narrative."
"Timeless, grand in scope, holds the mirror up to humanity's role in the universe!"
"Beauty that transcends any decade, generation, or culture."
"It overwhelms our aesthetic sensibilities, as well as captures our ongoing desire to understand where we come from and where we are going."
"2001 is a movie worth seeing a thousand times and each time offers something different."
"Powerful, cinematic, and innovative, the wondrous special effects to the layers of detail and themes make it a superb and wonderfully dense experience."
"Because science!"
"The symbolism, the style, & the writing—all as new and striking as they were when it was first released. And who can top that ending, other than *maybe* David Lynch? A masterpiece."
"2001 will keep a conversation going for an eternity."
"2001 went where no commercial film making had gone before: into a realm of mind-bending thematic elements, abstract narrative, and experimental film technique; and yet it succeeded above all as a fantastic entertainment."
"Because it is the greatest film ever made."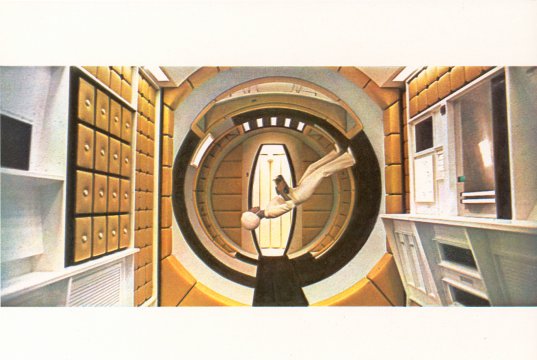 2001: A Space Odyssey, set photo, directed by Stanley Kubrick, 1965-68
A Clockwork Orange
"This film is a real horror show!"
"Visually stunning, a work of art."
"Clockwork is an exhilarating juxtaposition of how messy it is to be human against our futile attempts to civilize and sterilize society."
"It makes me feel "off" of balance in a strange and intricate way."
"I saw it when I was a teenager, and I couldn't sleep for a couple of nights. It was that powerful."
"It shows how easily our minds can be manipulated."
"Costumes, music, Malcolm McDowell, & dystopia."
"Korova Milk Bar!"
The Shining
"This is hands down the best horror film of all time."
"This movie ruined all future horror movies for me . . . #GoldStandard"
"My best friend and I have watched The Shining religiously since we were in elementary school . . .which might be weird. But we're horror nuts."
"I like blood."
"Chilling, evocative, and simply brilliant."
"Ambiance, snowed-in hotel setting, music, characters, actors, REDRUM, Tony, the sound of Danny driving his bigwheel on the carpet and then on the marble, the maze, Room 237, all work and no play makes Jack a dull boy . . . brilliance!"


The Shining, directed by Stanley Kubrick, 1980, The daughters of Grady (Lisa and Louise Burns). © Warner Bros. Entertainment Inc.
Barry Lyndon
" . . . it's a landmark in cinematography, and the opportunities to see it in its native 35mm are only going to be more scarce as time passes."
 "The exquisite imagery, particularly the candle lit scenes, really do cry out for the big screen. And, I do like the story line of one man trying to raise himself up by his bootstraps, only to be kicked back down by the very people he wants to be like. This is a film that is full of irony and subtle humor."
"Kubrick's approach to the lighting. The storyline. Overall an amazing film."
"Barry Lyndon is an underrated masterpiece. Leon Vitali gives an unforgettable performance as Lord Bullingdon."
"Beautiful and under appreciated."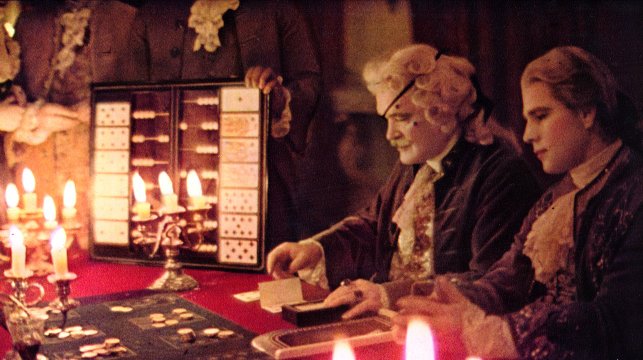 Barry Lyndon, directed by Stanley Kubrick, 1973-75, Barry Lyndon (Ryan O'Neal) and the Chevalier de Balibari (James Magee) at the roulette table. © Warner Bros. Entertainment Inc.
Lolita
"James Mason's shattering performance. Sue Lyon's brittle innocence. Peter Sellers' mania in all Clare Quilty's guises. Pedophilia as Gothic horror, with the most horrible of the horror being this: Kubrick makes us identify with the monster who robbed Lolita of her golden goggle."
"You never know if you like or dislike the characters. It challenges your own criteria."
"Nabokov abides."
Dr. Strangelove or: How I learned to Stop Worrying and Love the Bomb
"It is hysterical, timely, and timeless."
The complete package of satire, characters, and outlandish story is always a welcome to watch, as I personally always learn something new every time I watch it."
"Peter Sellers plays three separate characters. There is so much pertinent and funny information re: war, politics, and sex. The characterization is excellent, along with the beautiful and interesting cinematography in black and white."
"Dr. Strangelove captures the absurdity and chaos that ran rampant during the atomic age. Also. Peter. F*cking. Sellers."
"A daring mix of political satire, social commentary, and comedy."
Full Metal Jacket
"The recruit training scenes remind me of my time in the Marine Corps."
"Full Metal Jacket is the quintessential Kubrick film that makes you laugh while looking at the blackest part of the human heart."
"It inspired me to be a photographer."
"It is a darkly satirical dramatic comedy that only the great master Kubrick's multi-layered brain is able to more than successfully accomplish. 10 out of 10 steers and queers."
Eyes Wide Shut
"It's an underrated visual masterpiece."
"Eyes Wide Shut was entertaining, while pushing me into questioning the motives behind sex, and the power it holds over people . . . "


Eyes Wide Shut, directed by Stanley Kubrick, 1999, Tom Cruise, Nicole Kidman, and Stanley Kubrick during a break in shooting on the set. © Warner Bros. Entertainment Inc. Photo: Manuel Harlan
Paths of Glory
"I love it because it's the best anti-war war film."
"While Kubrick approaches this story in his typical unsentimental, clinical style, Paths of Glory is heart wrenching to watch. He has it both ways, and it works brilliantly."
The Killing
"Because I am enamored of films noirs and this is a fabulous example."