Fashioning Fashion: European Dress in Detail, 1700–1915 explores the changes in European fashionable dress spanning two centuries. Originally on view at LACMA in 2010 as one of three inaugural exhibitions commemorating the newly opened Resnick Pavilion, Fashioning Fashion opened in Paris on December 13, 2012, the final destination of a two-venue European tour. Fashioning Fashion showcases LACMA's recent acquisition of more than 200 men's, women's, and children's historic costume and accessories. After its showing at LACMA, Fashioning Fashion first traveled to Berlin and was installed and exhibited at the Deutsches Historisches Museum (DHM) from April 29 to July 29, 2012, before arriving in Paris at Les Arts Décoratifs, where it is on view now through April 24, 2013.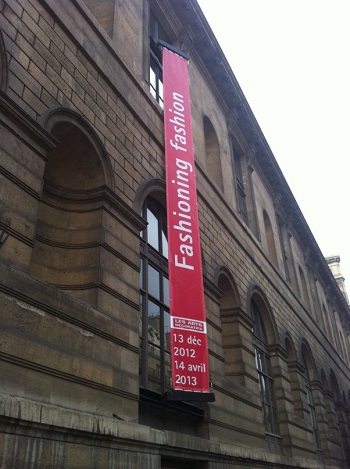 Fashioning Fashion banner outside Les Arts Décoratifs at the Palais du Louvre
Similar to the installation process of Fashioning Fashion at DHM, the art was uncrated, condition reported, mounted, and installed by LACMA staff in collaboration with our host curators, conservators, registrars, and installation specialists. In the days leading up to the Paris opening of Fashioning Fashion, Brigitte Production created three short teaser videos for Les Arts Décoratifs that capture each step of the installation process. (DHM also produced a short documentary highlighting the installation process in Berlin.)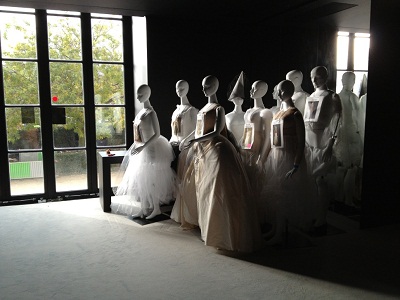 Unpacked and assembled mannequins wait to be dressed before installation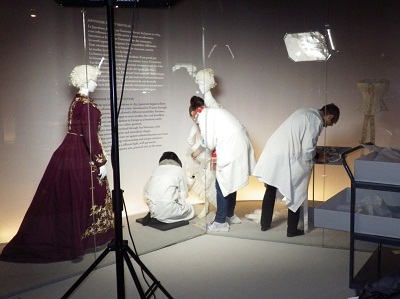 LACMA and Les Arts Décoratifs staff installs a vitrine that displays late 19th century garments
The first teaser video illustrates the delivery of the crates that were previously in Berlin to Les Arts Décoratifs. Altogether the exhibition consisted of forty-eight crates filled with art, mannequins, invisible mounts, paper wigs, dressing supplies, and installation materials. Upon delivery at each of the two European venues, the entire contents of the crates were unpacked and condition reported, a process also shown in this video. [wpvideo yi92JwgT] After uncrating, all objects were examined for condition and then installation began in earnest. Detail shots of the dressing process are shown in the second video. [wpvideo eOfvW5Gm] The third and final video, shot in the last days of the month-long installation, feature images from the completed exhibition. [wpvideo pwpE6l1D] Unlike previous presentations of Fashioning Fashion at LACMA and DHM where the eighteenth- through early twentieth-century dress and accessories were displayed in four thematic sections—Timeline, Textiles, Tailoring, and Trim—Les Arts Décoratifs curators Denis Bruna and Véronique Belloir restructured the exhibition chronologically in the two-story galleries. The exhibition itself portrays a timeline of the changes in European fashionable dress over the two-hundred-year period. Themes of textiles, tailoring, and trim were presented within the context of the historic eras (eighteenth- and early nineteenth-century fashions on the first floor; nineteenth- and early twentieth-century fashions on the second) providing a different, yet likewise striking, exhibition. Comparable to the varying approaches to exhibition design at LACMA and DHM, Les Arts Décoratifs displayed the art using their unique scenography. The original installation of Fashioning Fashion at LACMA in the Resnick Pavilion showed the dressed mannequins emerging from gray shipping crates, while the DHM presented the objects on platforms in four harmonious shades of green. In contrast, the exhibition design at the Les Arts Décoratifs, conceived by Frédéric Beauclair, utilized mirrors, a pale-gray color scheme, and gently undulating back-lit screens to display the dressed mannequins and floating mounts inside vitrines.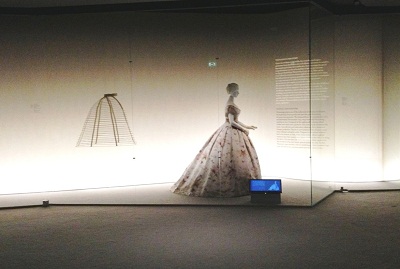 View of a mid-19th century crinoline and dress on the second floor of Fashioning Fashion
A majority of the works in Fashioning Fashion are French in origin, including a rare French Revolutionary vest. This final installation at Les Arts Décoratifs establishes a sort of reunion of LACMA's French and European costume and accessories with Paris—the birthplace of fashion.