This weekend, the Farhang Foundation welcomes the spring equinox with the fifth annual Nowruz (Iranian New Year) celebration at LACMA, the largest event of its kind in Los Angeles. Over two days bustling with activities, the museum plays host to a short film festival, special presentations of artworks, musical and dance performances, family programs, Persian food, and more. You may have noticed Nowruz street banners strewn around Los Angeles and wondered about their symbolism. Sheida Koufigar, an Iranian-American graphic designer currently studying at California State University, Long Beach, was named the winner of the Farhang Foundation's 2013 Nowruz Festival banner contest, which called upon the public to submit designs that visually represent the spirit of Nowruz. Unframed's Stephanie Sykes caught up with Koufigar to learn how she came up with the prize design.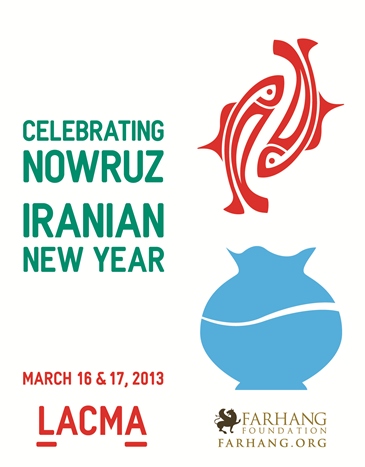 Sheida Koufigar, winning design for LACMA's Nowruz Festival street banner
You were born and raised in Iran but are currently based in Los Angeles. Have your Nowruz traditions shifted within the context of a new city? What is the tradition that resonates with you the most?
The whole experience of Nowruz is completely different here compared to Esfahan, where I grew up in Iran. Over there, one can smell the Hyacinth flowers everywhere. There are little vendors selling goldfish at every corner, and basically the whole country celebrates. I really miss that feeling here. However, I am pretty lucky to be living in a city where there is a large Persian community celebrating this great tradition. Having different events celebrating Nowruz here in Los Angeles makes it easier for me to forget about not being home with my family during this holiday.
For me, Nowruz is all about setting up the Haft-sîn (the traditional table setting), shopping, and visiting family and friends.
Can you walk us through the process of developing your winning banner design?
My design process always starts with research. Even though I had a good idea about the history and traditions of Nowruz, I still could not skip this step of my process. I had to figure out how Nowruz has been introduced in other non-Persian communities before. In other words, I needed to study how Nowruz advertising has been done before outside of Iran. After that, I just sketched and worked with all the visual elements—for instance color, type, and illustration style—to make sure everything worked together to make sense for the public.
When designing this banner, my goal was to show a specific Nowruz tradition in a very contemporary and minimal style. Haft-sîn, which literally means "seven S's," is the traditional Nowruz table-setting which includes seven items starting with the letter Sîn, "S." Each one of these items symbolically represents something in life. For instance, an apple, or sib in Persian, symbolizes beauty and health. Haft-sîn is probably one of the most major traditions of Nowruz that has stayed with people for many years.
At first, I decided to work with a specific Nowruz tradition from older times when the Haft-sîn was placed on a special tray called Tabagh, and the tray was carried by dancers in elaborate costumes.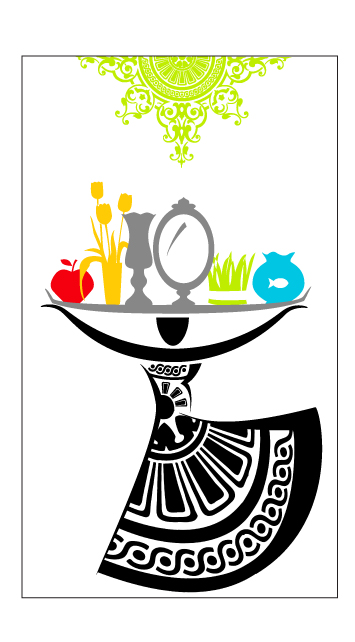 Sheida Koufigar, early design for Nowruz street banner
However, this image looked very specific and there was a risk that it might not have widespread appeal among non-Persian citizens. Therefore, I changed my design to something more recognizable and familiar. I decided to minimally represent Nowuz by focusing on the Haft-sîn itself and illustrating the goldfish as the hero.
Of all the traditional components of a Haft-sîn display, why did you specifically choose to represent the goldfish?
Mahi va Tong (goldfish and the bowl) is one of the Haft-sîn items which stands for life and all living forms. Also, it's one of the most recognizable elements on the table. In addition to its symbolic meaning, personally, goldfish are one my favorite items on the Haft-sîn. Some of my most exciting memories of Nowruz stem from buying goldfish and setting up the Haft-sîn. Because of this sense of nostalgia, I chose the goldfish to visually represent Nowruz.
How do you feel Nowruz and LACMA fit together?
One thing I love about LACMA is its multiplicity. The museum has art from all over the world and it presents exhibitions and events that correspond to its wide range of art. As a result of that, I think LACMA is a great host to Nowruz because it can help familiarize a wide range of diverse audiences with one of the most significant Persian holidays.
Nowruz at LACMA is held March 16-17. Be sure to steer clear of L.A. Marathon street closures by checking their website for the best available route.