Robert Mapplethorpe: XYZ was the first exhibition LACMA presented since its joint acquisition of the photographer's art and archives in 2011, and it features some of the controversial artist's most provocative material. If you haven't seen the exhibition already, this weekend is your last chance—it closes on Sunday. (A concurrent exhibition at the Getty, In Focus: Robert Mapplethorpe, also closes this weekend.)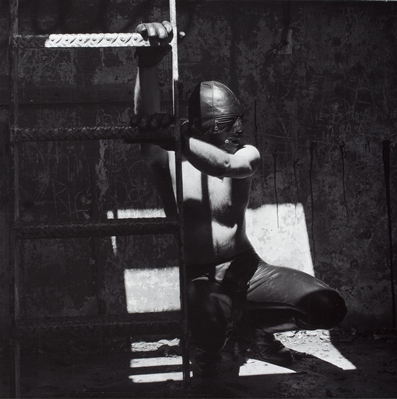 Robert Mapplethorpe, Jim, Sausalito (X Portfolio), 1977, the J. Paul Getty Museum, Los Angeles, jointly acquired by the J. Paul Getty Trust and the Los Angeles County Museum of Art, partial gift of the Robert Mapplethorpe Foundation; partial purchase with funds provided by the David Geffen Foundation and the J. Paul Getty Trust, 2011, © Robert Mapplethorpe Foundation
As detailed on Unframed earlier this week, in conjunction with the closing of Mapplethorpe we will be re-staging a landmark pro-Mapplethorpe, anti-censorship demonstration that took place at the Corcoran Gallery of Art in 1989, in which Mapplethorpe's photographs were projected onto the exterior walls of the museum. The re-staged demonstration will happen outside of the Ahmanson Building on Saturday at 6:30 pm. Bookending the demonstration are screenings that are part of an evening of films, Outlawed! Queer Cinema Before the Culture Wars. The first program begins at 5 pm, with a series of short films by Jean Genet, Jack Smith, and Kenneth Anger (the latter, Scorpio Rising, stars Marlon Brandon); the second segment is comprised of Andy Warhol's My Hustler and Gus Van Sant's feature debut, Mala Noche.
[youtube=http://youtu.be/jjzmk4kPkqo]
Opening this weekend just across the way from the Mapplethorpe exhibition is Between Art and Politics: Hans Richter's Germany, a show that sets the stage for our large-scale survey of Richter's work, Hans Richter: Encounters, which opens May 5 (or become a member and see it even sooner). This smaller show includes works by Cézanne, Kandinsky, and others—stay tuned to Unframed next week for more on this show.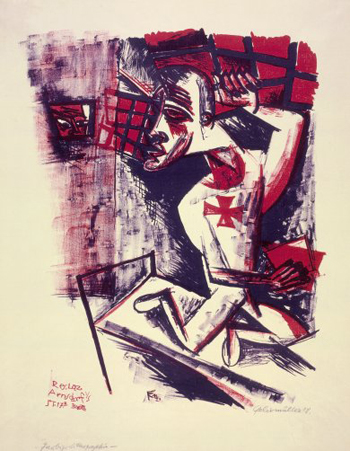 Conrad Felixmüller,Soldier in a Madhouse (Soldat im Irrenhaus), 1918, the Robert Gore Rifkind Center for German Expressionist Studies
Other exhibitions are coming to an end soon, if you haven't had a chance to see them—Daily Pleasures: French Ceramics from the MaryLou Boone Collection and Walter De Maria: The 2000 Sculpture both close next week. Check out all of the exhibitions on view now for a full list of things to choose from.
Ed Ruscha fans—you have a chance to meet the man himself at a book signing and reception in Art Catalogues on Sunday afternoon. Ruscha's son, Eddie Ruscha, will DJ the event with selections from the elder Ed's personal record collection.
Ed Ruscha, Actual Size, 1962, anonymous gift through the Contemporary Art Council, © 2012 Edward J. Ruscha IV. All rights reserved. Photo © 2012 Museum Associates/LACMA
For those of you looking to bring the little ones to the museum this weekend, there are a few great opportunities to keep in mind. On Saturday you can take part in free family tours of the collection, where gallery educators will provide some kid-friendly insight into Metropolis II, the Egyptian collection, and other highlights. Sunday, as always, is the day for Andell Family Sundays—free art-making activities and tours of the collection. (Tours on both days are offered in English and Spanish.) This Sunday we also have a special activity in the form of Act!vated Story Theatre, who will be telling Tales of Ambition and Dreaming Big.
Finally, the weekend concludes with our weekly free chamber music series, Sundays Live. This weekend pianist Abbey Simon will perform Beethoven's Sonata in G major, Opus 14, No. 2, plus other works by Schumann, Ravel, and Prokofiev.
Scott Tennent