In the last few years, LACMA has focused much attention on  building a stellar collection of Latin American art, ranging from ancient to contemporary. The breadth of our collection—with much growth still under way—is what makes it truly exceptional. Since 2006 I have devoted a great deal of time to developing our Spanish colonial, modern, and contemporary holdings. New works have slowly trickled up to the galleries, but many others were waiting to be displayed.
Opening this Saturday, a new reinstallation of the permanent collection gave us the opportunity to streamline the layout of the galleries and make space for new acquisitions, reflecting the collection's ongoing transformation. Now viewers will enter through the ancient galleries (just as before), and move across time to view new works from the colonial, modern, and postwar periods.
Spanish Colonial Art Highlights 
Few people know that as recent as 2006, there was only one significant work from Spanish America in the collection—a striking chalice gifted by William Randolph Hearst. Since then, we have acquired more than 50 important works in this area, converting the museum into one of the principal repositories of Spanish colonial art in the United States.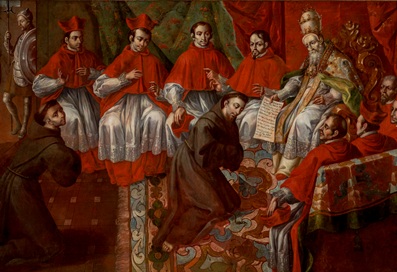 Attributed to Luis Berrueco, "Saint Francis Before the Pope," c. 1710, oil on canvas, purchased with funds provided by the Bernard and Edith Lewin Collection of Mexican Art Deaccession Fund
Among the highlights are paintings by renowned masters from Mexico and elsewhere in the viceroyalties, including Juan Rodríguez Juárez (1675–1728), Luis Berrueco (active in the 18th century), Miguel Cabrera (c. 1715–1768), Juan Patricio Morlete Ruiz (1713–1772), and José de Páez (1720–c. 1801). These works brilliantly attest to the formation of local schools of painting and the invention of new iconographies.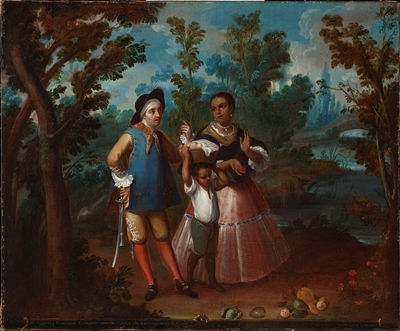 Juan Patricio Morlete Ruiz, "X. From Spaniard and Return Backwards, Hold Yourself Suspended in Mid Air," c. 1760, oil on canvas, gift of the 2011 Collectors Committee
Some key acquisitions include examples of casta paintings, the fashionable 18th-century works that portray the process of racial mixing among Amerindians, Spaniards, and Africans.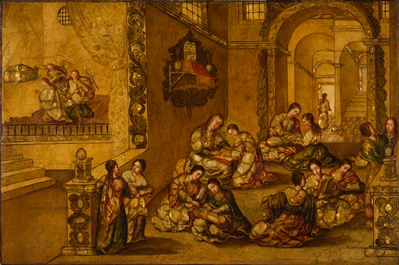 "The Education of the Virgin," Mexican School, late 17th century, oil and encrusted mother-of-pearl on panel (enconchado), purchased with funds provided by the Bernard and Edith Lewin Collection of Mexican Art Deaccession Fund
Other works reveal the interest in Asian materials, formats, and techniques, including a stunning folding screen depicting a large flying pole (an ancient game that continued in colonial times), lacquerwork, and objects made with shimmering fragments of inlaid shell known as enconchados.
Modern Mexican Silver Highlights
Complementing LACMA's collection of Latin American modernism is a recent donation of approximately eighty examples of modernist Mexican silver.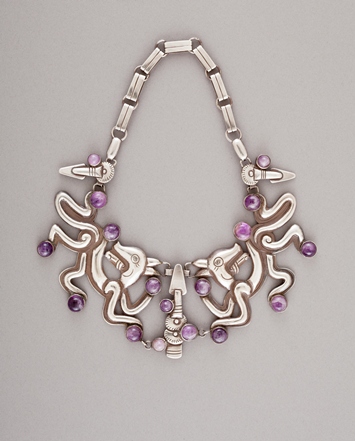 William Spratling, "Double Jaguar Necklace," c. 1940, silver and amethyst, Gift of Ronald A. Belkin, Long Beach, California
In the twentieth century, the Mexican silver industry experienced an unprecedented resurgence. Two North Americans catalyzed this renaissance: Frederick Walter Davis (1877–1961) and William Spratling (1900–1967). From the 1920s to the 1950s, Taxco became the epicenter for innovative silver designs, attracting artists, writers, and politicians from all over the world, including Hollywood celebrities such as John Huston, Mae West, Bette Davis, and Marilyn Monroe among many others.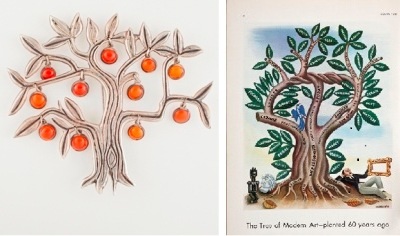 Left: Frederick Walter Davis, "Tree Brooch," 1945, silver and Mexican opal, gft of Penny Morrill, McLean, Virginia; Right: Miguel Covarrubias, "The Tree of Modern Art—Planted 60 Years Ago," Vanity Fair, May 1933, © Miguel Covarrubias Estate, photo © 2013 Museum Associates/LACMA
In 1945 Frederick Walter Davis invited five extraordinary women for a luncheon at his home: the choreographer Rosa Covarrubias and her close friend Carmen López Figueroa, actress Sally Foster, art patron María Asúnsolo, and screenwriter Mary Anita Loos. At each plate was a wrapped box containing a tree brooch, the design for which was based on Miguel Covarrubias's clever genealogical "Tree of Modern Art," which had been published in Vanity Fair in 1933. This is one of the five brooches Davis created for this special occasion.
Donated by a group of distinguished collectors from across the United States, this inaugural gift of Mexican silver signals LACMA's commitment to collecting and displaying modern Latin American design.
Postwar Geometric Abstraction 
Another area of expansion is Latin American postwar geometric art. Buffered from World War II, many South American countries entered an optimistic period of economic growth in the 1940s and 1950s. Abstract art, with its emphasis on clear and distilled forms, became the dominant visual language that reflected a move toward modernization and industrialization. Artists from Argentina, Brazil, Uruguay, and Venezuela who worked in this mode are internationally recognized. Among the new highlights are works by Julio Le Parc (b. 1928), Gego (1912–1994), Alejandro Otero (1921–1994), Raúl Lozza (1911–2008), and Sérgio de Camargo (1930–1991).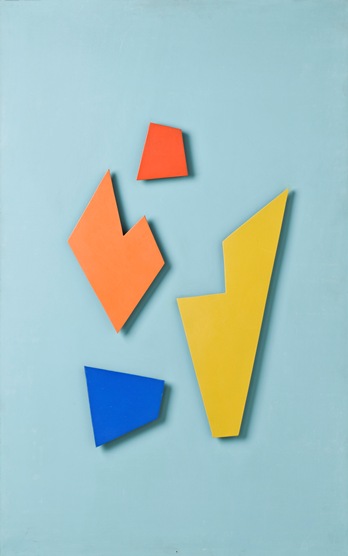 Raúl Lozza, "Untitled," 1953, relief and paint on wood, purchased with funds provided by the Contemporary Art Acquisitions Fund and the Bernard and Edith Lewin Collection of Mexican Art Deaccession Fund
We hope you will have a moment to visit the newly reinstalled galleries and share with us the excitement of witnessing the collection transform.
Ilona Katzew, Curator and Department Head, Latin American Art