Recently LACMA received a gift of some 80 pieces of Mexican modernist silver dating from the 1930s to the 1960s. A selection of these objects is on view in the newly reinstalled Latin American galleries. LACMA's curator and department head of Latin American Art Ilona Katzew sat down with Dr. Penny Morrill, a scholar of Mexican modernist silver at George Masson University to discuss the history of these fascinating objects and their recent gift to the museum. Dr. Morrill will also be at LACMA on Sunday afternoon for a free talk and book-signing.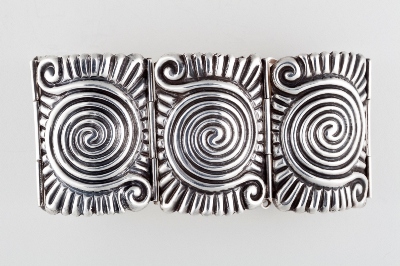 Frederick Walter Davis, "Swirl Glyph Cuff Bracelet," c. 1935, silver, gift of Ronald A. Belkin, Long Beach, California
Ilona Katzew: Penny, you're a noted expert on Mexican modernist silver; what got you interested in the subject?
Penny Morrill: My grandparents had the first tourist hotel in Taxco (1931–42), the Hotel Taxqueño, and my mother was born and raised there. When I was 17, I accompanied my grandmother when she returned for a visit with her good friend William Spratling. He showed us around the ranch and we spent a great deal of that time looking at his pre-Columbian collection. This experience and my family's connection to Mexico led to my decision to study Mexican art and to my fascination with the Taxco silver phenomenon.
IK: People are generally familiar with the name of William Spratling, the architect from New Orleans who established a workshop in Taxco in 1931 and reinvigorated the town's economy by employing hundreds of local artisans. He was also a brilliant marketing strategist. Could you tell us what drew Spratling to Mexico and some of his achievements?
PM: The archaeologist Frans Blom, founder of Tulane University's Middle American Research Institute, gave a presentation in New Orleans about his recent finds. Spratling, who was on the faculty of the School of Architecture at Tulane, became enthralled with Mexican culture and, in 1926, began teaching an annual summer course on Mexican colonial architecture at the national university in Mexico City. He received a book contract and, in 1929, resigned from his faculty position at Tulane to buy a house in Taxco and write Little Mexico. Spratling decided to stay and, in order to make a living, he organized a small silver workshop and went into production in 1931. While he is considered one of the foremost silver designers in the world, Spratling was lionized in his own time for the creation of a model industry. Warner Brothers did a documentary about him in 1946 and, in 1949, Spratling was asked by the U.S. government to replicate his workshop in Alaska. A pragmatic visionary, Spratling's success derived from an emphasis on process rather than product in a handwrought industry, a workshop hierarchy based on ability, the use of local materials combined with silver, and the inspiration of pre-Columbian art. Spratling's approach to production provided employment and training for hundreds of artisans and became a prototype for countless small industries in Mexico.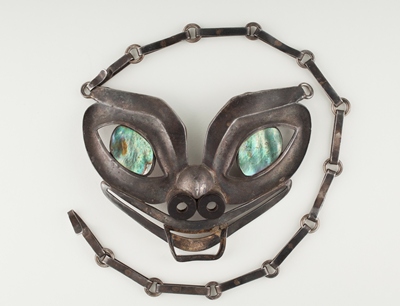 William Spratling, "Alaska Mask Necklace," 1949, silver, baleen from either a bowhead or blue whale, Alaskan or pinto abalone, gift of Penny Morrill, McLean, Virginia
IK: Frederick Walter Davis was another American who was a major catalyst in the development of the silver design industry in Mexico in the 1920s and 1930s. Did he know Spratling? How did their projects intersect?
PM: Fred Davis would have been one of the first people Spratling encountered in Mexico City. In the 1920s, Davis's gallery in the Palacio de Iturbide Hotel had become a lively center for the exchange of art and ideas, drawing both Mexican and international artists and intellectuals. Spratling's architectural drawings were exhibited at the gallery. Rene d'Harnoncourt, who arrived from Austria in 1926, worked with Davis in the development of the gallery. In 1934, he emigrated to the United States, later serving as director of the Museum of Modern Art in New York (1949–1967). Davis, d'Harnoncourt, and Spratling collaborated on designing and furnishing Ambassador and Mrs. Dwight Morrow's home, Casa Mañana, in Cuernavaca, the couple's retreat while Morrow was American ambassador to Mexico (1927–1930). In the late 1920s, Davis was producing a line of jewelry based on pre-Columbian sculpture and contemporary folk art. This jewelry provided inspiration for Spratling's first designs in silver and, in those early years, Spratling sold his work in Davis's gallery.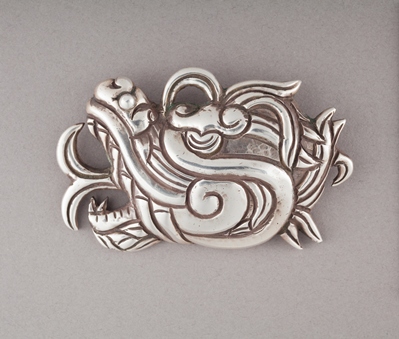 William Spratling, "Quetzalcóatl Head Brooch," 1938–44, silver, gift of Ronald A. Belkin, Long Beach, California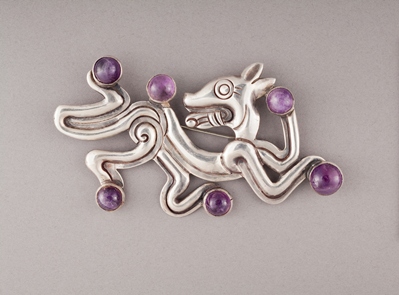 William Spratling, "Jaguar Brooch," c. 1940–46, silver and amethyst, gift of the Goddard Family in memory of Phyllis Goddard, Los Angeles
IK: Aside from Spratling, there were other important designers who established equally successful workshops and created astonishing objects. Part of your life's work, in fact, has been to give these designers their due.  Who, in your estimation, are some of the most salient artists?
PM: According to most Taxquenians, one of the greatest silver designers in twentieth-century Mexico was Valentín Vidaurreta, who collaborated with Fred Davis, Spratling, and Héctor Aguilar. Vidaurreta's art education in Spain and Paris enabled him to interpret the three-dimensionality of pre-Columbian sculpture with a refined simplicity of line and surface. He was also a master at reproducing in repoussage the flowers from his spectacular gardens. Margot van Voorhies has recently received her due as an extraordinarily gifted and prolific designer at Los Castillo and then on her own at Margot de Taxco. Chato Castillo became a significant design force at Los Castillo after 1950, and Salvador Teran and Sigi Pineda emerged from that workshop to establish their own unique jewelry designs. In Mexico City, Matilde Poulat (MATL) designed and produced jewelry that I consider to be some of the most interesting and exciting work from the period.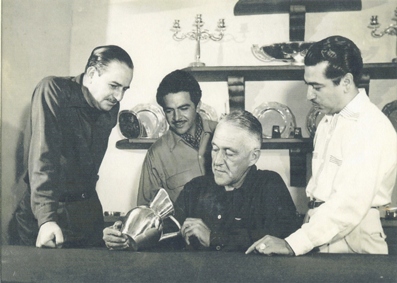 Photo by Juan Guzmán of Héctor Aguilar, Antonio Pineda, William Spratling, and Antonio Castillo, c. 1955. Collection of the Latin American Library, Tulane University
IK : Another question that inevitably comes to mind, is who were making these objects, and what was the relationship between the designers and craftsmen?
PM: I have come to realize that the object could not have existed had it not been for the artistic dialogue between designer and maestro. Spratling's drawings, while occasionally on the backs of envelopes, were fairly complete concepts. However, Spratling was dependent on Marcial Chávez's genius as a silversmith to interpret the drawing in the production of the silver object that became the prototype for the workshop. Two gifted maestros, Enrique Ledesma and Alfonso Ruiz Mondragón, were chosen by Spratling to produce the prototypes for the Alaska project, one of which is the beautiful mask necklace illustrated above. Master silversmiths at Héctor Aguilar's "Taller Borda," Adan Alvarado, Luis Flores, and Julio Carbajal López, are remembered for their contributions. The jewelry signed by Antonio Pineda resulted from the teamwork of an extraordinary group of maestros, including Bruno Rafael Pineda, José María Pineda, Filiberto Gómez, and Luis Montes de Oca. Tane perhaps best exemplifies this dialogue in the Art/Object series, in which renowned artists are given the opportunity to design an object in silver and to collaborate with a maestro in its production.
IK: What I find so fascinating is how Mexico, Taxco, became the epicenter for innovative silver designs, attracting artists, writers, and politicians from all over the world, including Hollywood celebrities such as John Huston, Bette Davis, and Marilyn Monroe. What role do you think the silver industry played in attracting these personalities? 
PM: Art was the language of revolution in twentieth-century Mexico, and the world was drawn by the power of art to enact change. Scholars, artists, authors, communists, and musicians traveled to Taxco for its beauty and to observe the realization of social and economic change wrought by the silver industry. Stuart Chase, Katherine Anne Porter, Hart Crane, Gertrude Stein, and John Dos Passos were among the early cultural pilgrims, as were Aldous Huxley, Mabel Dodge Luhan, Chief White Eagle of Oklahoma, George Gershwin, Leopold Stokowski, and the renowned costume designer Adrian of Hollywood (Dorothy's red slippers). Other Hollywood luminaries who made their way to Taxco were director John Ford, Leslie Howard, Linda Darnell, Lana Turner, Mae West, Dolores del Río, Errol Flynn, Henry Ford, Paulette Goddard, and many more. These visitors brought home silver jewelry and decorative objects embellished with "exotic" motifs derived from Aztec and Mayan art that became emblems of the new Mexico.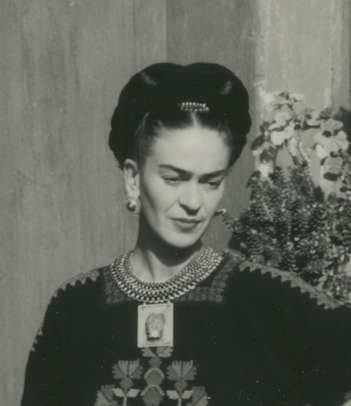 Photo by Florence Arquin of Frida Kahlo in Coyoacán, wearing a necklace made for her by Frederick Davis with a Tlatilco ceramic figure on a silver plaque (detail), 1949, photo: courtesy of Spencer Throckmorton, New York
IK: Many of the works in LACMA's inaugural gift reveal a fascination with indigenous cultures and ancient Mesoamerican forms and materials. How did these motifs fit within the larger vogue for all things Mexican, and also the archaeological discoveries of the time? 
PM: Spratling owned reproductions of the Codexes Vindobonensis, Fejérváry-Mayer, and Nuttall as part of an extensive library on pre-Columbian art. He shared his passion for collecting with Josué Sáenz, Miguel Covarrubias, Diego Rivera, and Roberto Montenegro, and with North Americans Nelson Rockefeller, Robert Woods Bliss, Gillett G. Griffin, and Morton D. May. Spratling visited archeological sites and knew many of the notable archaeologists and scholars in Mexico, among them, Ignacio Bernal, Herbert J. Spinden, Alfonso Caso, and George Vaillant. Caso's discovery in 1931 of the gold treasure in Monte Albán's Tomb 7, in Oaxaca, directly influenced the work of designers in Taxco and throughout Mexico. Most of these Mexican jewelers resisted slavish imitation and moved to subtle and suggestive borrowings, all the while retaining symbolic references. The resonance of these works reveals the fascination with indigenous culture, which was shared by those who made the silver and by those who bought it. Today these silver designs remain powerful and sensuous artistic statements.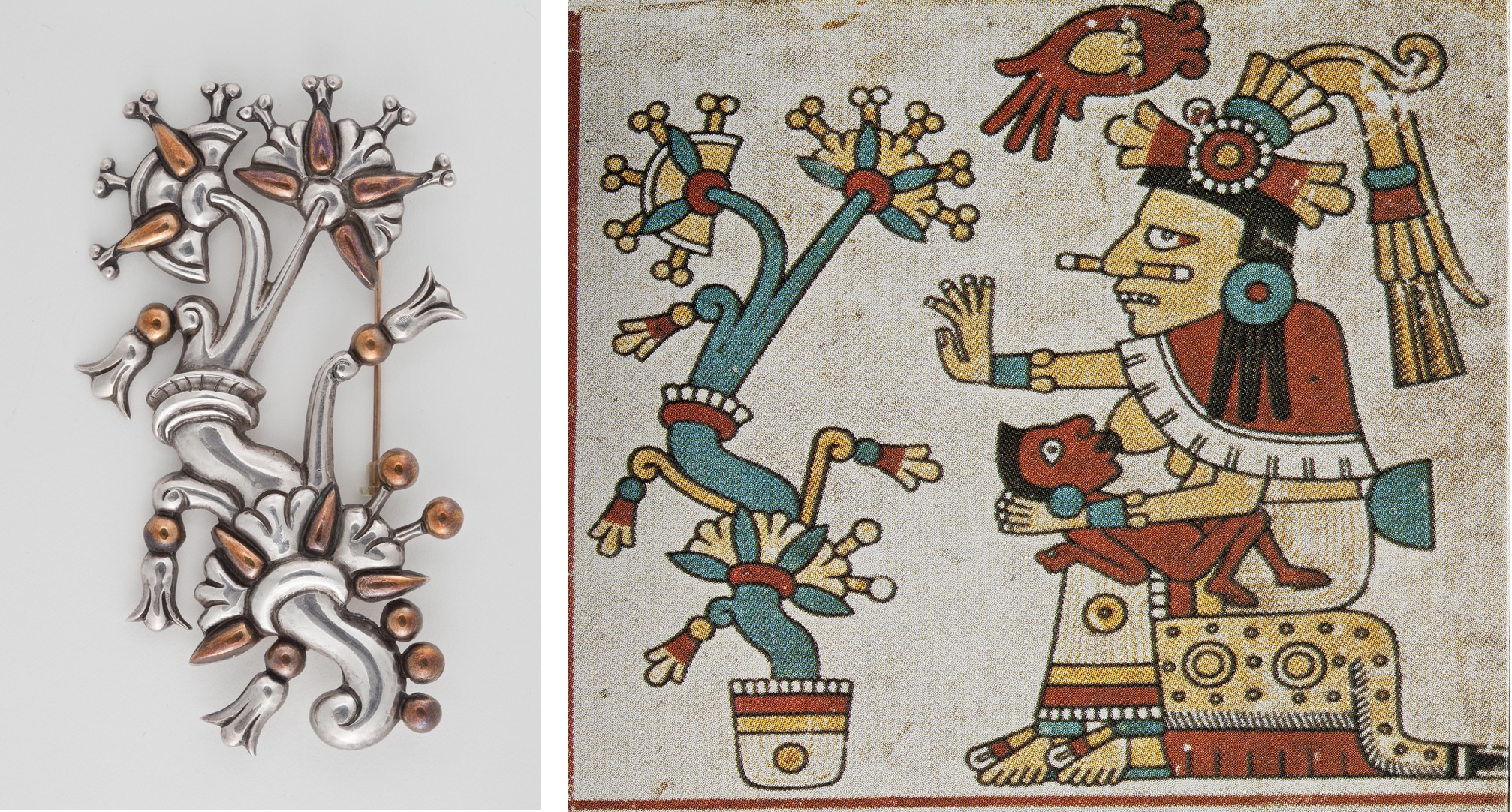 Left: William Spratling, "Tree of Life Brooch," c. 1938–44, silver and copper. Gift of Ronald A. Belkin, Long Beach, California; Right: "Xochiquetzal," from the "Codex Fejérváry-Mayer," Nahua, Mexico, 1350–1500, World Museum, Liverpool, Great Britain, folio 29, photo © 2013 Museum Associates/LACMA
IK: Finally, Penny, why is it so significant to represent these works at LACMA and in Los Angeles?
PM: Something almost magical took place in Taxco during the twentieth century. Vast numbers of designs poured out of the workshops where there seemed to be no limits on creativity and experimentation. Marked by technical and stylistic innovation, the jewelry and decorative objects are a worthy match to the modernist Mexican paintings on display at LACMA. The museum is the first in the world to develop a collection of Mexican twentieth-century silver and, as a result of the generosity of collectors from across the United States, LACMA has been able to acquire extraordinary examples of the silversmith's art. Los Angeles has strong ties to Mexico, and these will only be strengthened by LACMA's efforts to represent the full range of Mexico's artistic output. This silver collection will become the benchmark for the future, as inspiration for connoisseurs, artists, and designers. In future years, museum visitors will get the opportunity to view new work by young contemporary designers working in Mexico today. The exciting aspect of Mexican silver is that there is always something new to discover. Even more fun is that you can set your table with Mexican silver candlesticks, bowls, and flatware and then wear Mexican jewelry to the party!