This Saturday night from 8–11 pm, LACMA Muse presents International Museum Night, an after-hours celebration of art from around the world. In addition to free talks and discussions throughout the evening and late-night gallery hours, LACMA Muse is partnering with Patina Restaurant Group Executive Chef Jason Fullilove and KCRW DJ Marion Hodges to bring global tastes and sounds to the event. I asked Fullilove and Hodges to share their histories, inspirations, and insights into their respective creative mediums―food and music―as they prepare to celebrate International Museum Night in their own unique way.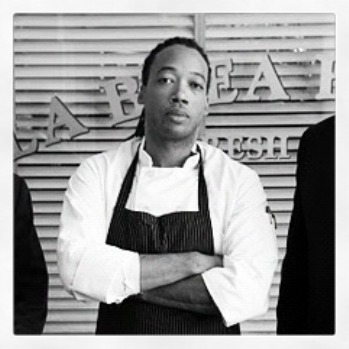 Chef Jason Fullilove, an Executive Chef with Patina Restaurant Group at LACMA since 2012, has been creating menus for LACMA's pop-up RED dinners inspired by films, music, and more
What was your beginning as a chef?
Jason Fullilove: I started out washing dishes in Amherst, Massachusetts 21 years ago and worked my way up to pantry cook in a few months. I was an Executive Chef at a boutique hotel in Ohio, a chef for a large fine dining restaurant company in New York City, and a chef for the Ritz Carlton in the Virgin Islands before relocating to California in 2009.
The menus you create for LACMA - especially the themed ones - are so creative. When did you start making "inspired" menus for events?
I've always been a creative chef. I've always been a curious chef. Oftentimes, I write menus with ideas I've never actually tried before, just to see if we can pull it off and make something delicious. We succeed more often than not! The themed menus at LACMA give me a chance to push this creative curiosity to the extreme―like when I'm asked to create food inspired by a 19th-century Japanese printmaker!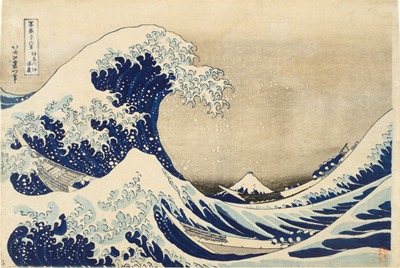 Katsushika Hokusai, The Great Wave off Kanagawa, c. 1830–31, gift of the Frederick R. Weisman Company
That's right! For International Museum Night, you've created two tasting stations―one inspired by Hokusai at LACMA and one by Henri Matisse: La Gerbe. How did you decide what to create?
I love Japanese food and I love French food. The Japanese are known for clean, crisp flavors and obviously a mastery of raw fish. The French are gods of cooking techniques and the farmer's market. I wanted to create dishes that would celebrate that in one or two bites, but still with my personal twist on it.
In honor of International Museum Night, I have to ask―do you have a favorite place to eat outside of the United States?
Sogo's by the ferry dock in Maho Bay, St. John, US Virgin Islands. They have the best curried goat, Johnny Cakes, and lots of good rum.

DJ Marion Hodges, who recently celebrated her four-year anniversary with KCRW, will be spinning an eclectic mix of new and classic sounds that will include indie pop, soul, and gentle beats from points all around the world
What's your favorite song from another point around the world?
Marion Hodges: That is really tough to pin down. I have so many favorites! I have to go with this feel-good Brazilian psych party jam "Bat Macumba" by Os Mutantes. Honorable mentions go to Spanish artist Sonya's cover of the Rolling Stones "Get Off of My Cloud," (she calls her version "En Mi Nube"), and another Brazilian track, also a cover―"It's My Thing" by The Cry Babies. I'm planning to play all of these at International Museum Night!
What's your favorite type of artwork?
Pop Art is my favorite type of art in general. I love that level of humor and self-awareness in pieces like Any Warhol's Campbell's Soup Can and Roy Liechtenstein's comic strip-inspired work. (Editor's note: artworks by both Warhol and Lichtenstein are on view in the Ahmanson Building during International Museum Night)
Roy Lichtenstein, Cold Shoulder, gift of Robert H. Halff through the Modern and Contemporary Art Council
Do you have a favorite artwork at LACMA?
Lichtenstein―the artwork is shockingly vibrant and beautiful. I feel like I must have seen those images so many times before I knew who the artist was. I just remember thinking, every time I saw one, "Oh, this is for me. Everything about this is for me."
Find out more about International Museum Night.
Meghan McCauley, LACMA Muse