Visionary artist and film director Hans Richter played a crucial role in establishing film as an art form in the first half of the twentieth century. When you enter Hans Richter: Encounters, you will immediately find yourself in the midst of Richter's creative and artistic universe, ranging from his early portraits—done in pre-World War I Germany—through his Dada works and early abstract films, up to his cinematic works done in the U.S. As you will notice, film is everywhere in this exhibition interacting with the artworks on the wall.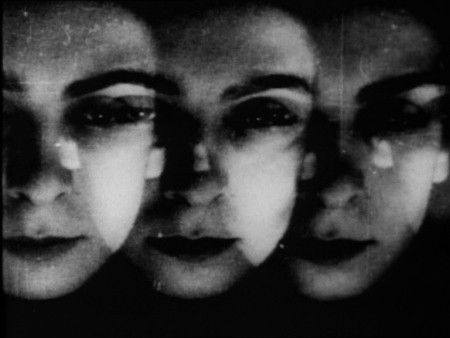 Hans Richter, Filmstudie (Film Study), 1928, © Hans Richter Estate
Among the films shown in the exhibition is his 1928 Filmstudie (Film Study). This film inaugurates a new chapter in his cinematographic work. Here, Richter shifts from abstraction to a montage-influenced style in his filmmaking, and over the subsequent years, he completed several other similar works, including Ghosts Before Breakfast, Inflation, and Everything Turns, Everything Revolves (all on view in the exhibition), which have become landmarks for modern cinema. While in his early abstract films, such as Rhythm 21 (Rhythmus 21) and Rhythm 23 (Rhythmus 23), Richter used only geometrical forms; in Filmstudie (Film Study), he incorporates lens-based images, playing with superimpositions of forms and objects. The images used in the film, the head of the American avant-garde photographer Stella F. Simon or the moving eyes, became so iconic that they were used in several publications on modern film. However conceptual and modern it might be, the film doesn't lose its intimate and humorous approach: playful as always, Richter ends the film with the word "Aus" (Off).
[youtube=http://youtu.be/-Pc1Z6JzutY]
Frauke Josenhans, Curatorial Assistant, Robert Gore Rifkind Center for German Expressionist Studies