Every Thursday and Friday at 2:15 pm, I have my typical routine. I walk across Carondelet Street to the sounds of students at the end of their day. I pass parents sitting on benches and street vendors selling ice cream. The neighborhood is historic MacArthur Park. The school I visit every week is Charles White Elementary School, the former site of Otis Art Institute.
Every year, the school's art gallery becomes the venue of an Education-driven exhibition project. This year, we worked with New York-based artist Shinique Smith to show her work alongside selections she curated from the museum's Costumes and Textiles collection, including pieces by Yves Saint Laurent, Geoffrey Beene, and Philip Treacy.  Smith's work served as both the inspiration and lens from which students created mixed media collages that are also on view.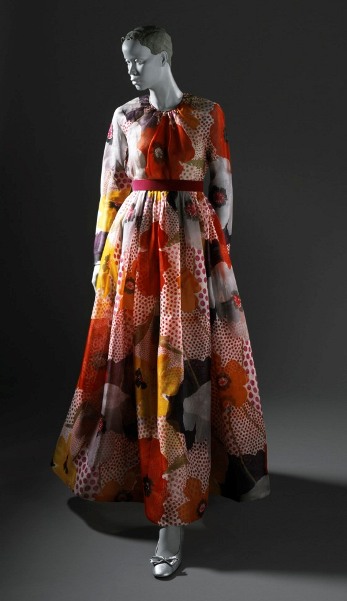 Geoffrey Beene, Woman's Evening Dress, c. 1972, gift of Margo Winkler
Last fall we transformed the then empty and inert gallery into a dynamic art studio.  Over 100 students from the after school program participated in workshops focused on Smith's work and process.  Students explored what inspired her, from graffiti to an oil spill.  They considered their own sources of inspiration, which they documented in journals.  One student drew cars; another, a portrait of her mother.  Each idea was fodder for an art project.  We led the students in creating calligraphic brush paintings using sumi ink and watercolors.  The students then took fabric scraps and found objects and, much like Smith in her own work, created art out of something ordinary and discarded.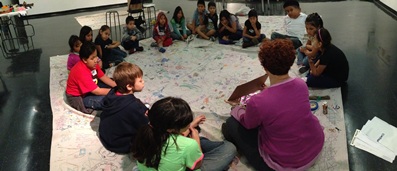 The gallery at Charles White Elementary School was used as an art studio prior to the exhibition installation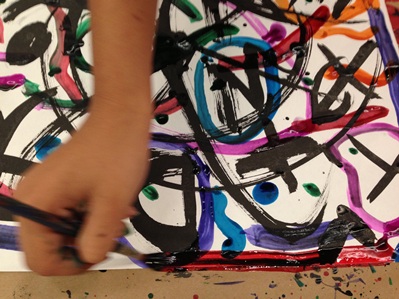 Detail of student artwork
In many ways, the student artwork is like any object in a gallery.  At first glance, they are just collages.  But upon closer study, process is revealed.  I see the deliberate choices the kids made in picking and placing their materials.  I see the manner in which they employed their brush and can trace their hand movements.  I see them finding a voice through art, especially when language is an obstacle. 68% of the student population is comprised of English Language Learners.
Our initial goal with this project was primarily to activate a gallery into an art exhibition, but ultimately I think we activated a little something in each of the students.  Recently I watched two students take to the artistic process in ways that educators hope.  The first student showed her methodical approach as she arranged her brushes according to color.  She experimented by alternating between her fingers and brushes as painting tools.  She also dripped paint by holding her "canvas" vertical.  The second student was just as iconoclastic.  He was the first to introduce a hanging component in his artwork, expanding the confines of the canvas.  He also innovated a painting technique in which he rolled a paint brush between his hands, creating a signature gesture distinguishable in his artwork.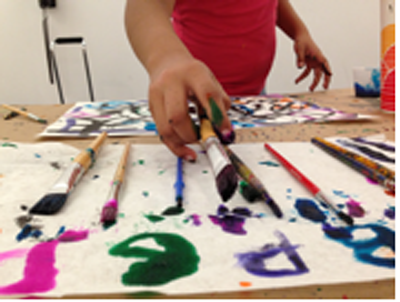 The artist at work
To access the gallery during school, I walk across the playground.  A soccer game is always in full swing.  I'm greeted by several spirited students who have come to associate my colleagues and me with LACMA.  I descend a set of stairs before reaching the entrance to the gallery.  I look up and see the Entry Arches, one of the first public art monuments created in MacArthur Park.  The sound of a busy street corner sneaks into the gallery as I open the doors.  I pass the threshold, turn on the lights, and get ready for another day.
Shinique Smith: Firsthand is on view through July 19, 2013, at Charles White Elementary School.  Thursdays and Fridays the gallery is open, 2:30-6 p.m. and every second Saturday, including this weekend, is Family Day, 11 a.m.-2 p.m.
Eidelriz Senga, Education