This summer, visitors to the 4th floor of the Ahmanson Building will likely be surprised to encounter—as they wander through the South and Southeast Asian galleries—a contemporary installation of hammocks fabricated from traditional Thai textiles by the Bangkok-based artist Pinaree Sanpitak.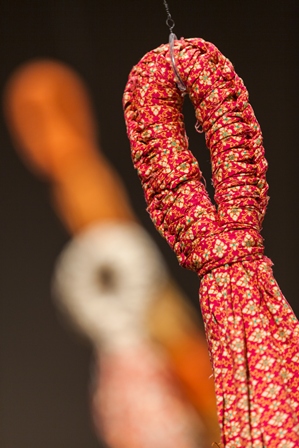 Pinaree Sanpitak, Hanging by a Thread, installation view
The opportunity to display her artwork arose as a result of the department's plans this year to entirely redo its gallery for Southeast Asian sculpture. The space was in sore need of attention, having last received a partial makeover in 1983.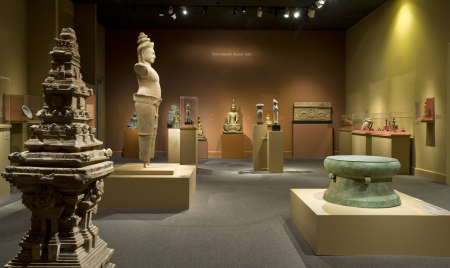 View of the Southeast Asian gallery before the installation
Since the reinstallation plans involved emptying out the gallery (except for one sculpture), removing pedestals, and tearing out three walls of casework, the interim space seemed like it might be perfect for a contemporary experiment. The only caveat was that any contemporary work shown there would have to share the stage with a monumental stone sculpture of the Hindu god Vishnu.
The Hindu God Vishnu, Cambodia, tenth century, gift of Anna Bing Arnold
One of the museum's most important works from Southeast Asia, the tenth-century Khmer sculpture is difficult to move because of its tremendous size and weight (over one ton). Furthermore, it is fixed into a base isolator, weighing over two tons, which cannot be resituated without extensive engineering analysis of the floor's load-bearing capabilities.  (The base isolator was installed after the 1994 Northridge earthquake, during which the Khmer sculpture had fallen and broken in several parts. You can get a closer look at how the isolator works here.)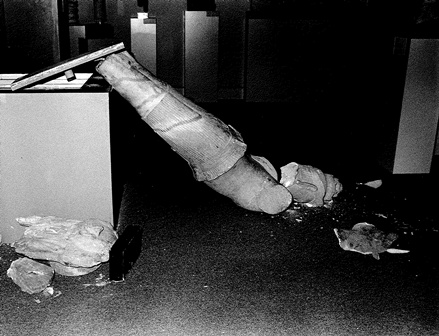 LACMA's Vishnu sculpture after the Northridge earthquake
Pinaree Sanpitak's installation, entitled Hanging by a Thread, perfectly bridges the distance between the historical collection, as represented by the Khmer Vishnu, and concerns of a contemporary generation of Southeast Asian artists.  Sanpitak created the installation in the aftermath of the 2011 monsoon floods that ravaged Thailand. Royal-sponsored relief efforts included the distribution of traditional printed cotton cloths known as paa-lai and paa-kao-maa.  It is from the paa-lai fabrics—used primarily by women—that the artist crafted the individual hammocks.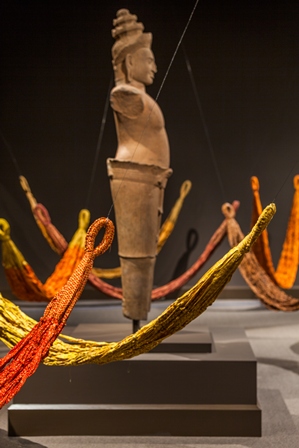 Although Thailand is a predominantly Buddhist country, Hindu deities were introduced into the region in the early centuries CE, and continue to be revered there today. Images of Vishnu were created in great numbers across the Khmer kingdom, which encompassed parts of modern Thailand as well as Cambodia, between the seventh and thirteenth centuries. Block-printed and hand-painted textiles—of the type that inspired the paa-lai cloths—were exported from India for royal use in Thailand from as early as the 14th century. These longstanding connections between India and Thailand are underscored by both the Vishnu sculpture and the contemporary installation. Pinaree Sanpitak: Hanging by a Thread will be on view through September 29.
Tushara Bindu Gude, Associate Curator, South and Southeast Art