One of the themes of Hans Richter: Encounters is the artist's voracious appetite for so many artists, movements, and collaborations across much of the twentieth century—from Expressionism to Dadaism to Constructivism to Surrealism. The exhibition, on view in the Resnick Pavilion, looks at Richter's entire career, which began in Germany and ended in the US.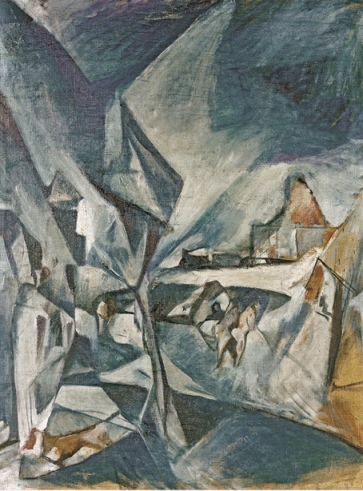 Hans Richter, Schlittenfahrt (Skating), c. 1915, Kunsthaus Zürich, © 2013 Hans Richter Estate, Photo: Kunsthaus Zürich
Over in the Ahmanson Building, another exhibition offers additional context: Between Art and Politics: Hans Richter's Germany. Curatorial Assistant Frauke Josenhans assembled this complementary exhibition, which she wrote about for Unframed not long ago, and which illustrates the many artistic movements from Germany, France, and Italy that impacted the young artist at the start of his career. Here, Josenhans takes us through the exhibition on film, which includes artists like Albert Bloch, Paul Cézanne, George Braque, and more.
Scott Tennent