African art has come to LACMA as yet another of the museum's bold new initiatives. It is an honor to assist in launching a program and guiding the creation of a dedicated gallery for the arts of Africa in order to give African art a more permanent and prominent presence at the museum and in Southern California, beginning with the new exhibition Shaping Power: Luba Masterworks from the Royal Museum for Central Africa.
African works have been featured at LACMA in the past through donors' generous gifts, long-term galleries, and temporary exhibitions organized by guest curators (including the 2008 exhibition Tradition as Innovation in African Art, which I organized in partnership with the Fowler Museum at UCLA). The present initiative, however, is a more integrated program within the creative landscape of a new, transformed LACMA of the last few years.
Shaping Power conveys the richness and beauty of this important artistic tradition that was instrumental to shaping one of Central Africa's most influential precolonial kingdoms. The beauty, elegance, and cultural significance of these classical Luba works demonstrate LACMA's commitment to building a program of aesthetic and intellectual magnitude to celebrate Africa's great artistic legacies. The exhibition also presents opportunities to teach about African history and cultural expression through the arts, with outreach a primary goal. For this exhibition, LACMA has been very fortunate to collaborate with the staff of the Royal Museum for Central Africa, in Tervuren, Belgium, and especially with RMCA Director General Guido Gryseels and Head of the Ethnography Division, Anne-Marie Bouttiaux, who has served as co-curator for Shaping Power.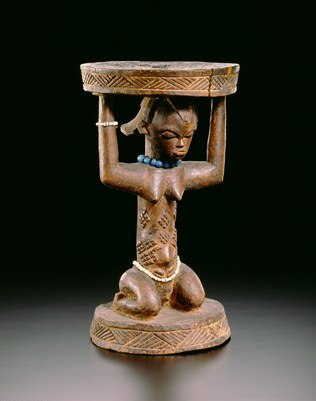 Caryatid Stool, Democratic Republic of the Congo, Luba Peoples, 19th Century, Wood, glass beads, Royals Museum for Central Africa, RG 22725, Photo R. Asselberghs, RMCA Tervuren ©
Africa had—and has—many highly centralized kingdoms and states, and the Luba kingdom is one of the most important of Central Africa. The sculptures in Shaping Power were emblems of Luba rulers. Yet, while Luba arts were made and owned by men they almost always depict women, signaling the critical roles Luba women play as spiritual intermediaries, diplomats, advisors, and leaders of their communities. Upon entering the exhibition, the visitor will find two sculpted stools supported by kneeling female figures, as the most emblematic of Luba royal arts that once served as kings' thrones. The stools provide a first glimpse of the complex philosophical underpinnings of authority in Luba culture, for kings are represented by the women who surround, uphold, and empower them. As a Luba proverb states, "Men are chiefs in the daytime, but women are chiefs at night." And as Dr. Mutombo Nkulu-N'Sengha (a Luba professor of Religious Studies at California State University, Northridge) states, "The king's role is to protect the people, to ensure human flourishing, and to serve the spirit. At the center of this is life, and women are the ones giving life. The foundation of kingship is the women."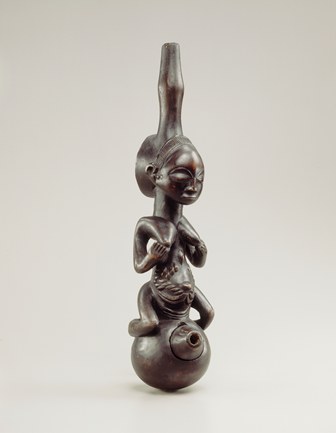 Anthropomorphic Water Pipe, Democratic Republic of the Congo, Luba Peoples, 19th Century, Wood (Ricinodendron rautoanemii), Royal Museum for Central Africa, RG 73.73.1 (collected by Comm. Hennebert between 1981 and 1900), Photo R. Asselberghs, RMCA Tervuren ©
Shaping Power features a select group of works that lend insight into Luba aesthetics, forms, and styles of the nineteenth century and earlier. They include figurative thrones, elegant scepters, royal cups, a virtuoso investiture bowl, intricately carved headrests, emblems of power such as a ceremonial axe, a finely rendered bowstand that served as a powerful receptacle of royal authority, and an ethereal water pipe graced by a serene female figure. Also included are compelling ancestral figures from neighboring groups such as Tabwa, Hemba, and Kalundwe, that tell their own stories from more distant regions of Luba influence.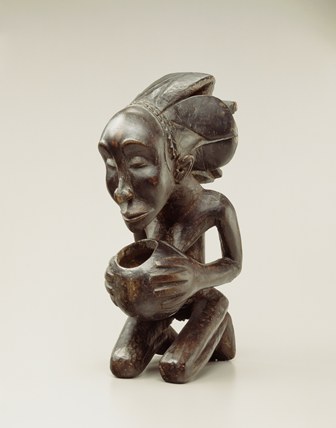 Bowl-Bearing Figure, Democratic Republic of the Congo, Luba-Henba Peoples, 19th Century, Wood (Ricinodendron rautanenii), Royal Museum for Central Africa, RG 14358 (Collected between 1981 and 1912, gift of A.H. Bure), Photo R. Asselberghs, RMCA Tervuren ©
The works on display are sculpted from wood, with additions of iron and/or copper, as well as one work carved from ivory. While most of the artists' names are not known to us today, four hands are identifiable. These include a kneeling bowl-bearing female figure by the celebrated artist known as the Buli Master, whose honorific Ngongo Ya Chintu means "Father of Sculpted Things" and whose workshop was the first identified anywhere in Africa by art historians. Two jewel-like headrests by the so-called Master of the Cascade Headdress are also on view. The exhibition further features the Royal Museum's most iconic mask—so much so that it serves as the Belgian museum's logo—on loan for the first time ever. The work may allude to the culture hero who introduced kingship to Luba people and the etiquette and precepts of royal bearing. The mask combines a supremely regal human face and the inward gaze of a divine being with a coiffure that suggests buffalo horns to convey both stealth and strength.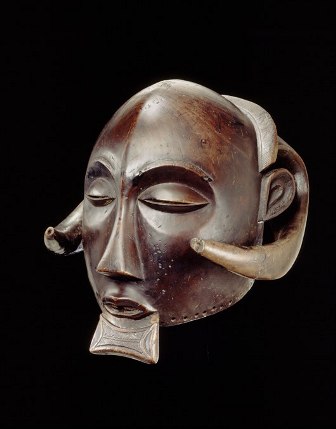 Male Mask, Democratic Republic of the Congo, Luba Peoples, 19th Century, Wood (Schinziophyton rautaneii), Royal Museum for Central Africa, RG 23470 (collected by O. Michaux in 1896), Photo R. Asselberghs, RMCA Tervuren ©
To complement these historical works, a contemporary installation entitled Congo: Shadow of the Shadow (2005) by the Luba artist Aimé Mpane has been borrowed from the Smithsonian Institution's National Museum of African Art. A male figure formed from 4,652 matchsticks expresses the paradoxes of human fragility and strength as light plays against shadow, substance against ethereality. Shadow of a Shadow offers a gripping commentary about how power was co-opted and re-configured by King Leopold's possession (1885–1908) and then Belgian colonial rule of the Congo (1908–1960). The resilience and courage of Congolese people are expressed by Mpane's installation, and the brilliance of contemporary Congolese artists offers an important lens into present perspectives on the past.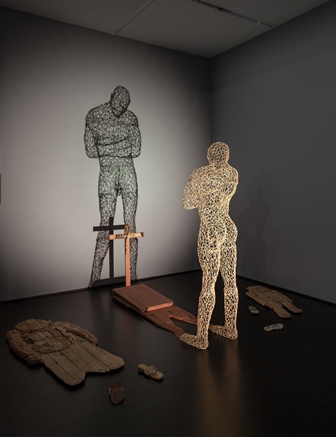 Aim
é
 Mpane, Congo, Shadow of the Shadow, 2005, Mixed-media installation, 132 x 209 x 144 in., 
National Museum of African Art, Smithsonian Institution, Museum Purchase, 2009-10-1, 
photo (c) 2013 Museum Associates/LACMA
Sculptures on display in Shaping Power are also memory devices that permit and provoke narrative histories of Luba kingship and important chiefdoms as repositories of esoteric Luba knowledge. An intriguing Luba memory device called a lukasa has been borrowed from a private collection to suggest how the past is continually re-imagined through the eyes of the present. This object, made from wood and covered with beads, will be a magnet for audiences as they learn how a lukasa functions as a library of Luba knowledge encoded within the colors and configurations of its beads and incised patterns. Histories come alive through the beaded byways of this multi-layered memory map.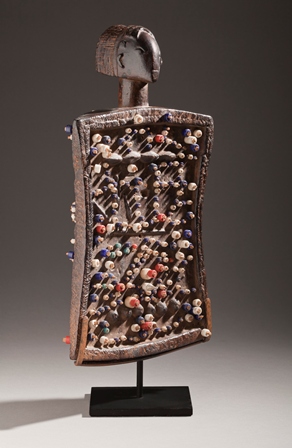 Memory Board (Lukasa), Luba People, Democratic Republic of the Congo, Wood, beads, and metal, 13 3/8 in., Private Collection, photo (c) 2013 Museum Associates/LACMA
Shaping Power considers compelling themes in its groupings of objects, such as the purposes of sculpture in royal ritual, and how such works effect the transformation of an ordinary man to a sacred king. Why do Luba emblems commissioned, produced, and possessed by men nonetheless depict women? How are the guardian spirits of Luba kingship attracted to female figures, and why do sculptures depicting women empower their male owners? How do works from neighboring groups reflect the widely influential precepts of Luba royal aesthetics? And how do certain objects possess powers of healing and transformation?
As LACMA bursts with exciting ideas and innovative programs, African arts will contribute to such enthusiasm. Los Angeles is extraordinarily diverse and culturally rich, and the new program in African arts will offer opportunities for outreach and collaboration with a wide variety of communities. The opening of Shaping Power and the inauguration of the new dedicated gallery will announce to the world that African art has come to LACMA, and that it is here to stay.
Mary (Polly) Nooter Roberts, Consulting Curator, African Art
Professor, UCLA Department of World Arts and Cultures/Dance