During the month of July, Andell Family Sundays will focus on the special exhibition Hans Richter: Encounters. Richter loved to experiment with different media and to collaborate with other artists. He was a printmaker, painter, filmmaker, and writer. In his collaborations, he forged lifetime friendships. He was on the forefront of twentieth-century modernism, including Dadaism. One of the workshops at Andell Family Sundays is inspired by the playfulness, spontaneity, joy, and immediacy of Dada art and Richter's collaborations. LACMA invited dancer and performance artist Doran George to come up with a workshop, and he invited two of his singer/musican/artist friends to collaborate with him: Odeya Nini and Archie Carey. The result of their collaboration is the Dada Dance workshop. Unframed's Alicia Vogl Saenz spoke to Doran about what families can expect.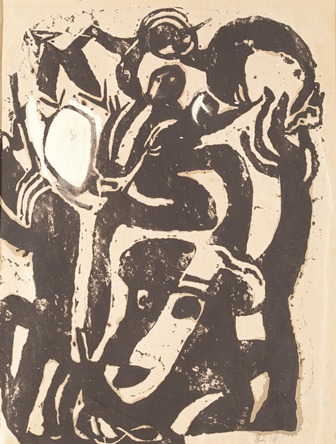 Hans Richter, Musik Dada (Music Dada), 1918, Linocut and white wash on paper, 10 1/2 in x 8 in., Private Collection, © 2013 Hans Richter Estate, Photo © 2013 Museum Associates/LACMA
What is Dada Dance?
Any sound is a song, any movement is a dance in this workshop. Odeya, Archie, and I will help participants use their voices and their bodies to make unexpected sounds and movements. The words that come to my mind are playfulness, joy, strangeness, surprise, and curiosity, all of which are at the heart of Dadaism. Adults will be going back to childhood and recouping what we forgot. Children will have leadership in the family dynamic because they are teaching us adults about what is new in the world.
How will families work together in Dada Dance?
At the core of Dada Dance is the notion of collaboration in Hans Richter's work. The collaboration occurs on two levels: families will constantly collaborate with each other, and the families and groups of friends are collaborating with us, the artists, teaching the workshop. The other important notion is that we're not looking at movement and voice as separated things. Voice helps you do unexpected things with your movement, and movement helps you do unexpected things with your voice. Participants will work in groups or pairs with their family or friends.  The groups will use voice and movement like a puppeteer. They will be vehicles for introducing surprising movement and sound.
What do you hope families will take away from this?
I would like them to try on a different identity, to try being Dada. To say to themselves, "Now I'm going to be Dada." It is similar to my workshop inspired by Levitated Mass last year in which groups became the sculpture. Everyone was capable of becoming Levitated Mass, and now they are capable of becoming Dada.
The art will be the experience. The workshop is the art, the joy families feel while making sounds and movements. In the spirit of Dada, it will be playful strangeness. It will be joyful and fun.