Sunshine blazing, palm trees swaying, beaches teeming, automobiles gleaming: such are the snapshots most commonly attributed to Los Angeles iconography. Sure, those things are nice (although a few less gleaming automobiles would be even nicer), but the city boasts a cultural landscape far more substantial than beautiful scenery.  Case in point: there are so many LA artists and LA-originated exhibitions currently on view worldwide, we can hardly keep track. For starters, there's James Turrell: the Pasadena born, Pomona-educated artist has three exhibitions on view around the country--here at LACMA, plus the Museum of Fine Arts, Houston and the Guggenheim in New York.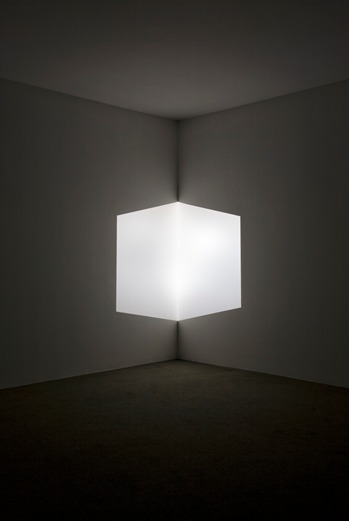 James Turrell, Afrum (White), 1966, Cross Corner Projection, LACMA, partial gift of Marc and Andrea Glimcher in honor of the appointment of Michael Govan as CEO and Wallis Annenberg Director and purchased with funds provided by David Bohnett and Tom Gregory through the 2008 Collectors Committee, © James Turrell, photo © 2013 Museum Associates LACMA
LACMA alone has four exhibitions spanning several continents, including Asco: Elite of the Obscure, A Retrospective, 1972-1987 at the Museum Universitario Arte Contemporáneo (MUAC) in Mexico City, which closes this Sunday, July 28; Art Across America, co-organized with the Philadelphia Museum of Art, Museum of Fine Arts Houston, and the Terra Foundation for American Art, is on view at the Daejeon Museum of Art in Korea until September 1. After that it jet sets to the Gallery of New South Wales in Sydney where it opens on November 8 (under the new name of America: Painting a Nation); Ken Price Sculpture: A Retrospective is delighting New Yorkers at the Metropolitan Museum of Art until September 22; and our neighbors down under are getting a dose of California Design, 1930-1965: Living in a Modern Way at the Auckland Art Gallery in New Zealand until September 29 before it travels to Australia's Queensland Art Gallery (QAGMOA) in November.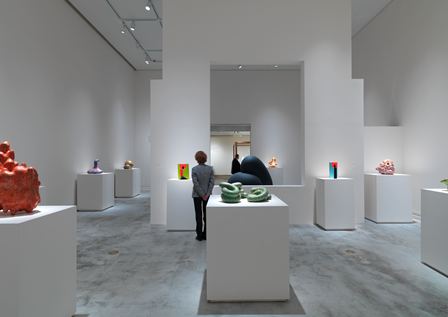 Ken Price Sculpture: A Retrospective, Photo Courtesy The Metropolitan Museum of Art
LACMA's traveling exhibitions are only a sample of LA's presence in the art world at large.  Leaving its home in the SoCal summer breeze for Washington D.C., The Getty's Overdrive: LA Constructs the Future, 1940-1990 opens at the National Building Museum on October 20.  Also on the East Coast, the Hammer Museum's Now Dig This! Art and Black Los Angeles 1960-1980 is on display through December 1 at Williams College of Art and Design in Williamstown, MA.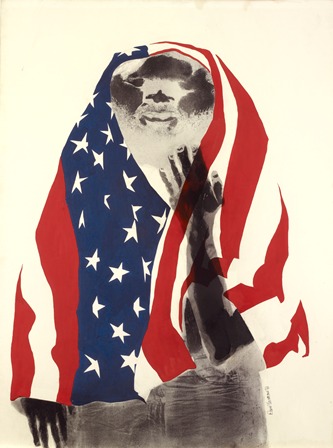 David Hammons, America the Beautiful, 1968, Oakland Museum, Oakland Museum Founders Fund. Included in Now Dig This! Art and Black Los Angeles 1960–1980.
New York continues to play host to a number of LA-focused exhibitions, celebrating the cultural contributions of the West Coast.  State of Mind: New California Art Circa 1970, at the Bronx Museum through the beginning of September, brings together 150 works by 60 artists from throughout the Golden State in a presentation of film, photography, artists' books, drawing, painting, and performance documentation.  If you find yourself on the glamorous Upper East Side of Manhattan between now and August 4, check out the Park Avenue Armory's WS, a twisted take on classic American pop culture icons and values put together in typical fashion of LA-based artist Paul McCarthy.  Ken Price Sculpture: A Retrospective at the Metropolitan Museum of Art is complemented by the first-ever presentation of Price's drawings created over a period fifty years in  Ken Price: Slow and Steady Wins the Race, Works on Paper 1962-2010 at The Drawing Center through August 18; from there, it travels to the Albright-Knox Art Gallery in Buffalo, NY before heading to the Harwood Museum of Art in Taos, NM. Over at the Whitney, Robert Irwin's Scrim Veil--Black Rectangle--Natural Light is on view for the first time since 1977.
This past weekend Baja California saw a joint exhibition of LA-based artists (along with a handful of their New York-, Mexico City-, and Tijuana-centric counterparts) at the pop-up Art Baja Tijuana, located at the recently constructed minimal-modern Casa GS, designed by Tijuana architect Jorge Gracia.  Along with guided tours highlighting the city's underground art and architecture scene, visitors took in a kinetic sound installation by Tyler Adams, digital paintings on aluminum by Petra Cortright, abstract paintings representing mathematical concepts (that's enough to make our heads spin) by Katherine Davis, and a specially commissioned Friday evening musical performance by Timur along with Andrew Lessman on drums and Alex Noice on electric guitar.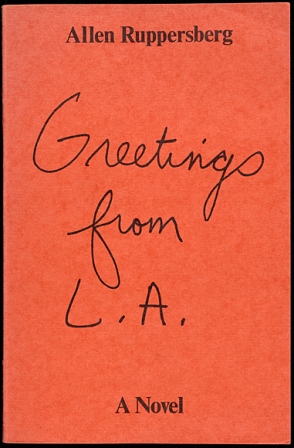 Greetings from L.A.: A Novel, 1972, Allen Ruppersberg. The Getty Research Institute, 90-B12310.c1. © Allen Ruppersberg
Over in Europe, Berliners got a snapshot of the late-twentieth century Los Angeles art scene when the Getty's Pacific Standard Time: Crosscurrents in L.A. Painting and Sculpture, 1950-1970 and Greetings from L.A., Artists and Publics, 1950-1990 made the trip to the Martin-Gropius-Bau.  Another show that with roots in Los Angeles, LLYN FOULKES—originally curated by the Hammer Museum—will continue from the New Museum in Manhattan to Museum Kurhaus in Kleve, Germany, where it will stay from the beginning of December to the start of March 2014.  Meanwhile, Tehran-born, LA-based painter Tala Madani takes on Stockholm at the Moderna Museet with Moment—Tala Madani, an exhibition showcasing her humorous depictions of men behaving badly.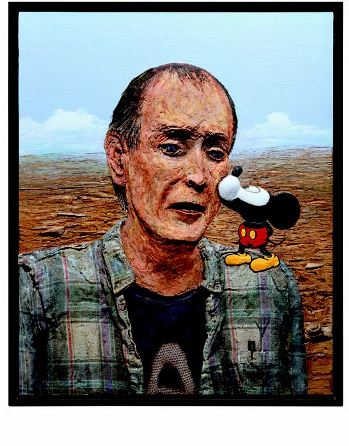 Llyn Foulkes. The Corporate Kiss, 2001, the San Jose Museum of Art, gift of the Lipman Family Foundation, in honor of the San Jose Museum of Art's 35th Anniversary (2003.03)
Sara Hupp and Stephanie Sykes, Communications