Pie is a favorite dessert, particularly in the United States, where it is considered as American as . . . well, apple pie! In light of KCRW's annual Good Food Pie Contest happening at LACMA this Saturday, September 7, we thought it'd be apropos to look at LACMA's holdings of works that might have accompanied sweet treats. The possibilities are endless, but here are some especially striking objects from 18th- and 19th-century Europe and colonial America that tell the story of how people enjoyed dessert.
Johann Wilhelm Keibel, Tea and Coffee Service, 1825, long-term loan from the Rosalinde and Arthur Gilbert Collection on loan to the Victoria and Albert Museum, London (L.2010.9.38.1–.7)
If this gold tea and coffee service looks like it is fit for royalty, that's because it is. Or was. It is believed to have been commissioned by the Russian imperial court and was created in 1825 by Johann Wilhelm Keibel, one of the court's primary jewelers. Hard to imagine, but it is solid gold, with ivory handles. Its style is known as Neoclassical, a movement that hearkens to the scroll work and other ornamental designs of Greek and Roman antiquity. Adorning the taller coffee pot as well as the teapot are spouts resembling fantastical creatures; the lids all have beautifully ornamented decoration; and the sugar bowl has "pawed feet." The entire ensemble is as intricately detailed as beautiful pieces of jewelry. These pieces call for the best manners when sitting down to tea and dessert.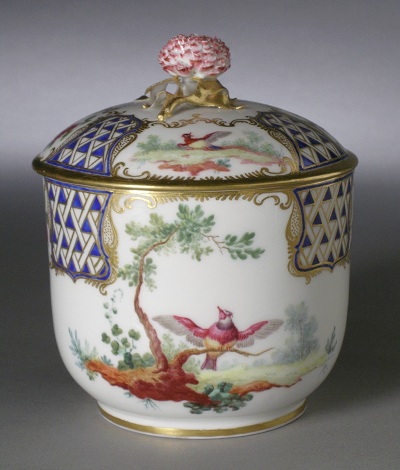 Sèvres Porcelain Manufactory, France,
Sugar Bowl
, c. 1760, Decorative Arts Department, 47.35.1c–d, Hearst Magazines, Inc.
The French raised the quality of European tea and coffee wares to a new level in the first part of the 18th century. After unsuccessfully trying to replicate the beautiful porcelain that had been imported into Europe for centuries via the famous Silk Road through Asia, Europeans finally learned the secret ingredient (kaolin clay) and began making true porcelain of their own. This service was made in Sèvres, one of the chief manufacturing centers for French porcelain. All handmade and hand painted, of course, the detailing and artistry are astounding. Visitors to the museum regularly exclaim over the gorgeously ornamented lids and exquisitely painted decorations.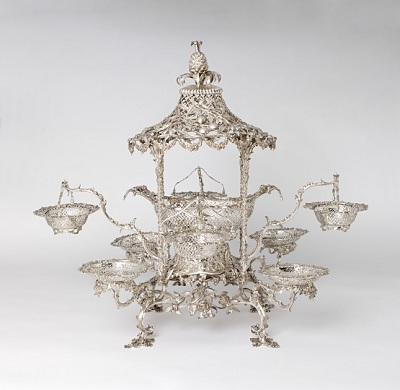 Thomas Pitts,
Epergne
, 1763–64, Long-term loan from The Rosalinde and Arthur Gilbert Collection on loan to the Victoria and Albert Museum, London (L.2010.9.24a–y)
The English aristocracy did their part in turning dessert service into a high art form. This centerpiece, or epergne, created in 1763–74 by silversmith Thomas Pitts, not only adorned a table, but had a practical purpose: its basket (at center) probably held fresh fruit, which was considered an exotic delicacy in the days before refrigeration. (Note the pineapple finial crowning the epergne, a symbol of luxury goods coming in from foreign lands.) The smaller surrounding baskets held nuts, condiments, and candies. Dinner guests would help themselves. From today's perspective, self-service is expected, however, in the 18th century, this centerpiece was considered a labor-saving device and was sometimes even referred to as a "machine."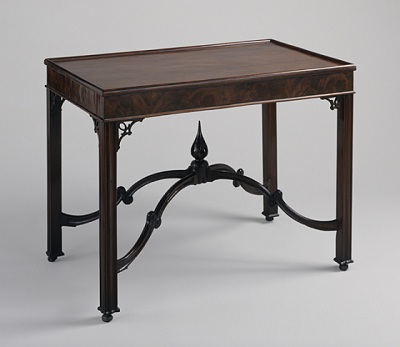 Attributed to Robert Harrold,
China Table
, gift of Alice Braunfeld
Colonial Americans were no slouches when it came to manners and customs. They might have been less flashy than their British cousins (many colonists were descended from Puritans, after all), but some accumulated sufficient wealth, which afforded them luxury goods. This dessert (or tea) table, known as a "China table," is an excellent example. Tea service was a center of social activity in an affluent 18th-century household, and such tables attested to one's high social standing, since their presence indicated of knowledge of the latest customs from England. This one, made of mahogany (highly prized—and expensive—in colonial America) was made in New England, and its design came from a design book by the well-known English designer, Thomas Chippendale. Not as tall as today's dining tables, it would have been placed in the most impressive room in the home. To this day, Americans practice a wide variety of customs when it comes to closing a meal with a beverage and, often, a dessert. There's a reason why we call a "coffee table" as such, as guests usually move from the kitchen or dining room to another room to enjoy after-dinner libations and conversation. Come to LACMA this Saturday to enjoy the Good Food Pie Contest—and check out the galleries, where you will find these beautiful art works on the third floor of the Art of the Americas Building and the third floors of the Hammer and Ahmanson buildings. Mary Lenihan, director of adult programs, education and public programs