The Boone Children's Gallery is proud to announce the appointment of its newest apprentice, David Enriquez. His upbeat personality, masterful skills at painting, and his comprehensive understanding of LACMA and of its free painting space made the decision an easy one, said Boone Children's Gallery staff. David's regular visits to paint in the Boone Children's Gallery began when he was only four years old; just two years later, and now six, David is proud to have his first job. We recently sat down with David for a brief interview to get to know him even better.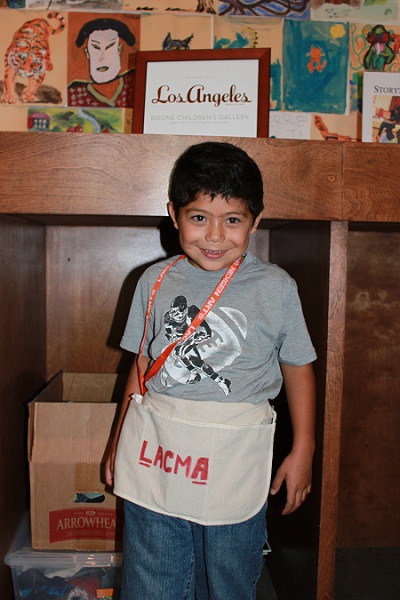 Photo courtesy of Richard Manirath
Angela: David, what's your favorite thing about the Boone Children's Gallery?
David: Everything, everything is my favorite. I'm always, like wow, look at all the stuff for people to use! I love to color and make art. I also like to go see the rock. And, I like the people in here, I know everybody's name, and I can ask for lots of paper.
Angela: Now that you're an apprentice, can you tell me what it's been like to work for LACMA?
David: Well, you guys painted me my name badge. It's so cool. And the girls in my neighborhood know I have a job, and it's very important to girls that we have a job and a license.
Angela: Ahh, I can tell you are thinking ahead! Have you thought about what you want to be when you grow up?
David: I want to put out fires here in L.A., and I want to be Superman. I also think I want to write movies, like Batman. But maybe I'll take your job, too.
Angela: Maybe in a few years, you will take my job! I would be happy to know someone like you would replace me.
David: Yeah, thanks.
Angela: You and your mom come here all the time. What do you say to Mom when you want to come to the museum?
David: I have to say, "Mom its 11! It's time! The museum is open and I just need to go to the museum to see my friends." Then I have to say, "Let's go, let's go, let's go!!!"
Angela: What's your favorite color to use when you paint, and why?
David: I think red is the best because it tells people to stop and it keeps people safe. It says that, just the color does.
Angela: One last question for you, what are you planning to paint today?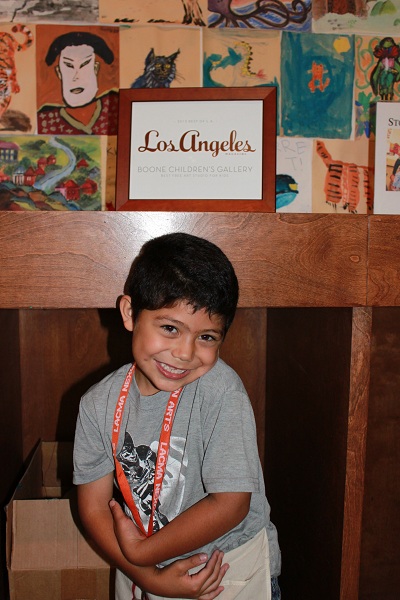 Photo courtesy of Richard Manirath
David: I was thinking last night of painting my dog, Coconut, driving a purple Monster Jam truck.
Next time you visit the Boone Children's Gallery, and a sweet young man with a homemade apron opens the door for you and asks "You wanna paint?" odds are it's the newest member of the LACMA team. Tell him your name, and he will remember it. If you're lucky, he will put your birthday in his ever-present calendar or even give you at the best seat in the house.
Angela Hall, education coordinator