Cinephiles and the curious alike will have a ball this weekend at LACMA's home and mobile theaters. On campus at the Bing Theater, we enter the second week of The Golden Age of Cinema, the exhibition film series which draws from work found in and related to Under the Mexican Sky: Gabriel Figueroa—Art and Film. Friday night's double feature includes La Perla (The Pearl) at 7:30 pm and Rosa Blanca (The White Rose) at 9:10 pm. John Steinbeck's literary classic, The Pearl, the tale of a pearl diver and the greed of man, comes to life on screen with direction by Emilio Fernández and cinematography from Gabriel Figueroa. Over a decade later Figueroa joined with writer/director Roberto Gavaldón to create Rosa Blanca, a scathing commentary on American imperialism. The series continues into Saturday evening with two more films from the "Fourth Muralist." Dias de Otoño (Autumn Days) brings back Gavaldón and Figueroa in a chilling psychodrama and Distinto Amanecer (Another Dawn) at 7:30 pm is a stylish film noir that reveals Figueroa's adaptability as a master visual collaborator. Then, of course, see the exhibition itself, Under the Mexican Sky: Gabriel Figueroa—Art and Film, for a comprehensive and spirited understanding of his artistic work and cultural impact.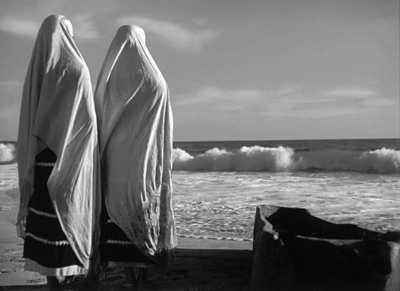 Gabriel Figueroa, scene from the film
La Perla
, directed by Emilio Fernández, 1945, © Televisa Foundation
On the road in nearby Altadena, the Altadena Art + Film Lab at Charles White Park presents two nights of free, outdoor film. Friday night The Illusionist (L'Illusionniste) plays at 8 pm, and on Saturday Akeelah and the Bee shows at 8 pm. What's more, visitors can participate in Oral History Drop-in sessions Friday, Saturday, or Sunday, as well as a free Soundscapes Workshop on Saturday at noon, where you get to identify and capture the aural elements of your environment.
http://www.youtube.com/watch?v=BMqpU7lUlLg
Free, live music is also on queue for the weekend. Jazz at LACMA present the virtuous vocal talents of Dwight Trible at 6 pm on Friday. Sundays Live features the strings of Capitol Ensemble performing work from none other than Wolfgang Amadeus Mozart at 6 pm on Sunday. Families visiting on Sunday should also make time to join in on Andell Family Sundays at 12:30 pm. Children and their parents are invited to imagine and create a textile art project, as mastered in Pinaree Sanpitak: Hanging By A Thread (see it before it closes on Sunday!).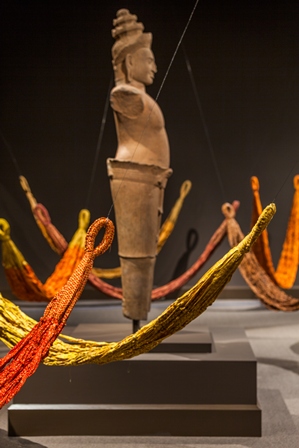 Pinaree Sanpitak,
Hanging by a Thread
, 2012, Courtesy of the artist and Tyler Rollins Fine Art, New York. Installation views, Los Angeles County Museum of Art, 2013 © Pinaree Sanpitak, LACMA/Museum Associates 2013
Finally, a trip to the museum wouldn't be complete without seeing some of the newest exhibitions and installations on display. In the Hammer Building, Shaping Power: Luba Masterworks from the Royal Museum for Central Africa includes intricate and stunning wood carvings from Africa. In the Pavilion for Japanese Art, Lingering Dreams: Japanese Painting of the 17th Century transports you to a different time, place, and aesthetic from our own. In the Art of the Americas Building, The Ancient Maya World: Masterworks from the Permanent Collection includes 38 Mayan masterworks from A.D. 250 to 900. And in the Ahmanson Building, Down to Earth: Modern Artists and the Land, before Land Art explores the connection between humans and the earth. So much to do and see.
Roberto Ayala