Our friends at Film Independent present part two of "Caméras D'Afrique: The Films of West Africa" series this Saturday. Join us to see two films from West Africa and be part of a panel discussion looking at the state of West African cinema. Beginning at noon, the double feature includes L'Absence (The Absence), a skillful blend of a thriller and melodrama, and Buud Yam at 1:45 pm, which shares the tale of a young maturing tribesman and a society on the cusp of change. Following these two films stay for a discussion with curator Elvis Mitchell and three directors from the burgeoning movie scene at 3:30 pm. Tickets for this event and more from the series can be found online.
The Golden Age of Mexican Cinema series presents three classic films this weekend in conjunction with our recently opened exhibition, Under the Mexican Sky: Gabriel Figueroa—Art and Film. Beginning at 7:30 pm on Friday, María Candelaria, considered by many as the masterpiece responsible for launching Mexican cinema into the international limelight, is the second collaboration between cinematographer Gabriel Figueroa and director Emilio "El Indio" Fernández. Set in the early 1900s on the brink of a revolution, María Candelaria tells the story of a lonely flower seller from a small town and a painter from the city that turns her life around. In Pueblerina (Small Town Girl), the second film of the evening's double feature, a recently freed inmate returns to his hometown only to find that the woman he loved now lives on the outskirts of town with an illegitimate child. On Saturday at 7:30 pm, Río Escondido centers around a school teacher sent by the nation's president to educate the remote town of Río Escondido where she's met by a tyrannical town sheriff. This work is perhaps one of Figueroa's most patriotic and picturesque. The film series continues through October 11.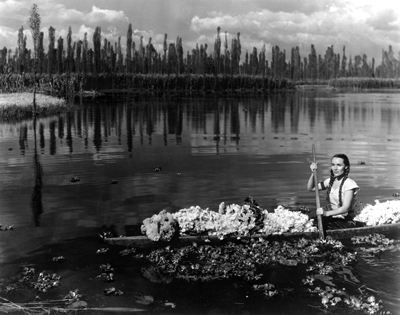 Gabriel Figueroa, film still from
María Candelaria
, directed by Emilio "El Indio" Fernández, 1944, © Gabriel Figueroa Flores Archive
John Divola: As Far as I Could Get is the first solo museum display from the Southern California–based photographer, painter, and conceptual artist. The exhibition opens this Sunday (Member Previews begin on Saturday, October 5) and showcases Polaroid images of sculptured objects, serial works, and conceptual landscapes in which the artist makes "walk-on" appearances. Elsewhere, Princely Traditions and Colonial Pursuits in India explores the complex visual history of English influence in India. In Kitasono Katue: Surrealist Poet see the pioneering avant-garde spirit of the Japanese poet-artist Kitasono Katue (1902–1978) as embodied by his magazine and poetry book designs and photographs. Contemporary works to look out for while on campus include the blockbuster James Turrell: A Retrospective and the intriguing Little Boxes: Photography and the Suburbs.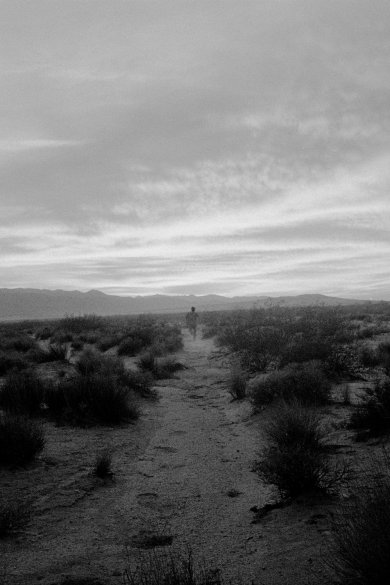 John Divola,
As Far as I Could Get (R02F06)
, 1996–7, © John Divola
The Altadena Art+Film Lab at Charles White Park enters its second-to-the-last weekend of free programs and activities for the community. Visit the mobile art lab to share and record your personal stories on Friday and Saturday sessions of Oral History Drop-ins, a Mini-Docs Workshop on Saturday, and a Composition Workshop on Sunday. From novices to experts, these filmmaking sessions are open to all. On the outdoor big screen you'll be treated to the The Wiz on Friday evening at 8 pm and The Iran Job on Saturday at 8 pm. The Wiz is adaptation of the smash Broadway musical, The Wonderful Wizard of Oz, starring Diana Ross and Michael Jackson. In The Iran Job, a 2012 documentary, a basketball player from the U.S. Virgin Islands tries to make it in the professional Iranian league while navigating a new culture.
http://www.youtube.com/watch?v=2DkwSqNDJbM
Jazz at LACMA rounds the corner into autumn with a special double-bill concert as part of the Angel City Arts Jazz Festival. First, to open the night, the winning ensemble from last year's Angel City Jazz Young Artists Competition. Then in the second set see the Nicole Mitchell Sundial Ensemble, with Nicole Mitchell on the flute. The evening of music begins at 6 pm on Friday. Later, on Sunday at 6 pm, Sundays Live bring pianist Petronel Malan to the Bing Theater. With three Grammy nods under her belt, including Best Instrumental Solo Album, Petronel's style is as distinct as it is lustrous. Lastly, at Andell Family Sundays this month, kids and their parents learn more about the images, landscapes, and people of Mexico in our free weekly art-making workshop drawing inspiration from Under the Mexican Sky: Gabriel Figueroa—Art and Film. The workshop takes place from 12:30 pm to 3:30 pm and is free with museum admission.
Roberto Ayala