On Saturday, October 26, LACMA throws its 10th-annual Muse Costume Ball, one of the biggest and best Halloween parties in Los Angeles. The bash is well known for mixing the best in exhibitions, costumes, and music. As we prepare to welcome two musical guests, Clairy Browne and the Bangin' Rackettes and Theophilus London, to the event, LACMA's Meghan McCauley interviewed Ruby, one of the Bangin' Rackettes, to tell us a bit about what we can expect this weekend.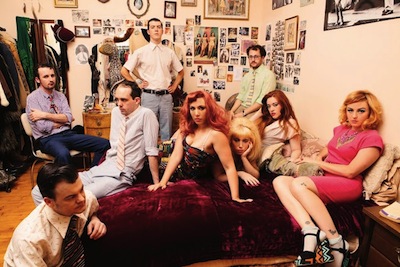 Clairy Brown and the Bangin' Rackettes, photo by Stephanie Bailly
Give me a quick rundown of who is the band, and what you're all about.
It's almost impossible to give a quick rundown of a nine-piece band! But here we go: the five handsome men that play the instruments, we call the Beestings—Nick "Ricky" Martyn on drums, Jules Pascoe on bass, Darcy McNulty on baritone saxophone, Peter Bee on the guitar, and Gabriel Strangio on piano. Loretta Miller, Ruby Jones, and Camilla McQueen make up the Bangin' Rackettes, and Clairy Browne is the leader and head diva. We formed like Voltron, Clairy just happened to be at the head. We have been playing together for around four years now.
Tell me a little bit about your sound. Would you define yourselves as a soul band?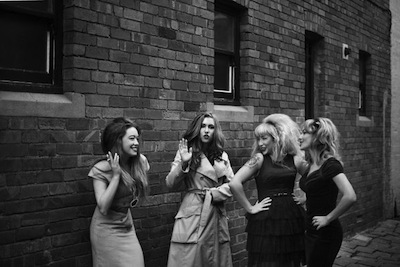 Loretta, Clairy, Ruby, and Camilla
We don't want to define or name check our musical style too much. We think boxes cramp our style. With that said, I guess you would define it as soul! We play music: pop music. We have a lot of influences and come from a lot of different places musically. With nine people, you can imagine how many influences are at play at any one point. At the moment we're really digging Frank Ocean, Raphael Saadiq, Lorde, Little Dragon, Rykarda Parasol, and list goes on! It is an ever evolving and growing list.
You have a fantastic stage presence as a band as well—and the costumes are amazing! How do you design your costumes? Do you get them special ordered? Does your sound inspire your look?
Thanks for the compliment. A lot of time, thought, and discussion goes into the costumes. We might see something we like or are inspired by in magazines, online, or maybe in a book. Inspiration for our looks can come from anywhere.  We compile mood boards and put together Pinterest pages and look at different fabric textures and color themes. The next step is thrashing it out and seeing what is doable with our limited budget and what is possible for us to actually make that that will wear and travel well.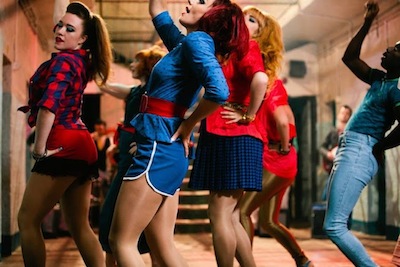 Still from
Love Letter
music video
Most of the costumes are designed and made ourselves, others were made for us, some we have bought off the rack, others were begged, borrowed, and stolen. Music and fashion have always been intrinsically linked and I think it's fairly prevalent in our band! We want to make sure the visual elements compliment the music.
The theme of this year's Muse Costume Ball is Haunted Hollywood. Do you believe in ghosts and/or have you ever been haunted? 
I totally believe in ghosts! I'm trying to organize a time to go see Ed and Lorraine Warrens Occult Museum while we're touring here. Take me there now!
What are you most looking forward to about performing at LACMA?
Performing in front of the iconic Urban Light installation! And I can't wait to go trick or treating, we don't really celebrate Halloween in Australia, so we're pretty excited to be here at this time of the year. We plan to get dressed up and see what the revelry is all about.
Tickets to the Muse Costume Ball are close to selling out. Don't miss your opportunity to check out Clairy Browne and the Bangin' Rackettes, along with Theophilus London and LACMA's slate of exhibitions this Saturday, October 26, from 8 pm to 1 am. Get your tickets here.