"We had a convertible car. We were playing the game. Then I would drive. I would take Pico and go from the ocean to downtown. I would do Sunset Boulevard that turns a lot. I would do all the streets—Venice Boulevard, etc. I was impressed, absolutely impressed."  —Agnès Varda
Starting this weekend, LACMA launches the film series The World According to Agnès Varda: Recent and Restored Work. The series complements our upcoming exhibition Agnès in Californialand, the first presentation in a United States museum of the visual art of Varda. For those who are not familiar with Varda, she has been a mainstay in international art cinema since the late 1950s. As our film curator Bernardo Rondeau states in his program notes for the film series, "before there was a French New Wave, there was Agnès Varda."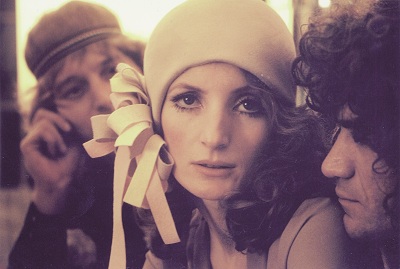 Viva!—Rado—Ragni—Varda Agnès Varda's film
LIONS LOVE (. . . AND LIES)
, 1968, © Max Rabb / Agnès Varda
Over the course of the next months, LACMA's visitors will be able to experience Varda's media and visual art output. In the exhibition, I invited Varda to use the gallery space to ruminate on the time that she spent in Southern California in two short but impactful periods of her (and California's) history: 1967–69 and 1980–81. The exhibition and program were also inspired by a major film restoration effort spearheaded by LACMA in conjunction with the Annenberg Foundation and The Film Foundation to preserve four films that Varda made during her time in California: Uncle Yanco (1967), Black Panthers (1968), LIONS LOVE (. . . AND LIES) (1969), and Mur Murs (1981).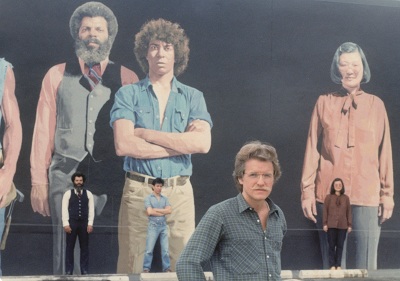 Agnès Varda's film
Mur Murs (Mural Murals)
, 1980, ©ciné-tamaris
The inaugural film series, part of a number that will eventually feature all of Varda's major works plus the films by some of her peers, including Chris Marker and Marguerite Duras, focuses on her output in the last decade and a half. From my perspective, both The Gleaners and I and The Beaches of Agnès are sublime cine-video essays that lay the groundwork for the photographs and installation environment that will be experienced in Agnès in Californialand. The former gives you a sense of how she has always treated her encounters with place and personality as ground for gleaning, especially of sites and stories that others have passed over or cast aside. The latter shows with Varda's sharpness and irrepressible wit how her life and loves have been constructed through and interwoven with all of her cinematic and artistic endeavors.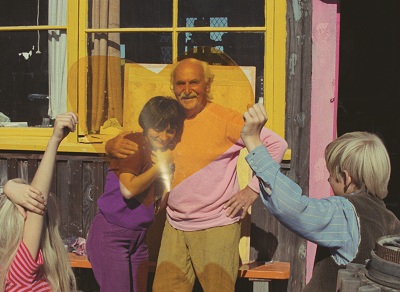 Still from the short film
Uncle Yanco
, Agnès Varda, 1967, © ciné-tamaris
We will present all of the restored films with one of the highlights being a projection of the shamefully undervalued LIONS LOVE ( . . . AND LIES). To say that LIONS LOVE is a period piece does not do it justice. The film is a cosmic collision of the deliciously divine performances of Viva (of the Andy Warhol superstar pantheon), Jim Rado and Gerome Ragni (high off their recent fame with the musical Hair), and Shirley Clarke (filmmaker of the also chronically underrated Portrait of Jason, 1967), not to overlook a rowdy cameo by Varda herself. There are nude bodies, boas, plastic flowers, and swimming pools as this is a candy-colored assortment of what was happening when east and west coast (counter)cultures collided, but this is also a complex portrait of Americans addressing historical trauma in the privacy of living rooms lit by the glimmer of a perpetually powered television set."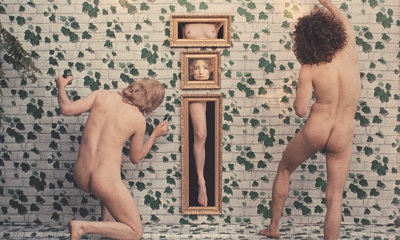 Viva!—Rado—Ragni—Varda in Hommage to Magritte, Agnès Varda's film
LIONS LOVE (. . . AND LIES)
, 1968, © Max Rabb / Agnès Varda
A full listing of the programs can be found here. Agnès Varda herself will be present at all the screenings this weekend and on October 29. She will also be in conversation with Rani Singh at the Getty on November 3rd and the guest artistic director of the AFI Film Fest. Who knows, you might even see catch a glimpse of her in a convertible cruising up Sunset or Pico?
Rita Gonzalez, associate curator, contemporary art