The 10th-annual Muse Costume Ball took place this past Saturday, and L.A.'s ghouls came dressed in their best. The party started with Clairy Browne and the Bangin' Rackettes performing in front of Chris Burden's Urban Light, after which the costume contest winners were announced onstage. The judges, Judianna Makovsky (The Hunger Games), Julie Weiss (Hitchcock), and Daniel Orlandi (Down with Love), selected winners in three categories.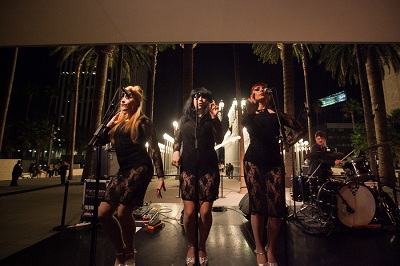 Clairy Browne and the Bangin' Rackettes
LACMA's Meghan McCauley played MC as the ghost of Marlene Dietrich.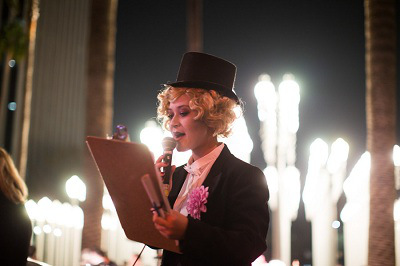 LACMA's Meghan McCauley announcing the winners.
As you can see, the competition was quite fierce. We had Tron versus The Shining's possessed twins versus a marionette and a puppeteer battling for the Best Black-and-White Costume.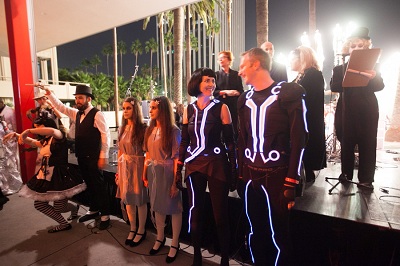 Nominees for best costumes near the stage.
The victors in this category were Marina and Ronni Kappos.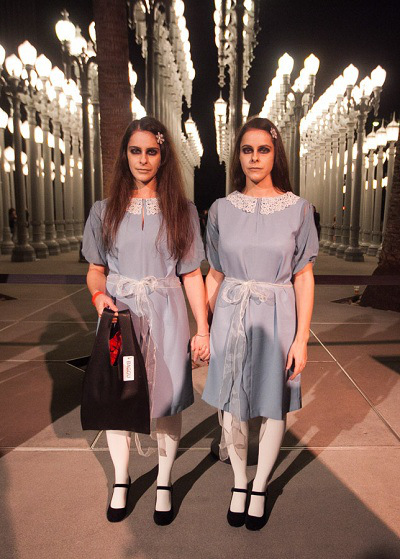 Best Black and White:
The Shining Twins
, by Marina and Ronni Kappos
Franken Berry, a 1971 creation by General Mills, beautifully combined Mary Shelley's famous story of a science experiment gone wrong with a morning tradition: cereal. The commercial for the breakfast food featured a voice actor in the guise of Boris Karloff, who played Frankenstein in both Frankenstein (1931), The Bride of Frankenstein (1935), and The Son of Frankenstein (1939).
Nathan Anderson won the Best Classic Movie Monster theme in his interpretation of this pink and kid-friendly version of the creature.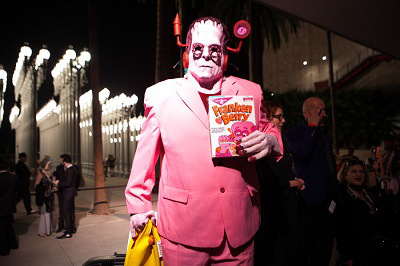 Best Classic Movie Monster: Boris Karloff's Franken Berry, by Nathan Anderson
Finally, the winner of Best Ghost of Hollywood Past went to Spencer Robins, who came costumed as Robert Muldoon incarnate from Jurassic Park. In Robins's interpretation of the character, Muldoon apparently survives the famous attack by the velociraptor, which was preceded in the movie by his last words, "Clever girl."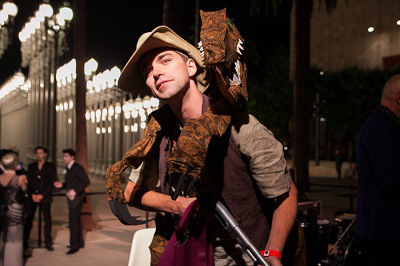 Best Ghost of Hollywood Past:
Jurassic Park
, by Spencer Robins
Below are photographs highlighting the festivities of the evening.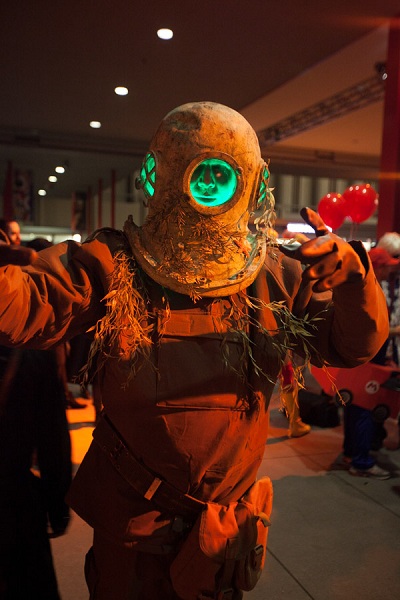 Just hangin' out.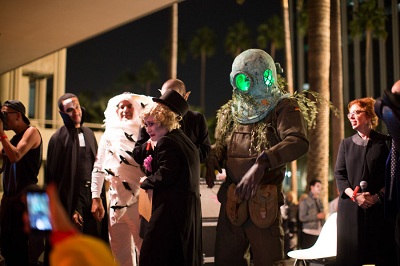 A few creative costumes, including
Sharknado
, with LACMA's Meghan McCauley.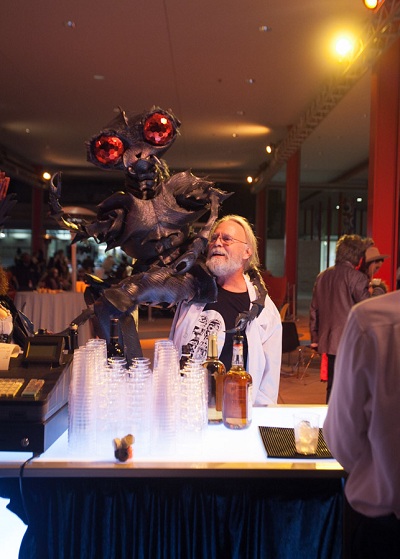 We need a drink.
Linda Theung, editor