To take a still from one of Gabriel Figueroa's films is to capture an image that is markedly photographic. Indeed, Figueroa's aesthetic was created without coincidence; the filmmaker was in dialogue and surrounded himself with the great modernist painters and photographers of Mexico who worked in the early half of the 20th century. In the exhibition Under the Mexican Sky: Gabriel Figueroa—Art and Film, on view in the Art of the Americas Building, curators Rita Gonzalez and Britt Salvesen aimed to present Figueroa in the context of Mexican art at large.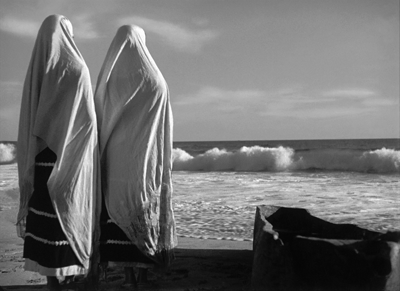 Gabriel Figueroa, scene from the film
La perla
, directed by Emilio Fernández, 1945, © Televisa Foundation
Gabriel Figueroa's circle, which included artists such José Orozco, Diego Rivera, David Siqueiros, among others, were collaborative and mutually influenced one another. While the exhibition has one person's name on it, and it's Figueroa's story told throughout, it's also a narrative of creative networks and inventive teams of people.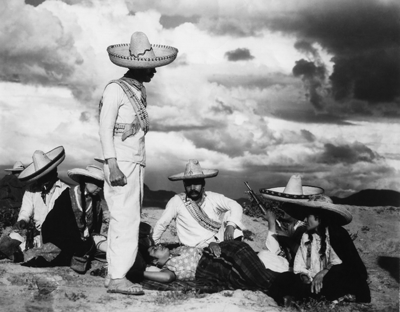 Gabriel Figueroa, Film still from
Enemigos
, directed by Chano Urueta, 1933, © Gabriel Figueroa Flores Archive
Film, by its nature—the multiple entities and talents involved—is a collaborative medium. Figueroa and Emilio Fernández, who worked together on the adaptation of John Steinbeck's La Perla (The Pearl), pushed each other to create vivid iconography of the legacy of the Mexican Revolution. Later in Figueroa's career, when he worked with the Spanish Surrealist Luis Buñuel, there was some disparity in their viewpoints—Buñuel was not particularly interested in a monumental version of Mexico. He wanted something grittier, more ambivalent, surreal. Yet both collaborations produced numerous films. In some cases, artistic tension was productive.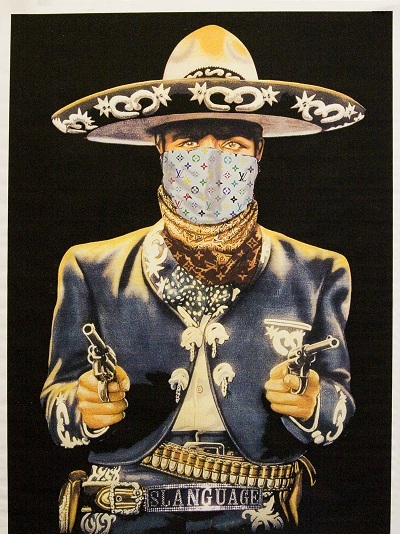 Juan Capistran and Mario Ybarra, Jr.,
Stick 'em Up . . . (Slanguage Bandito)
, 2003, © Juan Capistran and Mario Ybarra, Jr.
Under the Mexican Sky also puts the work of contemporary artists in dialogue with Figueroa's. For example, there is a section that deals with a genre called commedia ranchera, and it also includes the figure of the charro, or Mexican cowboy. Parallel to the depiction of cowboys in American Westerns, there was too in Mexico a really robust representation of the charro. In contemporary art, there have been a number of plays with the figure of the charro, namely as a representation of masculinity. A number of contemporary artists, such as Guillermo Gómez-Peña, Gonzalo Lebrija, have been mining that territory.
Through Figueroa, audiences are given an incredible overview of Mexican cinema in the 20th century. Figueroa was active for 50 years, a time that covers a lot of changes in the industry, in style, and presentation. The images in Figueroa's films are iconic, and have informed Mexican visual identity and visual culture since the early 20th century. Under the Mexican Sky provides a capsule view of this incredible history.