Over the past several years LACMA has had the remarkable opportunity to take a fresh look at how we share scholarship about our collection online as participants in an exciting project, the Getty Foundation's Online Scholarly Catalogue Initiative. Beginning in 2008, the Foundation provided significant grant funding to launch online collection catalogues at nine museums—the National Gallery and the Arthur M. Sackler and Freer Gallery of Art (Washington, D.C.), Tate (London), the Art Institute of Chicago, the Seattle Art Museum, the Walker Art Center, San Francisco Museum of Modern Art, the J. Paul Getty Museum, and LACMA.
The Getty Foundation brought representatives from these museums together periodically over the past few years, encouraging us to seek and share solutions.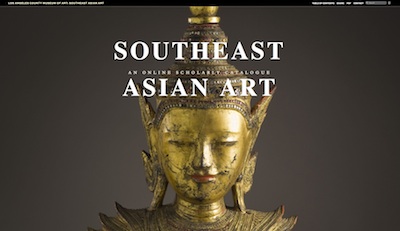 Southeast Asian Art
: An Online Scholarly Catalogue
LACMA decided to start with a selection of objects from the South and Southeast Asian art department, drawing upon the deep expertise of senior scholar, Dr. Robert Brown. He had begun working with the collection in the early 1980s before he left LACMA to take a teaching position in the art history department at UCLA, where he is currently a tenured professor. Dr. Brown returned to LACMA in 2000 to continue working as a curator. For him, the project seemed an ideal opportunity to capture new scholarship in Southeast Asian art, and simultaneously publish in-depth knowledge about a number of objects. In addition to entries about these objects, the new online publication includes four substantial essays by Dr. Brown on topics as varied as light symbolism or female deities in Cambodian and Indonesian art.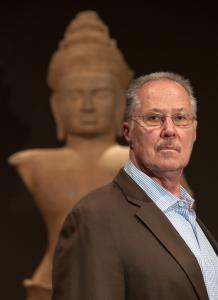 Dr. Robert Brown, professor in the department of art history at UCLA and LACMA curator of South and Southeast Asian art
Another important element of the new online publication is its presentation of the technical aspects of selected works, provided by LACMA senior objects conservator John Hirx. In his contributions, Hirx details subjects such as seismic bases, repairs, elemental analysis, and production techniques. Publishing on the web rather than in print gives us the opportunity to use digital media to showcase this kind of behind-the-scenes work that goes on at the museum as part of our mission to care for and conserve great works of art.
Much consideration was given to the audience for this project. The first collective impulse was to provide information for all levels of users, from casual readers or young students to university and professional scholars. Lively discussions with both internal staff and outside advisors soon narrowed the intended audience to scholarly users. We surveyed selected members of this audience to determine what tools and aspects of the project could be most helpful. Another consideration was making the online publication stable and dependable enough that it could be cited and retrieved for doctoral dissertations or other publications. As Robert Brown originally remarked, "I don't let my university students use web data as information on Southeast Asian art, as it is virtually nonexistent, or when found, undependable and generally poor quality." The intention of this project is to reverse that trend, creating online sources that can be used internationally at no cost. Several years ago, there was much concern by museum partners in this project about sharing copyrighted images on websites. Fortunately, this era of controlled image posting by museums is passing with advent of new open-content policies.
On the technical side, the project is an expression of our commitment to open-source development: partnering with other museums to create free, shared digital resources developed by and for the museum community. As the project proceeded, we decided to join forces with some of the OSCI partner museums to invest in the open-source OSCIToolkit created by the Indianapolis Museum of Art's IMA Lab for initial use by the Art Institute of Chicago. LACMA customized the tool kit with web-development firm Urban Insight for our own unique goals. We look forward to sharing the code repository soon, and continuing to customize tools that support the online presentation of rich media content about our collection.
Please visit the new publication and tell us what you think. Don't miss the information icon at the top right corner of the site; it reveals an introduction, credits, and explains subtle functions of the site. Beyond the scholarly contributions, some of the best aspects of the project are the very high-resolution images, which can be manipulated with the "compare" tool, greatly enlarged, or in some cases, rotated.
See features of works of art up close in the
Southeast Asian Art
Online Scholarly Catalogue
We've also included video interviews, maps, a slide tray with images that track the appearance of figure numbers in the essays, and even citation tools that can extract quotes in three formats to help students and scholars refer back to the content.
To note, it's an important part of our commitment to enabling scholars to do more research online that we do not plan to change the content we've published here, so that citations are stable and always refer to the snapshot of information as it was originally published. If we decide to release an updated version of our Southeast Asian catalogue, we will do so under a new URL, so that it is possible for scholars to cite either or both our original and our updated publication, and witness the development of scholarship at the museum over time.
Ctation tools can extract quotes in three formats to help students and scholars refer back to the content.
Citations are stable and always refer to the snapshot of information as it was originally published.
LACMA's ambition is to continue to use the online publication tool we've built with our OSCI partners and the support from the Getty Foundation by launching an annual volume. The next publication will be dedicated to the study of the Carter Collection of Dutch paintings by Dr. Amy Walsh and Senior Paintings Conservator Joseph Fronek. Three other partners in this project, SFMoMA (Rauschenberg Research Project), Seattle Art Museum (Chinese Painting & Calligraphy), and Tate (The Camden Town Group in Context) have also launched their sites, and Art Institute of Chicago has released an early prototype of their Impressionist masterpieces by Monet and Renoir.
But for now, test it out, seasian.catalog.lacma.org, and send us some comments with the "contact" feature.
Nancy Thomas, senior deputy director, art administration and collections