This cold and windy weekend stay warm with LACMA. Film buffs and followers of French visual artist and filmmaker Agnès Varda take note: this weekend LACMA presents the beginning of The Cinema According to Agnès Varda, the Agnès Varda in Californialand exhibition film series. It all begins with Friday night's double-feature; see both the breakthrough Cléo From 5 to 7 at 7:30 pm and Varda's debut film from 1961, La Pointe Courte, at 9:25 pm with one ticket. Saturday evening Le Bonheur at 5 pm demonstrates Varda's mastery of the camera and LIONS LOVE (...AND LIES) at 7:30 pm sparkles in a brand-new, LACMA-supported restoration of the 1969 film. The series concludes next weekend.
http://www.youtube.com/watch?v=VYeZsW267P8
Those thirsty for knowledge (and who isn't these days?) will have two opportunities to learn something new. On Saturday be part of a lecture on Text and Image in Persian Art at 2 pm with the head of the Boston College Islamic and Asian Art department. In this discussion, lecturer Sheila Blair investigates the interplay between the verbal and visual of Persian art and the metaphors and allusions salient even today. Then on Sunday, join associate professor of art history at California State Polytechnic, Pomona Chari Pradel in The 26th-Annual Michele Berton Memorial Lecture on Japanese Art at 3:30pm. Pradel's lecture looks at one of the most controversial and mythical historical figures of ancient Japan. Both events are free and open to the public.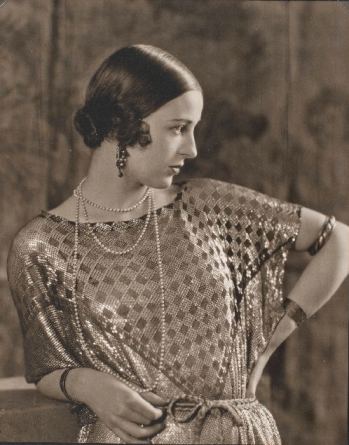 Edward Steichen,
Mrs. Paul Abbott, Vanity Fair
(February 1924), reproduced with permission of Joanna T. Steichen, gift of Richard and Jackie Hollander
Throughout the galleries, theres much to discover. First, know that two exhibitions reach their end on Sunday—Talk of the Town: Portraits by Edward Steichen from the Hollander Collection and Down to Earth: Modern Artists and the Land, before Land Art. Elsewhere, guests are invited to join in on any of the handful of free tours of specific collections and exhibitions. These include 50 minute walkthroughs of some of our finest displays like the new and vibrant Calder and Abstraction: From Avant-Garde to Iconic (requires admission to the exhibition), the lush sculpture of Shaping Power: Luba Masterworks from the Royal Museum for Central Africa, the breadth and depth of See the Light—Photography, Perception, Cognition: The Marjorie and Leonard Vernon Collection, and an overview of the Art of the Americas permanent collection. Finally, at 6 pm on Sunday, Sundays Live welcomes to the Bing Theater the UCLA Camarades, a group comprised of young musicians from the Herb Alpert School of Music's string program. This event is free and open to the public. Better bundle up.
Roberto Ayala