Visit LACMA this weekend and you'll find two new exhibitions, Four Abstract Classicists and Hassan Hajjaj: My Rock Stars Experimental, Volume 1, 2012. Four Abstract Classicists is centered on the works of Karl Benjamin, Lorser Feitelson, Frederick Hammersley, and John McLaughlin, a quartet of artists that lead the evolution of Abstract Expressionism to the harder-edged sensibilities of Pop Art and Minimalism during the 1950s and 60s. Then, in Hassan Hajjaj photographer and video artist Hassan Hajjaj presents nine filmed performances of musicians from around the globe in sets and costumes that emphasize globalization and the blurring of cultural identities.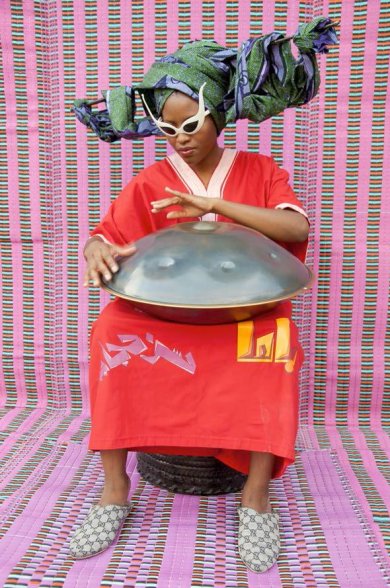 Hassan Hajjaj, still from 
My Rock Stars Experimental, Volume 1
,
Helen Venus Bushfire
, 2012, 
purchased with funds provided by Art of the Middle East: CONTEMPORARY, courtesy Rose Issa PRojects
To learn more about our collections and exhibitions join in on any of the free, docent-lead tours. On Saturday at noon, walk through See the Light—Photography, Perception, Cognition: The Marjorie and Leonard Vernon Collection and learn about photography and its close ties to vision science over the years. On Sunday afternoon witness the beauties of Japanese netsuke or gain a broader understanding of the African Luba culture as demonstrated in Shaping Power: Luba Masterworks from the Royal Museum for Central Africa. Tours range from 15 minutes to an hour and are included with each general admission. What will you uncover?
Roberto Ayala