Think about it: where do you find your inspiration?
If you've ever participated in an art class at LACMA, you know that spending time in the galleries before retreating to the studio is par for the course. Students of all ages at LACMA spend quality time looking at works from the permanent collection or temporary exhibitions to inspire their own studio projects, develop ideas, and spark creativity. They examine the thousands of ways that artists before them have used color and materials, solved problems, and conveyed a message, just as artists and designers have always looked to examples from the past.
Earlier this month, we highlighted Closet to Collection, the first of three videos we created with middle-school students from Santa Monica Alternative School House (SMASH) and curators from LACMA's department of costume and textiles. We hope the videos, made possible by a generous grant from the John B. and Nelly Llanos Kilroy Foundation, will help reveal LACMA's extensive costume and textiles collection to a wider audience.
The second video in this three-part series explores the idea of inspiration. The same students who participated in our Closet to Collection experiment visited the galleries to investigate costumes by Rodarte and textile designs by Elza Sunderland, as we set out to understand what inspires artists working in the world of textiles.
Students discuss the Rodarte gowns, making connections to the adjacent Italian Renaissance paintings.
The video's footage was shot last year, when the students visited an installation of gowns designed by Kate and Laura Mulleavy, the two sisters that make up Rodarte. On a recent trip to Italy, the sisters had encountered art that they had only seen before in books, and were struck by the vibrant but chalky colors in the frescoes that Fra Angelico, a monk who was also an artist, painted on the walls of San Marco, a complex of monasteries in Florence. This experience prompted the sisters to design the Fra Angelico collection, a set of gowns that capture the color palette of the Renaissance period and the drape and flow of the fabric depicted in the paintings.
The dresses were appropriately hung in the Italian Renaissance galleries, on the third floor of the Ahmanson Building, alongside artwork from the period that had inspired them. When the SMASH students met with costume and textiles department curator Sharon Takeda, they were able to compare the paintings and gowns for themselves, and see the Rodarte sisters' direct source of inspiration. This self-constructed discovery was akin to a playful match-up game supporting hands-on learning.
Takeda also revealed the inspiration for the way the gowns were installed in the gallery: the composition of an Italian painting, Christ on the Cross with Saints Vincent Ferrer, John the Baptist, Mark and Antoninus. In the painting, a group clusters around a central figure, just as in the gallery, a group of dresses surrounded a single dress—a painter from 500 years ago inspiring fashion houses and museum installations today!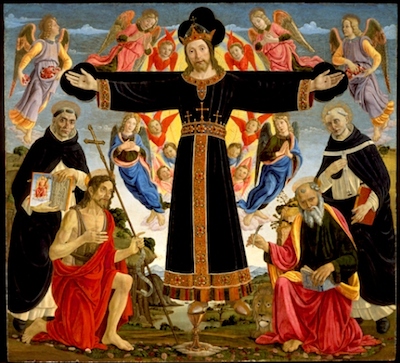 Master of the Fiesole Epiphany,
Christ on the Cross with Saints Vincent Ferrer, John the Baptist, Mark and Antoninus
, c. 1491–95, gift of the Ahmanson Foundation
The SMASH students also looked to textile designer Elza Sunderland to discover her muse. Curator Kaye Spilker explained that Sunderland was inspired by the climate in California and her childhood in New York, where as a young girl she would visit museums with her mother. Those museum visits stuck with her: the colors and geometry as seen in her textile design "Pampas—Inca" indicates that she most likely had an impressionable visit to New York's American Museum of Natural History! Other patterns show her interest in cubism, animals, flowers, and even Sunset Boulevard. Sunderland turned nearly everything she saw or experienced into a whimsical pattern, as evidenced by her prolific career, in which she churned out thousands of textile designs.
Elza Sunderland,
Pampas—Inca
, 1948, © Henry Sunderland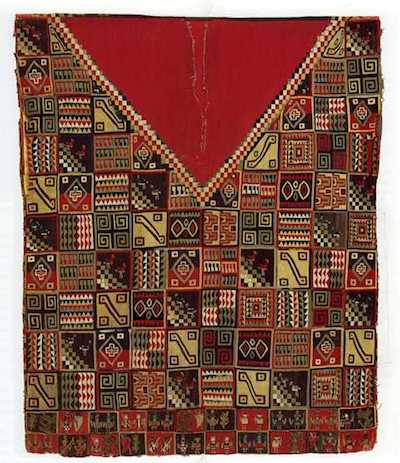 Man's Tunic (Uncu) with Tocapu and Stylized Jaguar Pelt Design (double-sided), Bolivia, Lake Titicaca, mid- to late 16th century, American Museum of Natural History, Division of Anthropology, New York, © American Museum of Natural History Library, New York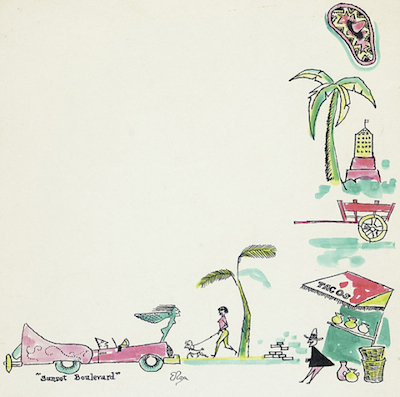 Elza Sunderland, Textile Design,
'Sunset Boulevard' from 'Hollywood' Series
, 1946, Elza Sunderland Textile Design Collections, © Henry Sunderland
Design Inspiration documents this encounter between students and these inspiring—and inspired—artists, and encourages kids, teachers, and families to reflect on their muses.
Stay tuned for our post about the third video in this series, in which the SMASH and other students focus on the idea of collaborative art making.
Karen Satzman, Director, Youth and Family Programs