This fall we shared thoughts from college students who spent the summer conversing with visitors to James Turrell: A Retrospective. (Read part one here, and part two here.) Here is the final part of their conversation:
What tips do you have to offer people who haven't yet visited James Turrell: A Retrospective at LACMA?
Jackeline Acosta (recent graduate, UCLA): It is a very popular show, and it may be slightly overwhelming. But I urge anyone who hasn't visited yet to do so, because the works are striking and beautiful.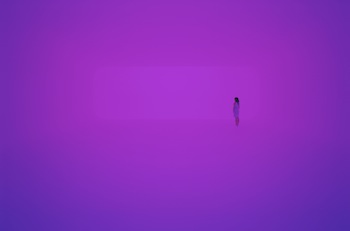 James Turrell,
Breathing Light
, 2013, LED light into space, Los Angeles County Museum of Art, purchased with funds provided by Kayne Griffin Corcoran and the Kayne Foundation, M.2013.1, © James Turrell, Photo © Florian Holzherr
Kristen Laciste (senior, UCLA): I would advise visitors to take their time and not rush through the exhibition, to ask any questions about the works they are viewing, and to stay in line and wait to see the remarkable Ganzfeld (an installation designed to eliminate the viewer's depth perception), Breathing Light.
Jackeline: Patience is key. From the various conversations I was lucky enough to have with exhibition visitors, I found that they all appreciated how the artworks allowed them to slow down and take, for example, those eight to 10 minutes inside the Ganzfeld to really make an experience of it. After all, James Turrell wants viewers to genuinely draw observations from the art and take time to contemplate light and all its possibilities. If you do, the experience you will have at this exhibition will truly be fantastic.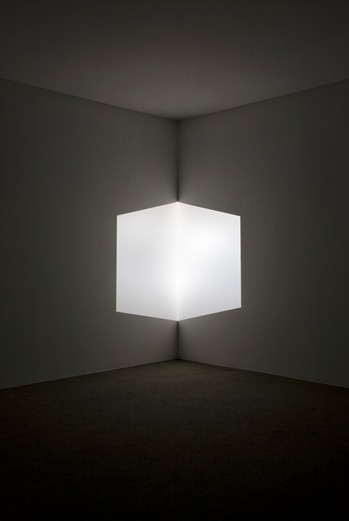 James Turrell,
Afrum (White)
, 1966, Cross Corner Projection, LACMA, partial gift of Marc and Andrea Glimcher in honor of the appointment of Michael Govan as CEO and Wallis Annenberg Director and purchased with funds provided by David Bohnett and Tom Gregory through the 2008 Collectors Committee, © James Turrell, photo © 2013 Museum Associates LACMA
Marissa Clifford (senior, UCLA): Yes, I would encourage those who haven't visited the retrospective to hurry to LACMA to catch it, and I would encourage those who have already done so to visit again. Multiple viewings simply reveal new aspects of the work as readily as Light Reignfall (Turrell's Perceptual Cell installation at the Resnick Pavilion) changes color.
Aida Lugo (recent graduate, Otis College of Art and Design): To those who have yet to see the exhibit I would recommend doing some research, spending some time in nature, and meditating. The exhibition requires a clear mind, a fresh perspective, and a release of expectations. Turrell does a magnificent job illuminating the overlooked and everyday miracles of light, perception and space, leaving us virtually alone to explore the magic of sight, thought, and reflection. We live on a planet with a complicated observation system in us to analyze the sky, nature, ourselves, and each other. Turrell: A Retrospective is like the Olympics of perception.
Jackeline: The benefits of visiting this exhibit when you really have the time to sit down and look at each piece and contemplate, for example, the tiniest color shifts in lights that occur throughout the exhibit, are wonderful.
Elizabeth Gerber, Education and Public Programs