On March 31, 1965, the Los Angeles County Museum of Art (LACMA) opened its doors in a new complex with several large outdoor sculptures, among which was Calder's monumental Three Quintains (Hello Girls). In 1962 LACMA's Art Museum Council (AMC) had organized a "fountain committee" to acquire for the museum a significant sculpture for the new Hancock Park location. The AMC (founded in 1952) was LACMA's first volunteer-support group dedicated to the full range of museum endeavors, including acquisitions. The fountain-committee members researched countless artists before offering Calder the commission (the museum also conferred with sculptor Isamu Noguchi). Calder agreed in June 1964, writing to AMC president Laurelle Burton, "I am, indeed, very much interested in designing you a fountain." Burton announced the approved commission in a letter to the council: "To have a man of Alexander Calder's prominence be the first to design a sculpture specifically for the new museum would set the standards for future efforts, on the part of the artists and donors."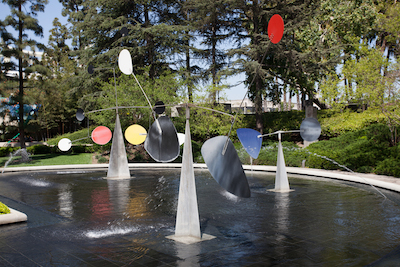 Alexander Calder,
Three Quintains
(
Hello Girls
), 1964, Los Angeles County Museum of Art, Art Museum, Council Fund, © 2013 Calder Foundation, New York / Artists Rights Society (ARS), New York, photo © Museum Associates / LACMA
Calder visited the site and consulted with the architects, designers, and museum officials through fall of 1964. The mobiles then were made in Connecticut at the Waterbury Iron Works, one of three iron fabricators he regularly used. They sent mobiles to Los Angeles after Thanksgiving, and Calder revisited the site in mid-December to indicate the mobiles' placements and oversee their installation. Additionally, at the AMC's request, Calder designed a poster commemorating the museum's opening.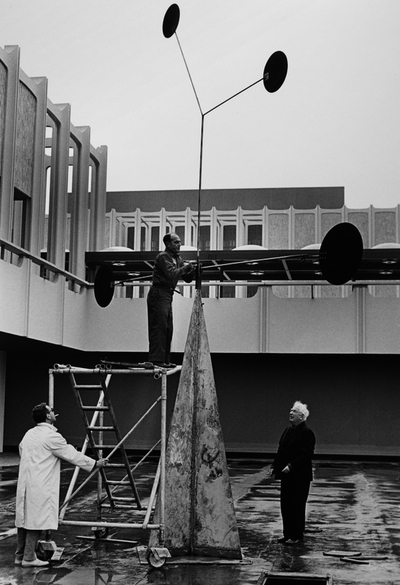 Alexander Calder and ironworker Chippy Ieronimo overseeing the installation of
Three Quintains
(
Hello Girls
), 1964, © 2013 Calder Foundation, New York / Artists Rights Society (ARS), New York, photo © 2013 Museum Associates/LACMA, photographic archives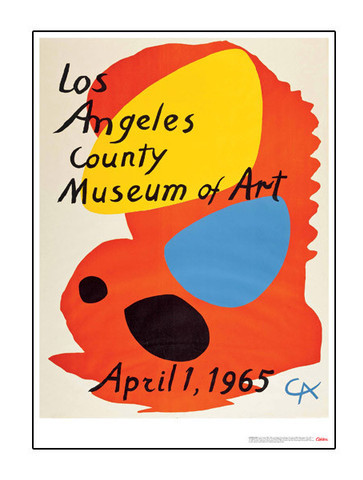 This poster,
Los Angeles County Museum of Art, April 1, 1965
, was created by Alexander Calder on the occasion of the 1965 opening of the museum.
Available
at the LACMA Store.
As the photographs of the completed work demonstrate, Three Quintains (Hello Girls) is an exuberant fountain, with simple geometric mobile forms floating in the air with four water jets impelling them. The work heralded a new era for Los Angeles as the city grew in population, geography, and cultural sophistication, and marked only the second large public Calder sculpture to be installed in California—and the first on the West Coast to be specially commissioned for its site. The sculpture would become one of very few fountain sculptures that Calder realized during his long career. Three Quintains (Hello Girls) is permanently on view in LACMA's Director's Roundtable Garden, on the east side of campus. Its commissioner, the AMC, has provided invaluable support for Calder and Abstraction: From Avant-Garde to Iconic.
Ilene Susan Fort, Senior Curator and the Gail and John Liebes Curator of American Art