On the third floor of LACMA's Art of the Americas Building, in a pair of glass cases, are four remarkable designs from two of America's foremost mid-20th-century costume designers: Gilbert Adrian of MGM Studios and Howard Greer of Paramount. Hollywood and the designers of the silver screen defined glamour, and it became the foundation of how we understand it today. Their glittering stars cast the spell of enchantment and were the avatars of the alternate universe of beauty and adventure. Gilbert Adrian and Howard Greer's designs would set a standard for stylishness that rivaled that of Paris.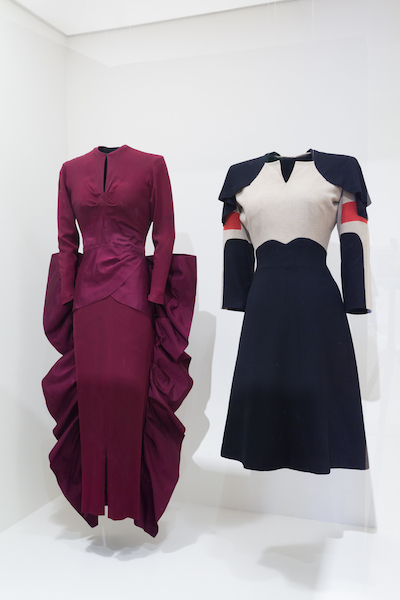 The outfits on display—a wine-colored evening gown and a black-and-cream wool dress by Adrian, and a black tulle evening gown with lace-up bodice, and skirt-and-blouse ensemble by Greer—are all dated between 1946 and 1949. The late 1940s was a period of great importance in fashion and, interestingly, quite contemporary. In 1946, the repeal of order L85, which had banned long skirts to conserve materials for the war effort, would end the rationing of fabric. Most importantly, in the spring of 1947, Christian Dior in Paris would give the world the New Look, with hourglass silhouettes and full skirts that seemed extravagant after the meager war years. Through cinema, Adrian and Greer would help make this moment in fashion possible, giving these new designs an extended context as the world of fashion became truly about modern times. (Confession: I was once a part of this cavalcade, being the head designer of the House of Worth in London.)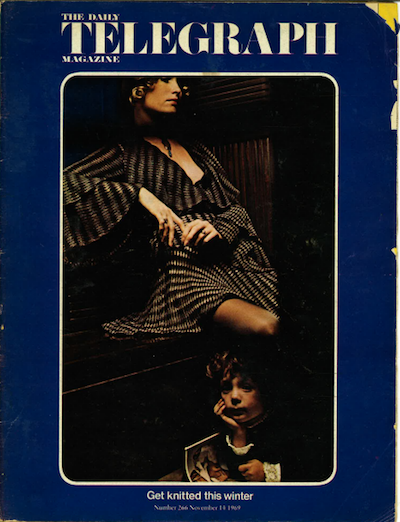 Howard Greer (1896–1974) started his career working with established designers—first for Lucile, in New York, and after the First War, for Paul Poiret and Edward Molyneux in Paris. Back in California, while designing for the theater, the company he was in made a key merger and became Paramount Pictures. He was known for his glamorous, sophisticated evening gowns and dresses. In a 1929 issue of Photoplay Magazine Katherine Albert gushed over one of Greer's costumes: "This is the most sensational costume in Hollywood this season. When it was displayed at Howard Greer's exclusive opening, gentlemen gasped and ladies fainted." Though the fashion establishment in Paris deemed Hollywood clothes vulgar, too-tight, and louche, Greer, dressing Joan Crawford and Rita Hayward, would at one point confess, "The truth is that Clara Bow, Billie Dove, and Joan Crawford are actually setting the styles." As he told Lois Shirley in her book, Secrets of the Fitting Room, "Hollywood leads Paris in Fashions." Greer would go on to design for 33 films and write an autobiography, Designing Male (1951).
Gilbert Adrian (1903–1959) trained at New York's Parsons School of Design, and transferred to the branch the school then had in Paris. While there, he created the costumes for an Irving Berlin musical, The Music Box Revue, after which Rudolph Valentino's wife hired him for a project. Adrian went on to work with Cecil B. DeMille, for whom he designed costumes for 11 films, becoming the head designer of MGM. Often credited as "Gowns by Adrian," Adrian designed the costumes for more than 200 films over the course of his career. Adrian became a giant in Hollywood lore. He would give us Dorothy's red-sequined slippers in The Wizard of Oz, and the grandeur of period gowns in Camille and Marie Antoinette. Famous for his evening gowns, he worked with Greta Garbo, Norma Shearer, Jean Harlow, and Katharine Hepburn. He was behind Joan Crawford's signature outfits, with the large shoulder pads that spawned a fashion craze. And who could forget Hepburn in the Woman of the Year or The Philadelphia Story? Adrian's influence on our collective memory and fashion cannot be underestimated.
The designs of Greer and Adrian remind us of a time when the silver screen's celluloid dream of beauty and style was the mirror in which everyone viewed themselves, regardless of their individual status. And the dark palaces of the screen's magic glowed through the entire culture. In the hyper-glare of the '20s, '30s, and '40s, through the Depression and two World Wars, Hollywood would burn brighter, sizzle sexier, and recast the vision of the heroes, heroines, and villains that shaped the world of the screen. Costume designers like Greer and Adrian—and there were many more—were the artists who visualized this made-up world in black and white, and later, in color. They did so in such physical terms that film became our reality, our failed memory, our lost time. Hylan Booker