Under the Mexican Sky: Gabriel Figueroa—Art and Film, focusing on Mexican cinematographer Gabriel Figueroa, is a prismatic exhibition that offers a slightly different experience each time you view it. Selections from Figueroa's films play on a series of large screens, and as you walk through the exhibition, the imagery constantly changes. Each sequence of film clips is organized around a theme, such as landscape, revolution, and the metropolis, and forms the centerpiece for an exhibition-within-an-exhibition of linked imagery—paintings by related artists, film and production stills, art photographs, and ephemera such as letters and posters. The effect is like entering an intricately designed web that is always fluctuating. As you move through, you pick up a unique array of impressions, echoes, and connections. On a recent walkthrough, here were a few of mine: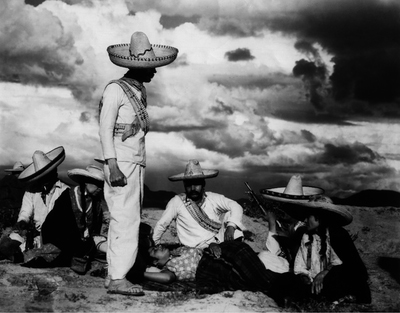 Gabriel Figueroa, film still from
Enemigos
, directed by Chano Urueta, 1933, © Gabriel Figueroa Flores Archive
1. Sombreros! I'd never given much thought to this basic type of hat, with its round crown and wide floppy brim, but watching Figueroa's many shots featuring this iconic Mexican design—lone men in sombreros with shadows cast over their faces, gangs of revolutionaries in sombreros, with heads echoing the rolling hills of the rural Mexican landscape—I realized how indispensable this portable piece of shade was. Figueroa treats the sombrero like a piece of sculpture, with its simple shape and the graphic, circular shadows it casts on faces and bodies central to many of his compositions. Figueroa is known for helping to define an idealized, heroic, sympathetic conception of Mexico—in his words, "una imágen méxicana"—and the sombrero is a key motif in this vision.
Gabriel Figueroa, film still from
Enamorada
, directed by Emilio "El Indio" Fernández, 1946, © Televisa Foundation
2. Agave and eyelashes. This was a fortuitous connection, since I happened to watch a scene in a film by Sergei Eisenstein, a Russian contemporary of Figueroa's, shot in Mexico and included in the exhibition, in which a man leading a party through the desert pins back the leaves of a giant agave by curling each one backward and sticking the point into the fat part of the leaf, and a minute later I turned to a larger screen to see one of Figueroa's close-ups of a woman's eye with teary lashes. The jagged shapes of agave cactus and thick, dark women's eyelashes both recur often in the exhibition—and in Figueroa's films—forming a kind of visual counterpoint to smooth forms like sombreros, desert hills, and faces. Figueroa's imagery is full of these kinds of connections between people and landscape, as if knitting personality and emotion into the land, and the land into the people, stitch by stitch.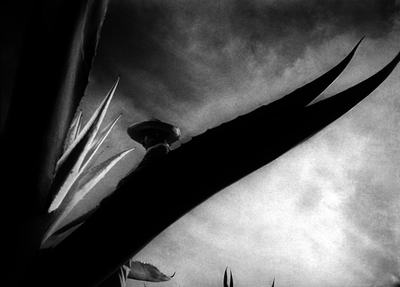 Gabriel Figueroa, film still from
Una cita de amor
, directed by Emilio "El Indio" Fernández, 1956, © Gabriel Figueroa Flores Archive
3. Seventh and Alvarado Streets. A contemporary short film by Rodrigo Garcia shows modern-day Hispanic residents of L.A. suited up like the revolutionaries in Figueroa's films, shot in slow motion as they ride on horseback through this busy intersection near downtown—Figueroa's idealized vision transplanted to present reality. This film is about intersections in more ways than one, and it's a fitting addition to an exhibition about a man who turns out to represent quite an amazing intersection himself—of Mexico and Hollywood, cinematography and painting, revolution and art, rusticity and glamour, romanticism and realism (and surrealism).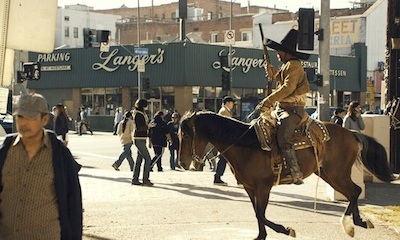 Still from
La 7th Street y Alvarado
, by Rodrigo Garcia, courtesy of Canana films
4. A burro, an egg, and a pigeon. These elements appear at various points in Los Olvidados (1950), one of the seven films Figueroa shot for French surrealist director Luis Buñuel when Buñuel was in Mexico between 1946 and 1965. The burro peers in a girl's bedroom window, the egg flies at the camera and spatters on the lens, and the pigeon is used as a massage tool on a woman's bare back. In the next gallery, a wall text recounts an anecdote from the set of Nazarín (1959) about Buñuel seeing Figueroa's camera positioned to frame a sweeping romantic landscape and turning the camera in the opposite direction at a mundane view: "I scandalized Figueroa, who had framed a shot for me that was aesthetically beyond reproach. . . . I have never liked prefabricated cinematic beauty." The intersection between Figueroa and Buñuel is especially fascinating, and it also illuminates another intersection, that between a director and a cinematographer—you can see how Figueroa stretched his aesthetic to wrap around Buñuel's ideas.
In shining a light on Gabriel Figueroa, this exhibition turns out to illuminate all kinds of unexpected crossroads. Under the Mexican Sky: Gabriel Figueroa—Art and Film is up through February 2, 2014. There's still time for you to visit—and revisit!—and collect your own impressions.
Katherine Satorius