Hassan Hajjaj, whose work My Rock Stars Experimental, Volume  I, 2012, is currently on view in the Ahmanson Building, also has a piece featured in the just-opened exhibition Fútbol: The Beautiful Game. The artist sat down with LACMA's Erin Yokomizo to talk about My Rock Stars Experimental and his working process.
Erin Yokomizo: Hassan, your work is the focus of the current exhibition, Hassan Hajjaj: My Rock Stars Experimental, Volume 1, curated by Linda Komaroff, curator and department head of Art of the Middle East. The three-channel video installation features nine separately filmed performances by an international array of musicians—your "rock stars." How did you select your subjects?
Hassan Hajjaj: All my subjects were people around me who I admire. Most of them are friends, or if not, they're friends of friends; it kind of happened naturally. I was shooting stills for My Rock Stars, and I got to the point with a lot of them where I thought: how can I show these people why they're rock stars?
Once I recognized this, I started to make a list of people around me that do this kind of thing and it happened from there. A lot of the people I've filmed are people from different parts of the world who either live in London or are passing through London or just living in London for a period of time, so it was set up documenting them in that period of time.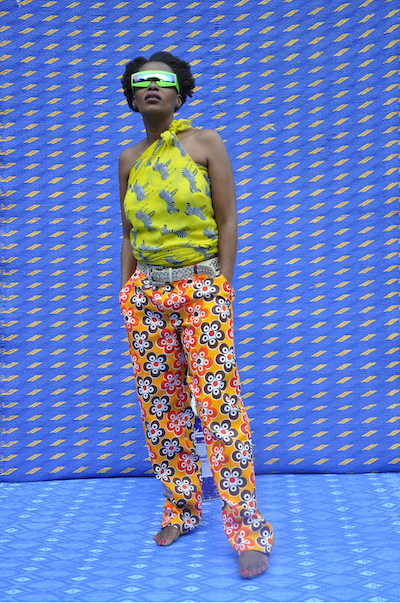 Hassan Hajjaj,
My Rock Stars Experimental, Volume 1
, 2012,
Mandisa Dumesweni
, purchased with funds provided by Art of the Middle East: CONTEMPORARY, courtesy of Rose Issa Projects
EY: You are also the creative vision behind each featured musician's clothing as well as the tapestries used in their set designs. How much does each individual artist and personality influence what you select for them?
HH: I normally have things already made, and when I choose the person I'm shooting, I'll work out the backdrop and what they're going to wear. But saying that, some of the artists [in My Rock Stars Experimental, Volume 1] are wearing their own clothing. I couldn't really touch them as they already had this flamboyance, this kind of rock-star character identity. If that's the case, I might just add sunglasses, shoes, and socks to accessorize them. But I'd say 80% of it is all my design, and the others I just kind of add on to.
EY: I've seen background footage on how you shot My Rock Stars Experimental. I liked the fact that you documented the work in public and out on the street.
HH: All the Rock Stars stills and music are done in the street. I think one of the reasons I do it in the street is to capture that moment. If you have somebody performing in the street, you're going to really see if they're comfortable in their own skin. It's a sense that they're real rock stars: not aware of anything, they just go for it. Sometimes when I shoot, we'll have crowds. I've had people jump in the stills to pose with the performers. For me, the street shoot is exciting; it makes my heart beat; it's kind of "guerilla-cized." You're worried about the rain, you're worried about the car noises . . . it keeps me in check.
EY: Your work has been shown in Europe, Africa, and the Middle East; and you're having somewhat of an L.A. moment as well with the presentation here at LACMA, your one-man show at Gusford Gallery, and your work is also included in LACMA's just-opened exhibition, Fútbol: The Beautiful Game. Do you find differences in the way your work is received around the world?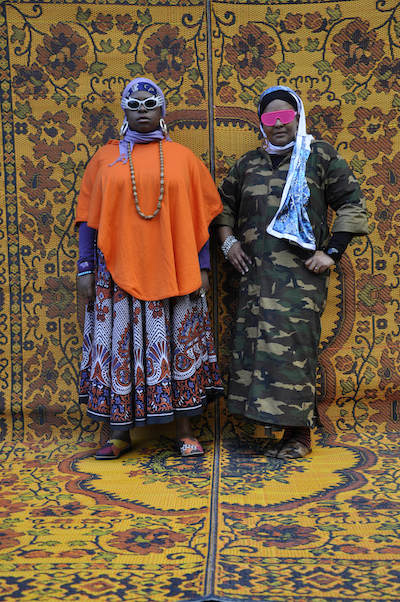 Hassan Hajjaj,
My Rock Stars Experimental, Volume 1
, 2012,
Poetic Pilgrimage
, purchased with funds provided by Art of the Middle East: CONTEMPORARY, courtesy of Rose Issa Projects
HH: I think the Rock Stars has been a fun show because it seems to be global. I think when you put art and music together most people like music and people take an interest in art. The response I've had from people has been quite incredible. What's interesting is when you highlight a certain kind of people and you bring them into like a gallery. For example, in Dubai it's more of an Arab country, there's an expectation that you should have Arab art, so it was nice to kind of flip it and show something that's worldly. It's perceived in the same way; so far it's been very positive.
EY: Speaking of the Fútbol exhibition, your work Feetbol is featured in the show. Do you have personal interest in the sport?
HH: 100%. That's my favorite game to play, so I'm very happy to be part of another show at LACMA. Also, it's the World Cup this year, and I think it's incredible to highlight a sport and to bring it to a gallery. I'm definitely a big fan.