Last weekend, we hosted our first workshop at the Art + Technology Lab for the public. Noise artist Ryan Jordan of Derelict Electronics, led the session, which centered on the construction of crystal amplifiers, solar cells, and diodes with raw minerals and detritus. Wielding glue guns and soldering irons, participants assembled their own custom instruments and then tested them out on a specially designed sound system in the Lab. Here are some photos from the fun and noisy afternoon.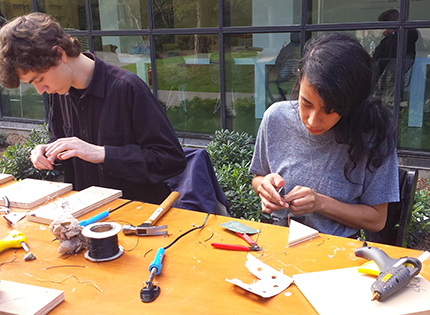 Derelict Electronics participants at work on amplifiers and solar cells.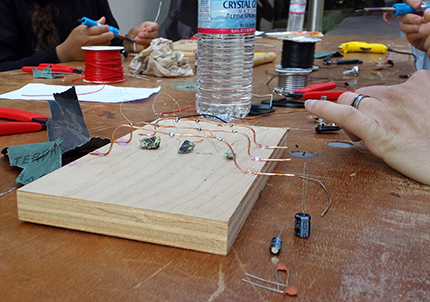 The amplifiers made in the workshop were based on the design of the Adams Crystal Amplifier of 1933, a precursor to the modern transistor, now ubiquitous in the contemporary electronic and digital world.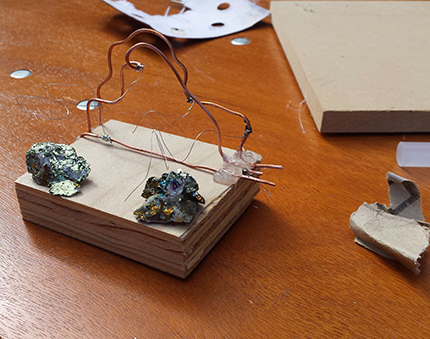 Many of the instruments were also intended to be crude aesthetic objects in their own right.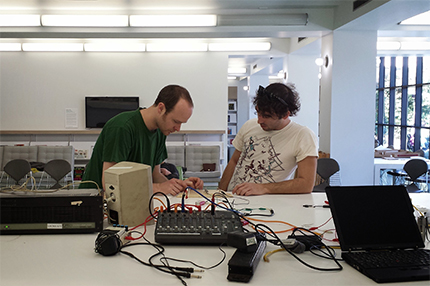 Artist Ryan Jordan and a workshop participant test an amplifier.
The request for proposals just closed a few weeks ago, and we're considering our first wave of proposals for artist grants in the Lab right now. We expect artists with projects in development will hold future workshops and demonstrations in the new facility. Watch this space for more information and upcoming programs.
Joel Ferree
Art + Technology Lab Program Manager