The Calder Quartet has performed at a wide range of venues throughout the United States, from the Walt Disney Concert Hall right here in Los Angeles to Le Poisson Rouge in New York. This Saturday, March 15, LACMA hosts the Calder Quartet in their second appearance at the Bing Theater, where they will be joined on the stage by red fish blue fish in the first installment of the Art and Music series.
The group, whose name is inspired by the work of Alexander Calder, formed at the University of Southern California's Thornton School of Music, after which they continued studies at the Colburn Conservatory of Music and the Juilliard School. The upcoming performance by Benjamin Jacobson, Andrew Bulbrook, Jonathan Moerschel, and Eric Byers is held, fittingly, occasion of the exhibition Calder and Abstraction: From Avant-Garde to Iconic, currently on view through July 27 in the Resnick Pavilion at LACMA.
Calder Quartet violinist Andrew Bulbrook spoke with LACMA about Calder as an inspiration and their performance at the Bing.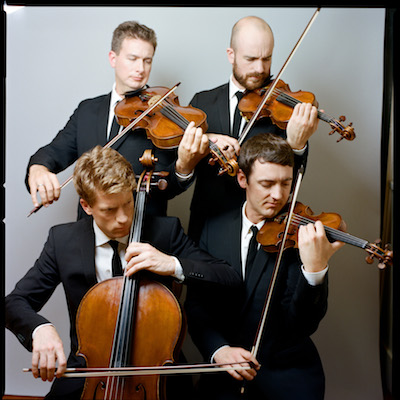 This question is obvious, but how did your group arrive at the name Calder Quartet? Describe elements from the artist's work that inspire the group.
We played together for five years as friends before choosing a name. In the beginning our quartet was never a plan, it evolved and grew out of our friendship. We picked a name when we needed it for our first engagements and we had encountered Alexander Calder's work and also had learned a little bit about his work ethic. The mobile is considered by many (including Sartre) as a very musical form of sculpture and had inspired composers to create work. What looks effortless and moves easily is the product of consistent and daily work. Calder went into the studio every day and practiced his art. That really inspired us.
How did you go about selecting pieces to perform at LACMA?
In talking to Mitch Glickman about the program we decided to anchor it around a new work by the percussionist Andy Akiho that was written for us a few years ago and takes it's name from the idea of the mobile. From there we connected the dots to bringing in a percussion ensemble, UCSD's red fish blue fish under the direction of Steve Schick, and also to a larger recording and commissioning project that we have been working on for the past few years called Eclectic Currents. It's a recording of 12 works by leading emerging composers. (We've played pieces from this project at Blum and Poe in Culver City, and the project was supported by 110 individual donors through Kickstarter as well as grants from the National Endowment for the Arts and the Copland Fund.) Andy's quartet is part of that project and we thought celebrating young composers and young percussionists together would be a great connection and a nice celebration of Alexander Calder and Eclectic Currents. A decade ago we learned that Calder had been friends with Sasha Schneider of the Budapest Quartet and had donated work to help with his educational efforts and currently the Calder Foundation runs a prize to help develop the career of a living artist. This connection to living composers and supporting them really made sense.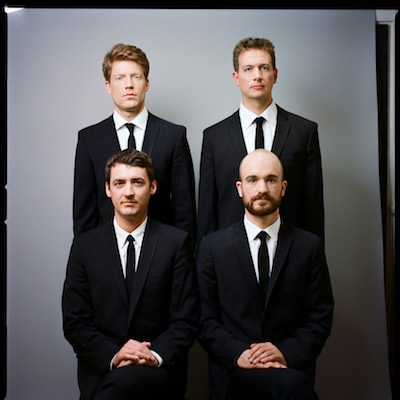 Were they informed by any interactions with the exhibition?
We all attended the show and loved it. We have the good fortune to appear in Disney Hall regularly and it's great to see Frank Gehry creating amazing spaces for music and art. The way a room full of mobiles slowly undulates feels like quartet-four voices that move coherently and beautifully together without any apparent leadership.
Have you previously collaborated with red fish blue fish?

We are long time admirers of Steve Schick and while this will be our first performance with him and red fish blue fish we have worked with him for many years at the Carlsbad Music Festival in San Diego where we have been the founding quartet in residence. Carlsbad and UCSD Artpower helped commission many of the works that we will play at LACMA.