Shigeyuki Kihara's work is deeply connected to her homeland, Samoa. While she currently lives in cosmopolitan New Zealand and recently completed a six-month residency at the International Studio and Curatorial Program in New York, Kihara continues to maintain a studio in the Samoan island of Upolu. Her work has been presented at the Asia Pacific Triennial of Contemporary Art, Auckland Triennial, and the Sakahàn Quinquennial. It has also been featured in many private and public collections internationally, including The Metropolitan Museum of Art, New York.
LACMA recently acquired Siva in Motion, a performance video commissioned in 2012 by the Auckland Art Gallery Toi o Tamaki of New Zealand.
In this silent performance, Kihara explores the ancient Samoan dance form taualuga. She wears a restrictive Victorian mourning dress in the guise of her alter-ego, "Salome," who developed out of a fusion of ideas, which began when Kihara first encountered a photograph titled Samoan Halfcaste (1886). The picture—in the archives at Te Papa Tongarewa Museum of New Zealand—features a Samoan woman in a Victorian mourning dress photographed by New Zealand photographer Thomas Andrew. The woman in the photograph is anonymous, so Kihara identified her as a character inspired Oscar Wilde's play, Salome, who used dance to manipulate political power. Salome became Kihara's 19th-century muse in revisiting Samoa's colonial history through her alter ego's resurrection in the postcolonial present.
Title: Thomas Andrew,
Samoan half case. From the album: Views in the Pacific Islands
, 1886, courtesy of Te Papa Tongarewa Museum of New Zealand
Salome wears an impractical costume, which was introduced to Samoa in the early 19th century by colonial administrators. Her dance movements are informed by the taualuga and describe the Pacific tsunami of September 2009, which took the lives of more than 189 people in American Samoa, Samoa, and northern Tonga. Precise traditional hand gestures revisit the memories of ancestors, political negotiations, and activities of life, weaving past and present.
Kihara uses this complex ballet, fragmented as if in reference to Modernist works such as Nude Descending a Staircase (No. 2) by Marcel Duchamp or sequential photography of Eadweard Muybridge, to convey the wisdom and steadiness of indigenous belief systems while simultaneously echoing the destructive waves of the 2009 tsunami.
Her motions are multi-tracked in post production, creating an effect similar to the work of two 19th-century French photographers, Georges Demeny and Étienne-Jules Marey, who employed a "camera" capable capturing 12 consecutive frames a second, which could be used to record multiple phases of movement in one photograph.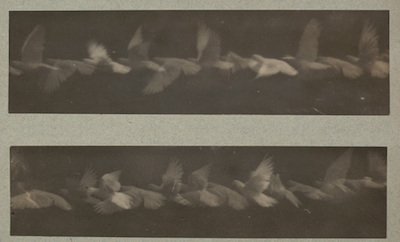 Étienne-Jules Marey,
Analysis of the Flight of a Pigeon by the Chronophotographic Method
, 1883–87, Horace W. Goldsmith Fund through Robert B. Menschel, courtesy of the Museum of Modern Art, New York
Earlier work by Kihara, such as Fa'afafine; in a Manner of a Woman (2005), responded to studio portraits of the late 19th and early 20th centuries, taken by New Zealand photographers of European heritage. The photographs depicted young Samoan women, often in a state of partial undress as the anonymous subjects of a colonial fantasy.

Shigeyuki Kihara,
Fa'afafine; In the Manner of a Woman
, 2005, courtesy of Shigeyuki Kihara Studio and Milford Galleries Dunedin, New Zealand
By using her own body as part of the artistic material posing as the subject and serving as director, Kihara captures elements of sepia-toned ethnographic photography, yet looks outward with a penetrating gaze, reversing the roles of voyeur and model. She creates a palpable tension, as if to reclaim the standing of earlier generations.
Kihara has repeatedly assumed her Salome guise in live performance, video works, and still photography, often with the intention as she describes, "of exposing the inequalities, and complexities within the structure of power associated with sexuality, gender, race, and colonialism in the Pacific." Her black-and-white series of 20 photographs from 2013, Where do we come from? What are we? Where are we going? expresses somewhat more universal themes. Images from this series were photographed at several locations shortly after 2010 Cyclone Evan tore through the island of Upolu in Samoa, and reflect the severe damage of the event. As part of the series, we see Salome in a roofless and abandoned abandoned school structure carpeted with blooming plants.
Shigeyuki Kihara,
Saleapaga Primary School after Tsunami Galu Afi, Saleapaga, 
2013, courtesy of Shigeyuki Kihara Studio and Milford Galleries Dunedin, New Zealand
Three years earlier, the town of Saleapaga had been the center of the devastation of the 2009 tsunami, with substantial loss of life. Residents had reluctantly abandoned their seaside town to rebuilt on safer, higher land, yet distant from their coastal life. Kihara captures the beauty of a space reclaimed by nature and seemingly reflects on the resourcefulness and future of Saleapaga citizens. Standing as a witness to the aftermath of the devastation of the 2009 tsunami, Kihara embodies a subject that runs through her work, the merging of a seamless yet challenging past, present, and future.
Siva in Motion is currently on view in the Art of the Pacific Gallery located on the first floor of the Ahmanson Building.
For more on Shigeyuki Kihara's work visit, shigeyukikihara.wordpress.com or vimeo.com/channels/shigeyuki.
Nancy Thomas, Senior Deputy Director for Art Administration and Collections