In the past several weeks, the reading room at LACMA's Balch Art Research Library was conspicuously missing what you would expect to find there: shelves full of books. As the books made their temporary home in the less-than-cozy basement of the adjacent former May Company Building, this unassuming, tucked-away corner of the Bing Center received a significant dose of elbow grease.
The renovation was in part a measure to address the mounting problem of space constraints in the library. The books are currently being reshelved into newly installed compact shelving units, which will help accommodate the library's collection of over 200,000 books, periodicals, journals, and other art-related resources that reflect and contextualize the museum's encyclopedic collections. In addition to being functional, the refurbished library space beautifully evokes the green turf of the sculpture garden, the Los Angeles sunlight, and the clean lines of Donald Judd's Untitled (for Leo Castelli), planted mere steps away from the reading room.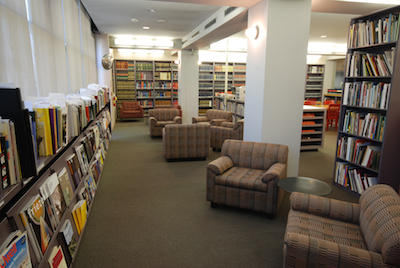 Balch Research Library Before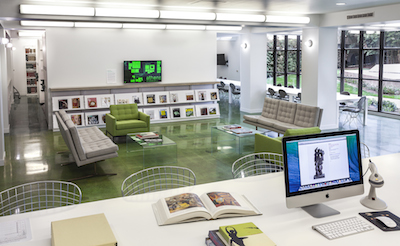 Balch Research Library After
In addition to being one of the best locations on LACMA's campus to enjoy Alexander Calder's Three Quintains (Hello Girls), the renovated library is now also home to the new Art + Technology Lab, a space dedicated to hosting programs, discussions, and other activities related to this initiative. Artists grants were just announced last week, and we're looking forward to hosting them in this shared space.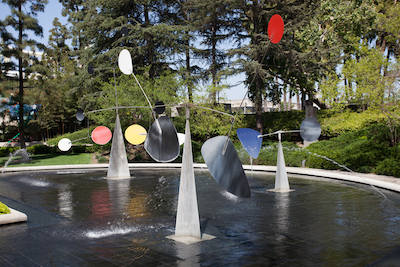 Alexander Calder,
Three Quintains
(
Hello Girls
), 1964, Los Angeles County Museum of Art, Art Museum, Council Fund, © 2014 Calder Foundation, New York / Artists Rights Society (ARS), New York, photo © Museum Associates / LACMA
Library displays feature special selections from the archives, hand picked by the library and archives staff. Currently, you'll find fascinating documentation from the original Art and Technology program that ran from 1967 to 1971, including a drawing by artist Rockne Krebs for his laser-beam installation, produced in collaboration with the Hewlett-Packard Corporation. Displayed alongside is a letter of recommendation by curator Sam Wagstaff on behalf of artist James Lee Byars, playfully hand scrawled in crayon.
Visit the library's page for more information on the LACMA library and archives and to learn how you can make a research appointment. You can also explore the collections by searching the library's online catalog, as well as the growing number of archival finding aids.
Julia Kim, Stacks Manager, Balch Art Research Library