The Sketchbook Project, a mobile library filled with thousands of artist sketchbooks, is traveling from Brooklyn, New York, across the country to stop at museums, community centers, and universities to share their collection. Visitors can browse their stacks when it stops at LACMA. You'll even get your own library card!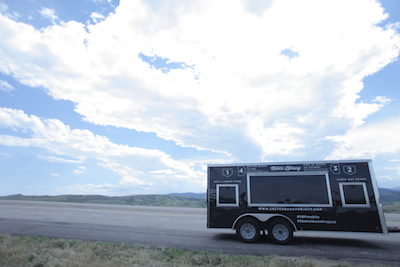 Courtesy of the Sketchbook Project
Jessica Sugarman, of Art House Coop—the umbrella for the Brooklyn Art Library and the Sketchbook Project, tells more.
Karen Satzman: How did the Sketchbook Project get started?
Jessica Sugarman: The Sketchbook Project started in 2006 when the project's cofounders, Steven Peterman and Shane Zucker, met as students at Savannah Collage of Art and Design in Atlanta, Georgia. They were studying printmaking and graphic design respectively, and started forming the idea of doing a creative project that could involve the participation of other people. The project moved up to Brooklyn in 2009 and opened Brooklyn Art Library, the storefront exhibition space for the Sketchbook Project.
KS: Why Sketchbooks?
JS: Sketchbooks weren't the first platform explored for ways to invite people to create and submit artwork, but ended up really catching on. We've seen that a sketchbook is pretty universal—whether you are an architect, screenwriter, professional artist, student, casual doodler, or really anyone, it's either a format you already use in your practice or would feel comfortable exploring.
The blank pages of these books have not only been filled with sketches but could be memoirs, poetry, printmaking, painting, textiles, photography, or any other medium. Some are interactive, fold out into sculptures, are rebound, etc. Not every book is a defiance of what one might expect to be inside a sketchbook, but when viewing books in the collection you see a really wide range of content, and the format of a sketchbook invites that range or exploration.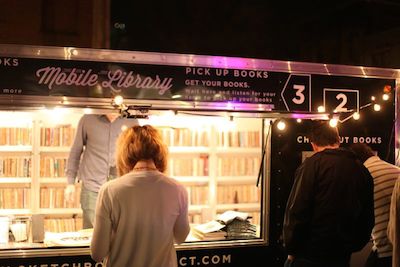 Courtesy of the Sketchbook Project
KS: What can we learn from looking at artists' sketchbooks? 
JS: Looking at someone's sketchbook is like getting a look inside their life. When checking out books in the Sketchbook Project, the first book you view may be the work of a professional artist or illustrator who did a book as fun side project, and the next book you view might be by a first-time art maker who had never shared their work before doing this project. You might be getting a glimpse inside the mind of a middle school student in Sudan, a mom in Kansas, or a designer in New York. The project has always been open to anyone regardless of age or experience, and we hold that each book tells a story. You might learn that you can relate to people through their sketchbook who you never have imagined having something in common with.
KS: Artist's sketchbooks can be very personal. Why would an artist give up this personal and revealing piece of themselves to be a part of the project? 
JS: The interesting thing is that someone submitting to the Sketchbook Project is filling their book intentionally knowing that it is joining a collection that will be shared and viewed over and over again. The amount of deeply personal outpourings that have become a part of the project was not something we expected when the project first started—in fact there was more of a straightforward expectation that books would come back filled for the most part with sketches. However, some of the most-viewed books in the collection touch on very personal stories and experiences - there is a book that a participant started on the day she was diagnosed with cancer and then sent in her completed book once she was cured—her story of recovery has connected with a lot of people.
Everyone wants to be a part of something bigger than themselves, and submitting your own book to a collection of now 30,000 sketchbooks and counting allows you to contribute your creative voice to something really special.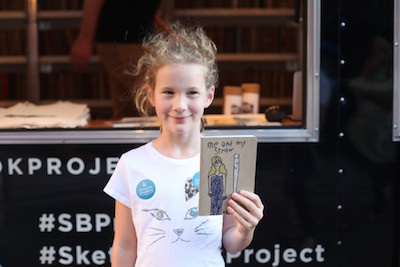 Courtesy of the Sketchbook Project
This mobile library of sketchbooks will park on LACMA's campus on Friday, May 30, and Saturday, May 31. You can search their catalog by artist name, theme, city and country to find a book that might interest you or take a chance on a random pick. If you are inspired to become part of their collection, ask their librarians how you can submit your sketchbook to the project.
Karen Satzman, Director, Youth and Family Programs