LACMA recently invited the award winning-documentary filmmaker Lucy Walker to direct several films for the museum. The short film she made for LACMA about artist David Hockney was recently nominated for best short documentary at this year's South by Southwest festival, was shown at the prestigious Sheffield Doc/Fest in England (which takes place near Bradford, Hockney's birthplace), and has just been featured in the Los Angeles Film Festival. Lucy spoke with Erin Wright, LACMA's Director of Artist Initiatives, to talk about her work with the museum.
Erin Wright: I wanted to start by asking you about our first collaboration, The Museum, Reimagined. Can you briefly say what the film is about and what inspired the look and feel of this work?
Lucy Walker: The film is a conversation between architect Peter Zumthor and Michael Govan, LACMA's CEO and Wallis Annenberg Director about the new building for LACMA that they have dreamed up. I wanted the conversation and the ideas to be the heart of the piece, and the simple black-box background was inspired by the viewing room that Zumthor had designed for the exhibition about the building at LACMA. I wanted it to feel as if Michael and Peter were sitting in the black box with you, and the viewer was an intimate part of the conversation. 
EW: Did that film change your thinking about LACMA and the plan for our campus proposed by Peter Zumthor?
LW: I fell deeply and completely in love with the proposed building, and I would pay for it myself if I could! I couldn't be a bigger fan of the project and am desperately hoping it will come to pass. To get to know the building is to fall in love with it. It would truly be a new kind of museum for our new century and could be the new heart of Los Angeles.
EW: Had you ever worked with a museum before on a film project?
LW: I've never before worked with a museum aside from filming inside museums for my film about Vik Muniz, Waste Land. I was a little intimidated at first, but I must say I could get used to the fabulous reverence with which artists are treated, I think filmmakers are generally used to being abused!
EW: You are well known for your feature-length documentary films, but a few years ago you received and Academy Award® nomination for the short The Tsunami and the Cherry Blossom. What's compelling for you about the short-form documentary?
LW: I love making short work because it allows you to tell stories in different ways. The perfect length for a movie, I like to say, is 15 seconds short of boring. And what's fantastic about short films today is that there is such an opportunity for them to be seen at fantastic events (such as the Art+Film Gala), at film festivals, and especially online.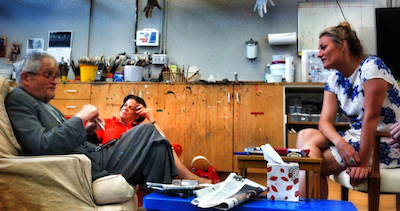 EW: Making the film David Hockney IN THE NOW (in six minutes) for LACMA's Art+Film Gala to honor Hockney was a wonderful opportunity for us to continue working together. Can you say a little about why you were interested in Hockney as a subject?
LW: I grew up in London and have always loved David Hockney's work—my father was a fan and took me to see his paintings when I was a child, and it made a huge impression on me. Later as a keen high-school art student I became fascinated with his work and treasured his books and shows. And of course as a Brit living in L.A. he is now even dearer to my heart than ever, as I feel I am treading in his footsteps and I really relate to his appreciation for this city.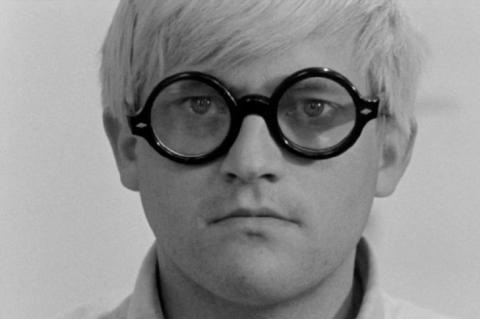 Click through this still from 
David Hockney IN THE NOW (in six minutes)
 to watch the complete film by Lucy Walker on artist David Hockney.
EW: Honoring David Hockney and Martin Scorsese last year was part of a larger Art+Film initiative at LACMA. Have any of our recent film related exhibitions (like Stanley Kubrick or Gabriel Figueroa) had a particular resonance for you?
LW: I confess I am a huge LACMA fan, and a great appreciator of so many exhibitions. If you force me to pick just one, the Kubrick show had a particular hold over me because Kubrick might be my favorite director of all, and his process is so particularly meticulous and fascinating and rich, and the exhibition was so fascinating, I kept going back for more and more and more. The James Turrellshow was also a recent highlight, I admit that I am such a Turrell nut that I once drove to Roden Crater and camped nearby, just to get a glimpse. It sounds too obvious to even state, but for me it a powerful truth, that looking at art inspires and informs my film work, my whole life.