The night never wants to end, to give itself over
to light. So it traps itself in things: obsidian, crows.
Even on summer solstice, the day of light's great
triumph, where fields of sunflowers guzzle in the sun—
we break open the watermelon and spit out
black seeds, bits of night glistening on the grass.
The exhibition Night in Day is named after a Joseph Stroud poem, which describes the dark of night as a powerful force that creeps into everyday objects, refusing defeat. Slivers of night might be found in rounded black watermelon seeds, the wings of crows, or the shimmer of volcanic glass. Black is the remnant of night in our day.
For this exhibition of 11 photographs from LACMA's permanent collection currently on view in the exhibition, I have selected works by artists who have made the night a central part of their subject. Darkened city streets, glowing suburban structures, and starlit landscapes contain narratives cloaked in darkness, that, when surrendered to the light of day, offer the rare opportunity to grasp their shrouded details.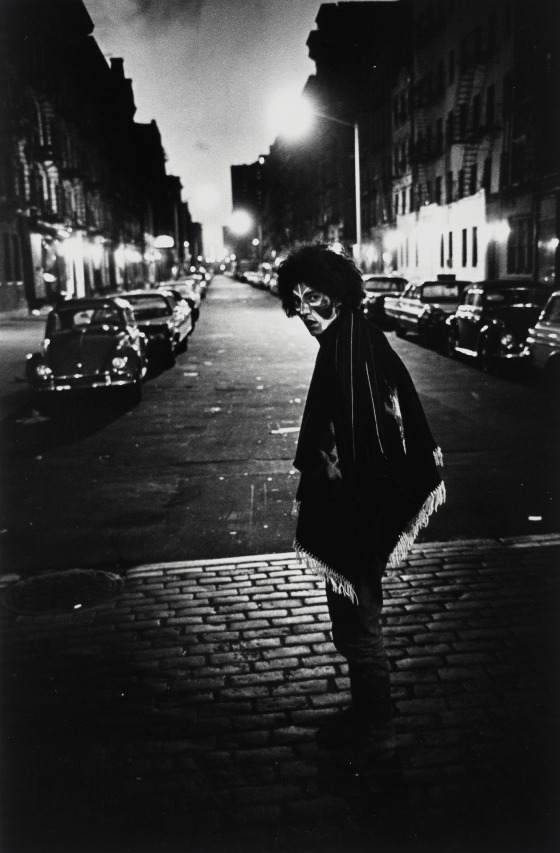 Larry Clark,
Acid, Lower East Side
from the portfolio
Teenage Lust
, 1981, gift of Barry Lowen
Larry Clark's Acid Lower East Side (1968) is an arresting image of a young man making direct visual contact with the photographer. His white facial makeup and the fringe of his cape reflect the ambient light emanating from the street lamp overhead and shops that line the receding sidewalk. Alone on the cobblestone crosswalk, the man looks fierce, disagreeable, and mildly threatening—sensations that we can voyeuristically observe via the photograph from a distance. For this series, Teenage Lust (and Tulsa just before it), Clark photographed amid his friends and acquaintances, suggesting that this is not a stranger caught unaware, but someone who he was out with one night in 1968 on the streets of New York City.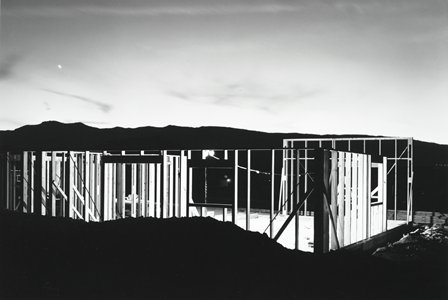 Lewis Baltz,
Night Construction, Reno
, 1977, gift of Joe Deal, © Lewis Baltz, courtesy Galerie Thomas Zander, Cologne
Nighttime Construction, Reno, taken by Lewis Baltz nearly a decade later, offers the landscape of the American West as it was being transformed by a building boom and the systematic creation of suburbs and sprawl. Most closely identified with New Topographics, Baltz's work aestheticizes the built environment with a deadpan, unromantic gaze. This is a rare nighttime view of home construction as workers presumably aim to meet a completion deadline. The photograph pictures the house's plywood skeleton lit by a hidden source of light from within, giving the man-made structure a miraculous glow against the dark, silhouetted ridge.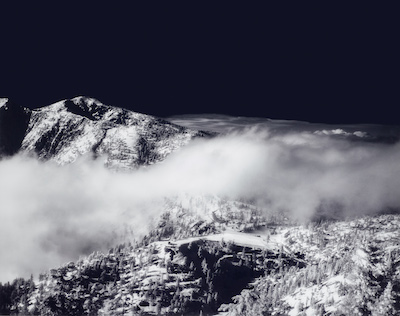 Florian Maier-Aichen,
Untitled
, 2007, gift of Sheridan Brown, courtesy of the artist; Blum & Poe, Los Angeles; Gagosian Gallery, New York; and 303 Gallery, New York
Florian Maier-Aichen's 2007 photograph, Untitled, grants a bird's-eye view of a mountain landscape woven with wispy clouds. At first glance the dark sky evokes a photographic nocturne, but the brightness of the mountain and reflective nature of the clouds suggest something else at work. From the top of Mt. Baldy, this scene was photographed with 4 x 5 black-and-white infrared film evoking an eerie, unnatural appearance. Commonly referred to as day for night in cinema, this technique is used by filmmakers to simulate a night scene. While the effect is convincing, it simultaneously conveys a level of discomfort difficult to qualify.
Since the invention of photography, artists have been capturing nighttime scenes—drawn to the technical challenge of photographing under low light conditions and to the creative challenge of capturing veiled moments that can easily go undetected. Night in Day offers a glimpse into these shadowy and mysterious narratives.
Rebecca Morse, Associate Curator, Wallis Annenberg Photography Department